Kei Kamara: The refugee from Sierra Leone starring at Norwich
By Chris Osborne
BBC East Sport
Last updated on .From the section Football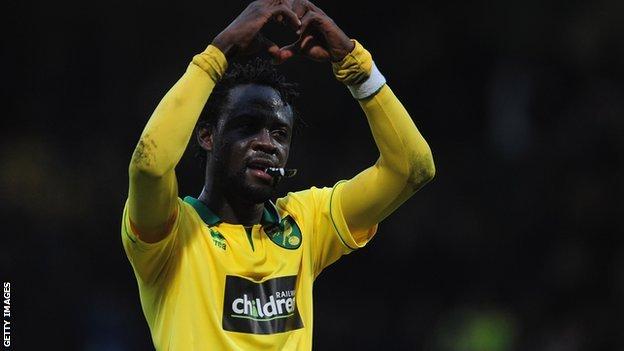 Refugee, footballer, charity worker, ambassador, documentary star. Kei Kamara is all of the above.
But, more than anything else, nationality defines the Norwich City forward.
Kei Kamara was born in Sierra Leone 28 years ago.
Kamara's narrative unfolds through civil war in the African country, moves on to the American dream, then a footballing career in Major League Soccer and now Norwich, the Premier League club
When the Canaries signed the striker until the end of the season from Sporting Kansas City, they were not simply getting a footballer, they were getting a man who shares the scars and rebirth of a war-torn nation.
At a young age Kamara saw his mother leave Sierra Leone for the US to earn money to send back to her family. Growing up in Kenema, in south-east Sierra Leone, with his auntie, siblings and cousins, he was seven when a 10-year civil war began.
"He's sitting in class and they hear explosions and they start running away," said Dave LaMattina, who directed the documentary Kei, which tells the story of Kamara's journey from refugee to national superstar.
"He's jumping over dead bodies and loses his brothers and has to go back to find them.
"Ever since the day bombs started exploding around schools he was a refugee. He went to the capital, Freetown, on to The Gambia and then the United States.
"His schooling was disrupted so he was behind his class-mates. He turned to football and sport in general - he was actually a very good volleyball player."
As part of a refugee programme Kamara, aged 16, was reunited with his mother in California, where he later attended California State University, Dominguez Hills, and embarked on a career in Major League Soccer, starting out at Columbus Crew, before spells with San Jose Earthquakes and Houston Dynamo.
"He's a bit of a carefree spirit. A good person," recalled Houston manager Dominic Kinnear.
"He enjoys being the practical joker and the guy who pulls off some pranks.
"But he enjoys his life away from the game, while taking his football very seriously.
"To see where he has come from to where he is now for me it is a great story of resiliency and the benefit of being around good people."
Kamara's effervescence has been plain to see since he put on a yellow Norwich shirt.
He made his first start in Saturday's 0-0 draw against Southampton and became the first Sierra Leonean to score a Premier League goal by coming off the bench
His enthusiasm, ubiquitous smile, dance-move goal celebration and all-around cheeriness have ingratiated him to the Canaries contingent in just four appearances for the club.
But beneath the veneer is a determination to raise the profile of Sierra Leone - through his football and work with the charity Schools for Salone - and attempt to replace images of a blood diamond-funded civil war with the outlook of a nation vibrant and looking forward.
"So many people would be bitter and closed off after what he's gone through. But Kei is a loving, genuine guy," said LaMattina.
"He's someone who keeps Sierra Leone very close to his heart and someone who is trying to spread a message that Sierra Leone is not the Sierra Leone of blood diamonds.
"It's a country on the rise, it's a country recovering from war for sure. But it's full of people who are kind of like Kei."
Peter Makieu, a sports journalist in Sierra Leone, has seen how Kamara's story has added more fuel to the country's passion for football.
"The Premier League is the most popular league in Sierra Leone," he said.
"People have been wishing for a Sierra Leone player to play in the Premier League.
"You see the kids out in the morning from seven until seven at night. Everybody in Sierra Leone wants to play professional football."
Norwich boss Chris Hughton will, of course, be more concerned with his recruit's on-pitch ability.
"For the last three years I thought he was one of the better players in MLS," said Kinnear, who managed Kamara between 2008 and 2009.
"The move to England seemed to be the right time for him. He's matured a lot.
"Everything he had done in MLS over the last three years put him in the top tier of players, so I wasn't surprised to see a team in England interested in him. And it doesn't surprise me he's done well so far."
LaMattina added: "Kei's getting better. He'll tell you that. He wasn't the best footballer in the town. He says his brothers were better than him.
"But he went to college in California and became one of the best players in MLS and now he's in the Premier League. He keeps overachieving."
Sierra Leoneans have been able to watch their countryman's progress at their local cinema, paying 1,000 Leones (about £0.15) to catch a glimpse of his Premier League adventure.
"For every Norwich City match the cinemas will be packed with people watching Kei Kamara," said Makieu.
"They've been disappointed because mostly he has been on the bench.
"When he scored against Everton the whole country was delighted. I couldn't hold on to my emotions.
"Nobody cared about Norwich. But now everyone in Sierra Leone wants to watch Norwich play."
In the end, it would seem, Kei Kamara is doing as much for Sierra Leone as Sierra Leone has done for him.
"I think in the hands of another footballer this type of success might be inconsequential," said LaMattina.
"But Kei talks about Sierra Leone at every turn and I think whenever he does something positive on the pitch it brings attention to Sierra Leone.
"In Kansas people were talking about Sierra Leone. I think that will happen in Norwich."
The documentary short Kei is being shown at Cinema City in Norwich on Friday, 15 March, followed by a Q&A with the director and Kei Kamara