Paolo Di Canio on life after Swindon & 20 months of success
Last updated on .From the section Football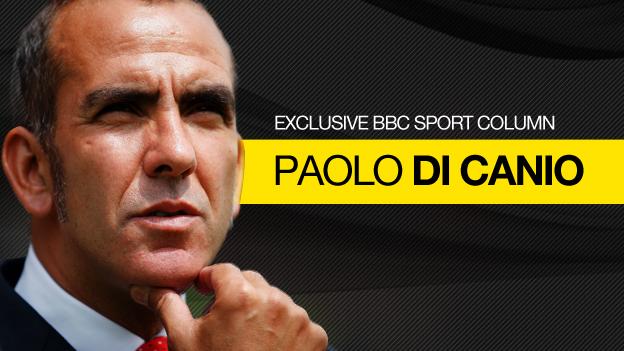 Paolo Di Canio, one of football's most controversial and colourful characters, gives his views in his latest column for BBC Sport. Di Canio was speaking after his exit as Swindon boss on 18 February and before Reading parted company with Brian McDermott this week.
I am ready for the next level
"My plan for now is only to watch the top level of football - Premier League and Championship - because the next step for me is important.
"I have already proven my ability in League Two and League One, where there are many arrogant and average players and I was able to turn their mentality and help them become better footballers.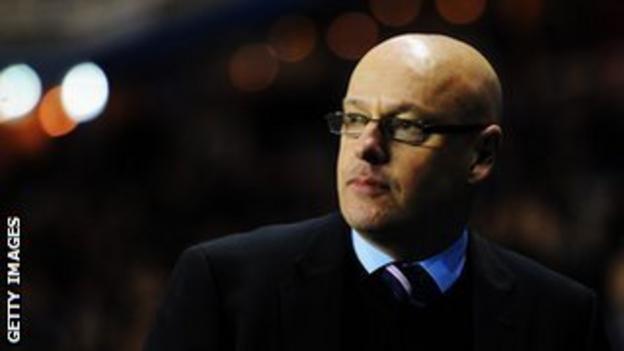 "You can imagine if I had the chance to do the same at the top level. I proved in League One and Two that I was the best manager, and I now feel ready for the next level.
"I am going to go around the country and watch lots of football and I will watch some training sessions because it is always good to observe the methods of other teams and coaches.
"I will be watching games in the Premier League and Championship because this is my future, obviously, and I hope one day I can be there.
"The right place for me is the place that has the ambition and the staff who want to bring in a winning mentality.
"The club needs to have set rules, which for me are discipline, desire, passion, work ethic and a determination to get the right results to make everybody happy, namely the board, the fans and the club's players and staff.
"I believe I am at a stage now where I am a Premier League or Championship manager."
We had 20 months of success
"When I first became manager at Swindon I brought in new methods and discipline and restored everything.
"I talked to everyone at the club, even the secretary and the people who work inside the office, about what it means to work for the cause and made sure they all had the same mentality.
"I did that because I realised straight away that in the club there were things that needed to be changed in terms of professionalism and work ethic and also this had had a bad influence on the players' attitude.
"I'm sure that at a different level I won't have to cope with these problems and I will have only to think about the footballing area.
"I was always determined to bring success and even cleaned snow from the pitch when we had a game the next day to ensure it would go ahead. It did and we went on to win against Shrewsbury - that shows the level I will go to in order to achieve success.
"Throughout my time as a manager I have only had success, winning the League Two title and with the club in a play-off position in League One when I left the club.
"I know I haven't been a manager long, only 20 months, but it was 20 months of success.
"That success proves the methodology we used was correct and worked well and shows that me and my coaching staff were completely right in the way we do things.
"I worked as the best professional I could. If I did not take the club to the position they were when I left, then they could have disappeared, because would someone come to take over them if they were lower down the table? I don't think so."
Always ready to fight for the truth
"There is good and bad media all around the world. There are lots that try to write negative stories about me but even worse is when they write a non-story.
"Fortunately, I have the power to answer, but I can't answer every single article because it is different when a journalist writes a sceptical opinion about me, we live in a democratic society and you to have to accept and respect people's opinions.
"When people write a non-story, though, like they did about QPR boss Harry Redknapp and his players in Dubai - that is ridiculous.
"They wrote an untrue story but this is part of our life unfortunately, we live in this kind of environment and handle this kind of situation.
"It happens to everybody, not just Paolo Di Canio, you have to be ready to fight for the truth. Obviously it does not make you happy if someone writes a story that is not true or writes what they want and don't give you a chance to reply, but it is not a big issue.
"The big issue is the people who try to get you in trouble and tell the media of something that is not true to try to damage your image. That is not fair.
"It is not a big problem at the moment because what I have achieved is clear. I respect the rules of social life and sport life.
"We did a fantastic job during the last two years and that is all that counts."
Paolo Di Canio was speaking to BBC Sport's Gary Rose