SPL set date set for league plans, SFL reviewing proposals

By Alasdair Lamont
BBC Scotland
Last updated on .From the section Football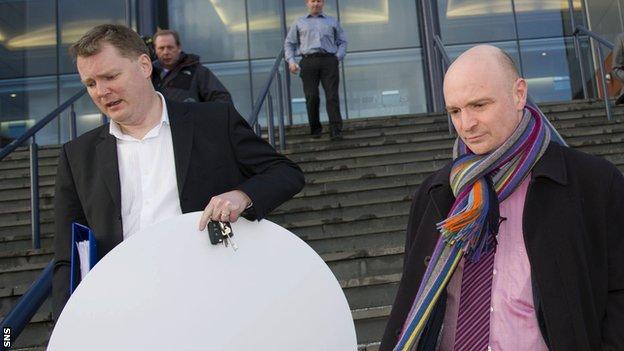 Scottish Premier League clubs will vote on league restructuring on 15 April.
Eleven votes are required for a move to a structure of two top leagues of 12, which would split into three leagues of eight midway through the season.
Ross County chairman Roy MacGregor has reservations over how it could impact on fans.
Scottish Football League chief executive David Longmuir said his clubs are reviewing the legal documents and would "move at their own pace."
County chairman McGregor said there are a "few issues still to be resolved" over the issue of changing the landscape of Scottish football.
"My concerns are for the fans and 80-85% of what's there I really believe in: the one league body, the redistribution and more competitiveness.
"But I do feel for the fans who've been asked to buy a 22-match season ticket.
"It's short-changing them and I believe that, long term, if that resolution's not sorted then it could be the end of people buying season tickets.
"The fan is the most important person; it's not the club or anything else. I do believe the consideration of what the fans are getting is really important."
MacGregor's counterpart at St Mirren, Stewart Gilmour, felt the four-and-a-half hour meeting at Hampden was worthwhile, but could not predict if the proposal would be passed.
He told BBC Scotland: "There was good dialogue and differences in opinion. There's a long way to go, a lot of tidying up to be done.
"I still think the big thing is once the SFL clubs meet. I'm sure they will have their own opinions.
"If you make a decision to change, it's best to happen right away but whether we get to that in time, I don't know."
On leaving the national stadium, Motherwell director Derek Weir did not wish to reveal any details of the discussions that had taken place, but said the plans for league reconstruction are still on track.