Bolton Wanderers: Kevin Davies yet to begin contract talks
Last updated on .From the section Football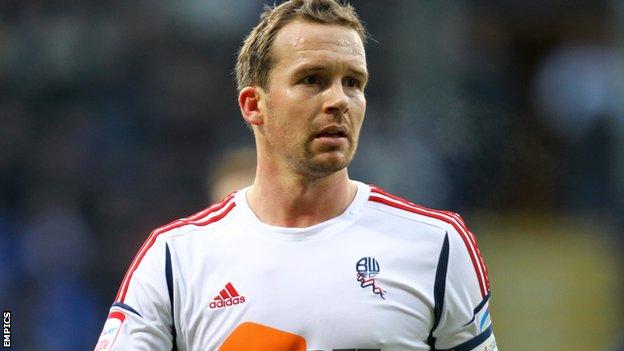 Bolton Wanderers captain Kevin Davies has revealed he is yet to be offered a new deal at the club.
"This is my 10th season but there is no offer of a contract at the minute," he told Late Kick Off North West.
"I think the club are obviously waiting and seeing where we are and if we can get back to the Premier League."
He added: "It's not about me, it's about the club, and I'll keep doing my best until the end of the season."
Davies was one of the few players to remain at the Reebok last summer after they were relegated from the Premier League, signing a new one-year deal.
The one-time England striker has scored six times this season and explained in October that he had begun to use yoga to keep fresh for matches.
Bolton are on a run of five wins in a row in the Championship, which leaves them three points adrift of the play-offs, and Davies' future could depend on what division they are in next season.
"We've struggled throughout the season to have any sort of consistency, but we managed to get the back-to-back wins and we've gone on from there.
"The way we're playing now and the manner we're winning games, we're not blowing teams away, but we're grinding results out which is pleasing.
"It just shows how quickly it can turn around - we've got some momentum."