FA Cup: Manchester United lucky against Chelsea - Ferguson
Last updated on .From the section Football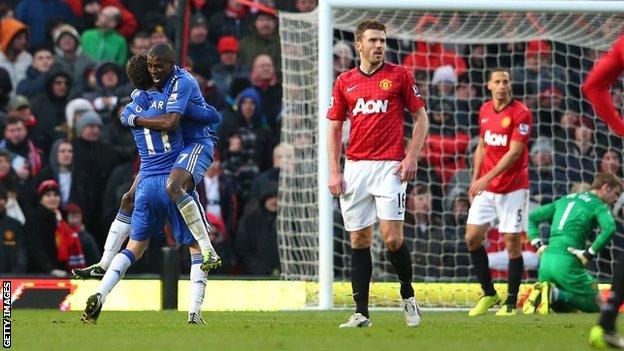 Sir Alex Ferguson says Manchester United are lucky to still be in the FA Cup after a resurgent Chelsea nearly snatched victory at Old Trafford.
If United beat Chelsea in the replay, they will face Manchester City in the semi-finals in April.
But Ferguson said his team paid for their efforts against Real Madrid.
"We're lucky to be in the cup. We just ran out of legs and Chelsea were far the better team in the second half," Ferguson said after the 2-2 draw.
"But I can't be critical of my side because the running they had to do on Tuesday night, against a really top side in Real Madrid, had its bearing on today's result, no doubt about that.
"The two full-backs, Rafael and Patrice [Evra], are knackered and the two central midfielders tired badly. We kept giving the ball away and it made it a long day for us, going from one penalty box and back to our own."
Chelsea recovered from a poor first half as Ramires and Eden Hazard levelled the game after the break following early goals from Javier Hernandez and Wayne Rooney.
And, with barely a minute remaining, United had goalkeeper David De Gea to thank after he denied Spanish compatriot Juan Mata with a superb save.
That stop prevented Ferguson's side going out of two competitions in a week, following their controversial Champions League defeat by Real Madrid.
Rooney was dropped from that game, but returned to the starting line-up against Chelsea - though he was one of several players to fade in the second half.
United's plight was not helped by a first-half injury to Nani, who was taken off with a hamstring problem. Ferguson said the injury was not "too serious".
The date for the replay with Chelsea has not been confirmed, but will not happen this week as Chelsea are still involved in the Europa League.
Ferguson told MUTV: "The replay is not a problem for us. We've got plenty of time for it as we have no European games.
"I don't know when it's going to be played, mind you - probably May because we've got the international break coming up! But the only thing we can say is we're still in the cup."