Chelsea changes turned Man Utd FA Cup tie, says Robbie Savage
Last updated on .From the section Football

In his regular BBC Sport column on football tactics, Robbie Savage takes a closer look at Chelsea's fightback to force an FA Cup quarter-final replay with Manchester United.
I was at Old Trafford on Sunday and I saw and heard the angry reaction that Blues interim boss Rafael Benitez got from his team's fans when he took Frank Lampard and Victor Moses off early in the second half and brought Jon Obi Mikel and Eden Hazard on instead.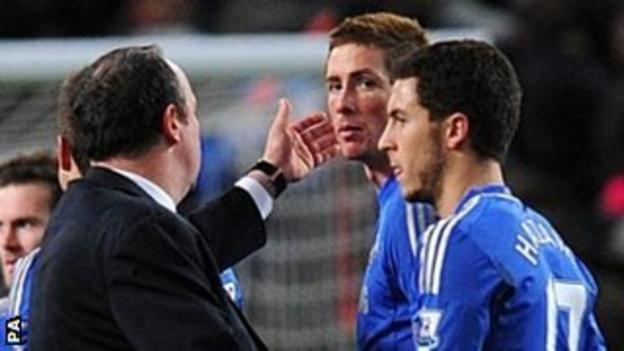 Chelsea were 2-0 down at the time and, like their supporters, I saw taking Lampard off as a negative change, when the alternative was pushing him up in search of goals.
It looked like damage limitation because United had had enough chances to be four or five goals up.
But the changes actually galvanised Chelsea and Benitez has to take the credit for that.
They looked like a different team and they would be in the semi-finals now if not for David de Gea's stunning save to deny Juan Mata.
MIDFIELD SPACES LET UNITED DOMINATE
Chelsea looked vulnerable at the back in the first half but the problem was in their midfield, not in their defence.
Oscar, Mata and Victor Moses, who were their three attacking midfielders in a 4-2-3-1, were too far away from lone striker Demba Ba, who looked isolated.
The graphic below showing the average positions of the Chelsea players in the first half demonstrates how stretched out that trio were.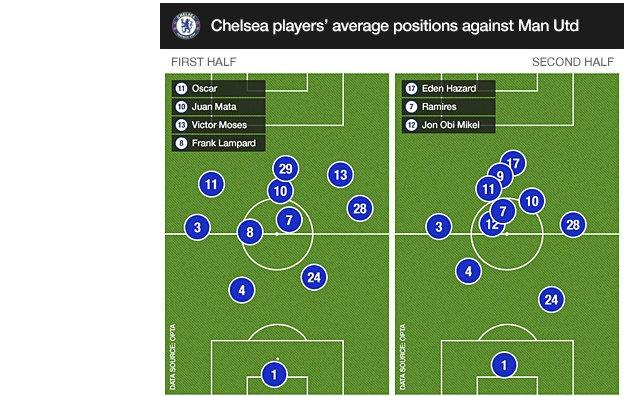 Whether their side was in possession or not, they were too far apart from each other. They contributed little going forward and, because they are all attack-minded, they were not dropping in to help out when Chelsea did not have the ball.
Behind them, Lampard and Ramires were sitting very deep to protect their back four and the result was often a huge gap between those two and the players in front of them.
That allowed United's central midfielders Tom Cleverley and Michael Carrick to have too much easy possession.
Carrick played a wonderful ball to make United's first goal for Javier Hernandez but it was the fact there was no pressure on him that allowed him to pick out the pass.
| First-half stats | Man Utd | Chelsea |
| --- | --- | --- |
| Shots on target | 4 | 2 |
| Possession | 57% | 43% |
| Total passes | 309 | 228 |
COMPACT CHELSEA TAKE CONTROL
In the first half, there were big pockets of space, not just for Cleverley and Carrick to operate in but for the likes of Wayne Rooney and Shinji Kagawa too. United dominated possession and created chance after chance.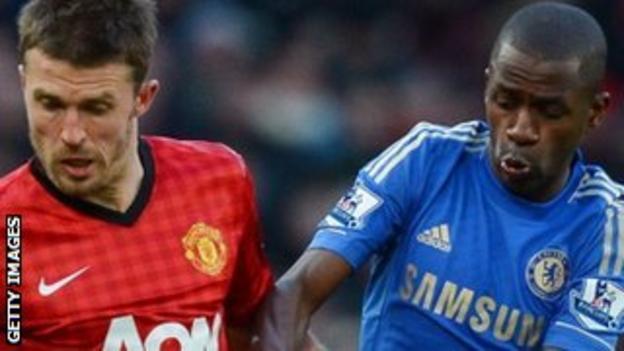 That changed in the second half. For starters Chelsea were a lot more compact in the middle of the pitch and they did not allow United the same amount of space in the centre of midfield.
But it was Benitez's substitutions that really made the difference.
Ramires has so much energy that I think he is restricted in the holding role he had with Lampard, which does not suit him.
The introduction of Mikel off the bench freed him up to venture forward and he eventually got the Blues' equaliser after surging up the field to score a goal reminiscent of the one he got against Barcelona in the Champions League last season.
Hazard, who got Chelsea's first goal, was the key to their comeback, though.
His pace and penetration meant he contributed more on his own than Chelsea's three attacking midfielders had managed between them before he came on.
As the above graphic shows, he was often Chelsea's most advanced player because he was willing to run beyond Ba or Fernando Torres. He was also attacking down the middle, not just hugging the right flank like Moses was.
Once Hazard was on the pitch, Mata grew into the game more and, together with Mikel and Ramires, got in contact with Cleverley and Carrick.
Cleverley and Carrick played less passes in the second half and also gave the ball away quite a lot. United were looking very nervous by the time Ramires levelled after 68 minutes.
| Second-half stats | Man Utd | Chelsea |
| --- | --- | --- |
| Shots on target | 0 | 8 |
| Possession | 46% | 54% |
| Total passes | 240 | 279 |
UNITED LOSE THEIR WAY ON THE DAY
While Benitez showed how a manager can switch players and change his team's shape to alter the outcome of a game, United's changes did not pay off.
Wayne Rooney moved out to the left when Robin van Persie came on for Hernandez after an hour but he looked lost out there and was ineffective.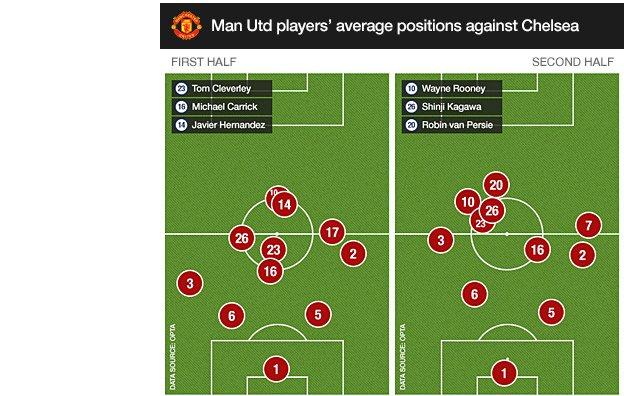 There was lots of talk before the game about how we would see a response from Rooney after he was dropped for the game against Real Madrid on Tuesday but he played everything too safe for me.
Rooney's delivery for United's second goal was exceptional but there was no exuberance about his game and he always looked to lay the ball off short in situations where he would usually ping a searching pass.
Van Persie was flat when he came on too and Antonio Valencia, who replaced the injured Nani, looked shot to pieces on the right flank.
Last season Valencia would knock the ball past people and run at them with pace and confidence, but that is not happening anymore.
I still think United are going to win the Premier League and they could still win the FA Cup too, but they looked mentally and physically tired and they have got players in their team who have lost their belief.
Robbie Savage was speaking to BBC Sport's Chris Bevan.