Former referee defends match officials over Griffiths strike
Last updated on .From the section Football278
Former Grade One referee Kenny Clark says the match officials who failed to award a goal in Sunday's Edinburgh derby were following correct protocols.
Referee Euan Norris and his assistant Raymond Whyte did not see that Hibernian striker Leigh Griffiths's free-kick had crossed the goal-line.
But Clark maintains that Uefa and Scottish FA guidelines show that Norris and Whyte were perfectly placed.
Hibernian manager Pat Fenlon called the blunder in "embarrassing".
Griffiths's free-kick hit the underside of the bar and crossed the Hearts goal-line before coming back into play, but no goal was awarded.
Clark told BBC Radio Scotland: "Euan Norris had taken up a position, as guided by Uefa and the SFA, about 35 yards out in line with the wall in order that he could manage the wall.
"And he had Raymond Whyte lined up on the edge of the penalty area to stand in line with the second last defender to judge for offside infringements.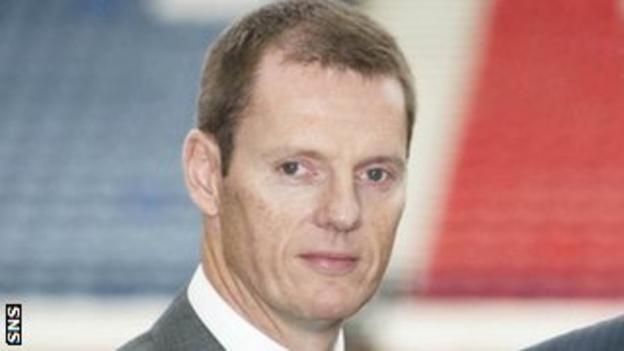 "That meant that, when Griffiths hit the shot, Raymond Whyte had to make his way as quickly as possible towards the goal and was running at full pelt when the ball came crashing down off the bar.
"I appreciate the ball was well across the line but to judge that with the naked eye, when you're running at full pelt and at an angle, is very difficult.
"I'm afraid it was impossible for the assistant to do that and I dare say he wasn't prepared to take a gamble when he wasn't sure."
Immediately after the match Fenlon said: "I've seen it a couple of times - it's that far over the line it's embarrassing.
"When you see how far it is over the line then it's very disappointing."
And the Irishman called for referees to be publicly accountable for decisions they make.
"Rather than me answering the question of whether it was a goal, it should be the person who's making the decision who's out here answering questions about it," he said.
"I'm not looking for an apology, but I think referees should be accountable.
"As a manager I'm accountable for results, referees should be accountable too.
"I'm frustrated for my players more than myself. It was going to take something special to win the game and that was something special from Leigh."
Fenlon insisted that the decision was one of several which had been wrongly made against his side this season.
"If you put that on top of the penalty we conceded late in the game against Dundee United that's two big decisions that's basically cost us a lot of points.
"A penalty last week [against Kilmarnock] that wasn't a penalty, a penalty at Dundee United that was outside the box and a goal that's well over the line today.
"It starts to eat away at you a little bit and you start to wonder why.
"The way the league is, it's so tight, that those four points - against Dundee United and today, where the decisions are blatantly wrong - they're a big four points in the context of where the league is."