FA Cup: What next for Everton boss David Moyes?

By Phil McNulty
Chief football writer
Last updated on .From the section Football396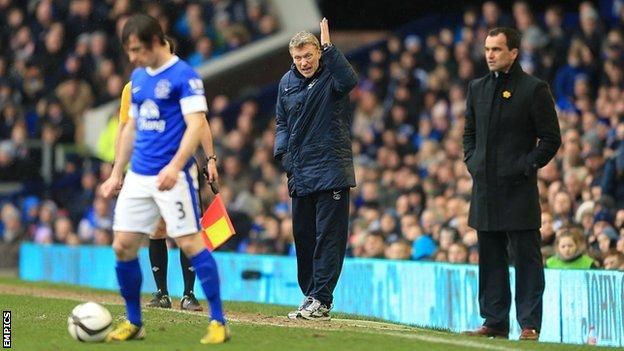 David Moyes marks 11 years at Everton next week - his journey from Preston North End to Goodison Park inspired by a humiliating FA Cup quarter-final defeat.
Everton had lost 3-0 at Middlesbrough, their supporters pouring out of the stadium early after three swift first-half goals at the Riverside Stadium. It was the final blow for Walter Smith, who was swiftly sacked.
The question swirling around Goodison Park after the great unpredictables of Wigan Athletic inflicted a hauntingly similar humiliation on Everton was whether this would also prove a watershed day for 49-year-old Moyes.
Everton and Moyes had been presented with a favourable home draw in their quest to reach a second successive FA Cup semi-final and move a step closer to ending that long wait for success.
Instead, as they did when they froze against Liverpool after taking the lead at Wembley last year, it was only misery for Moyes and his players as they once more choked horribly in the face of opportunity.
The surrender and the manner in which the Toffees were outmanoeuvred by Roberto Martinez's side will mark this down as one of the most disappointing days of all Moyes' time at Goodison Park and give the manager plenty of food for thought.
As on that grim day in the north east in 2002, it was three quick goals that did for the Merseysiders. Three goals in three minutes 23 seconds just after the half-hour to end Moyes' hopes of that elusive trophy for another season and bring his future into sharp relief.
Maynor Figueroa, Callum McManaman and Jordi Gomez scored the goals that more than reflected excellent Wigan's superiority and brutally exposed one of the worst Everton performances in recent memory.
The result also shifts the agenda back to Moyes' next move after he revealed he would not make a decision on renewing a contract that expires this season until the end of the current campaign.
The Scot was brutally realistic in his after-match assessment. He had no choice. He will surely, however, be asking himself how his players could produce a performance so lifeless, so lacking in inspiration and fight on his watch and on an occasion that meant so much to him and a club that has had no success since 1995.
The intrigue surrounds how Moyes will react to such a setback. He has done much fine work at Goodison Park but there has been a simmering unsettled mood in recent weeks alongside the uncertainty over his contract.
A chance had opened up for Everton in this season's FA Cup but it was squandered quite spectacularly - and how Goodison Park, or at least those supporters still inside a rapidly deserting stadium at the final whistle, let Moyes and his players know it.
To the eternal credit of Everton's fans they gave Wigan a warm and sporting round of applause as they left the pitch, a thoroughly deserved accolade after a superb display.
So, as the pages of the calendar turn over to the conclusion of Moyes' deal, decision time comes closer.
Moyes explained he wanted to see how his side fared in the Cup and the league - now one avenue has been closed off. If Moyes wanted to wait and see, there was nothing encouraging to see here.
There are a variety of forces now at work at Everton surrounding Moyes and the decision that will shape his and the club's immediate future.
After another damaging and dispiriting loss, and no sign of major investment being uncovered by chairman Bill Kenwright, Moyes may feel his work at the club is done after 11 years and believe a change of scenery will benefit all parties.
There was almost the end-of-an-era feel about Everton's limp conclusion, a skeleton crew of supporters staying behind until the end to get the anger of the previous 90 minutes out of their system.
On the other hand, is a manager - for all he has done on a limited budget - likely to find a better place than Goodison Park in a footballing and financial sense with no record of winning silverware? Will he actually get a viable alternative?
For all the talk linking Moyes with Manchester United, Manchester City and Chelsea it takes a leap of the imagination to see him being offered one of those posts as and when they ever become available.
A worry for Moyes is that if he decides to stay at Everton after putting off a decision on signing a new contract until the end of his present agreement, some fans may believe he is only staying in the absence of that better offer.
Moyes, of course, may feel spurred on by another empty-handed season and come back reinvigorated but reality dictates that finding renewed inspiration gets harder in such circumstances not easier.
He must make some fine judgements in the weeks to come, judgements that must be made against the backdrop of a loss that was embarrassing in its scale against a team that was swept aside 4-0 on their own ground only a week ago by Everton's neighbours Liverpool.
The home side started dreadfully and went into a steep decline. Culprits could be found on every corner and Moyes' own decision to drop Darron Gibson, a sound if unspectacular base for his side, in favour of Phil Neville was unsuccessful.
Neville was removed at half-time and this most professional of men will know this was not his finest afternoon, the low point of which was a pass of misplaced precision that sent McManaman clear for Wigan's second goal.
And what of Marouane Fellaini? Everton's influential Belgian played as if in a daze, giving the ball away and surrendering possession with clockwork regularity. The love between him and the home support was lost just after the hour with a listless, to be polite, reaction to giving the ball away.
The Goodison fans were voluble against his lazy response and he was substituted moments later. It was a sign of just how poor he was that Moyes felt he could do without a player who has changed games this season. This moment may also have been the beginning of the end of his career at Goodison Park, with a summer move likely.
Will it also be the beginning of the end for Moyes? This was one of the many questions facing Everton's fans as they trooped away from Goodison Park in the rain and condemned to yet another season without a trophy.