Swansea and Michael Laudrup planning ahead, says Huw Jenkins
Last updated on .From the section Football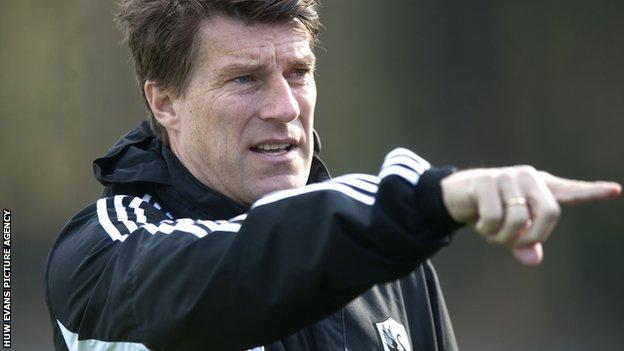 Swansea City chairman Huw Jenkins says Michael Laudrup's new contract will allow the club to plan for next season.
And Jenkins says Laudrup's continued presence at the club will prove crucial in player recruitment for next season.
"When you're looking ahead from now until July to get players in, I think it's important that we got Michael putting pen to paper," Jenkins said.
"That will help us no doubt getting things done quicker and show a few players Michael's committed and here for next season and beyond."
Former Denmark international Laudrup, who succeeded Brendan Rodgers last summer, still had 16 months to run on his previous contract.
But following a successful first season in charge Laudrup was linked with several big European clubs, including ex-club Real Madrid.
"We've started something this season that I want to continue,'' Laudrup said.
Jenkins is delighted Laudrup has agreed a contract extension to end the speculation and to plan ahead for next season when they will play in the Europa League following their 5-0 Capital Cup final win over Bradford City.
"It's nice to get that done and hopefully give us time to get things right and settled down and plan for the summer," Jenkins added.
"I think it was important just to settle things down because there was quite a build-up of speculation.
"First and foremost the priority is obviously to get a contract signed and between ourselves and Michael is that focus to get things ready."
Off the field Jenkins also confirmed work will begin to increase the Liberty Stadium's capacity during the close season.
The Liberty Stadium, Swansea's home since 2005, has a current capacity of 20,520 and expansion would allow club to increase revenue.
"We've got one or two things starting in the summer," Jenkins told BBC Radio Wales.
"We've got one project in the west stand and a couple of other things to raise the capacity to probably around the 22,000 mark for next season. That will be done in readiness for August.
"The main project of increasing the seating in the east and the south and the north stands will probably take place a year later."
"We do things quietly and make sure we do it the right way. But the main priority as always is to stay in the Premier League."