Craig Brown remains upbeat over Aberdeen future
Last updated on .From the section Football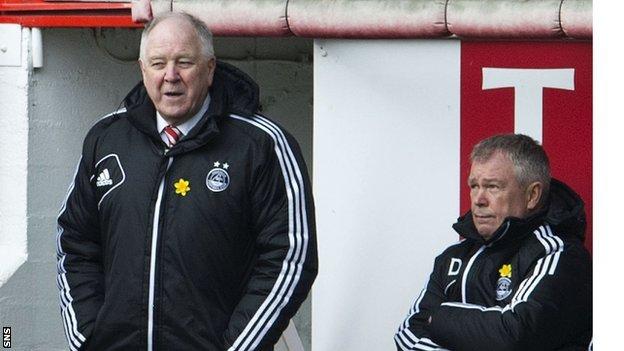 Manager Craig Brown feels it would be unfair if the Aberdeen board decide not to renew his contract in the summer.
Pressure is mounting on Brown after his side failed to score for the ninth time in 16 home SPL matches this season.
The goalless draw with Motherwell leaves Aberdeen struggling to make the top six, with a trip to Celtic next.
"It would depress you if we were not playing well, but we're playing exceptionally well, and we're not conceding goals," said Brown.
Motherwell had Darren Randolph to thank after the Irishman produced a string of saves to shut out the Dons, and while Brown's men had plenty of chances on goal, a combination of bad luck poor finishing could leave them struggling to make the top six.
Despite the run of results, Brown insists the club has performed well, especially given the injuries and player exits he has endured in recent months.
"We've lost our player of the year with a broken leg," said Brown. "We've lost a sparkling attacker for a transfer fee to Bournemouth. We've had horrendous injuries, I don't think other teams have suffered as much as we have.
"I don't think looking at Aberdeen you can say the team is a failure."
Aberdeen have yet to give Brown a decision on whether he will still be in charge at Pittodrie next season, but he is refusing to worry about the current speculation over his future and will continue in place until he's told otherwise.
"I'm not in any way concerned," he said. "I genuinely hope they see the positives signs here at Pittodrie.
"The results have sometimes been indifferent, but the squad is good. We've had a horrendous injury situation, we've sold six players since we've come, making money for the club. We've reached three semi-finals, there's been a lot of positives.
"I think anyone can see that Aberdeen plays well and everything about the club is good, apart from the fact that we're not getting the results that I think we deserve.
"If I'm not wanted by Aberdeen football club [next season] that'll be a decision I'll accept with good grace. If I am wanted I think I'll be delighted to stay."