Portsmouth: Supporters' Trust exchanges contracts for club
Last updated on .From the section Football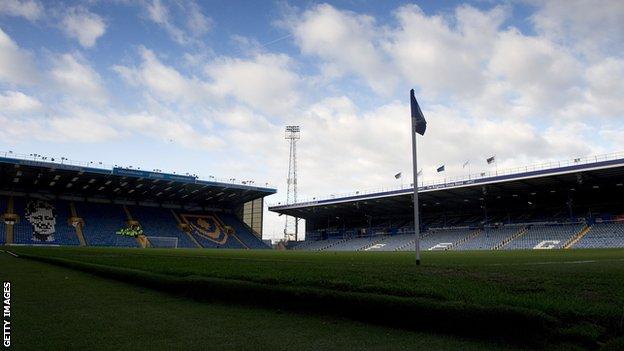 The Pompey Supporters' Trust has exchanged contracts with administrators to buy Portsmouth, but the takeover is still dependent on the group taking control of Fratton Park.
Administrators PKF will head to the High Court on 10 or 11 April to try to force the sale of Fratton Park.
Trust chairman Ashley Brown said the PST was "confident of success".
If the court ruling goes in its favour, the PST takeover will go ahead.
"We are delighted to announce that on Thursday afternoon we exchanged contracts with PKF for the acquisition of PFC," said Brown.
"We must now focus on securing the release of the charge on Fratton Park, which in turn will trigger the completion of the deal.
"We are on the verge of creating football history. Several thousand fans are already part of that and we urge others too now join us so that they to will own a part of their club.
"We are confident of success in the court, but we would still welcome the opportunity to settle quickly and allow us to start the job of rebuilding the club with the community and supporters at its heart."
The deal hinges on the judge allowing PKF to sell the club, including its principal asset Fratton Park, for a 'market value' and in the process satisfying the charge Portpin Ltd has on the ground.
The legal advice the Trust has been given suggests PKF has a strong case as PST has made a true market value offer.
Former Portsmouth owner Balram Chainrai claims he is owed £12m and holds the stadium as security through his company Portpin, via a fixed charge.
The PST has offered Chainrai £3m for the ground, but the Hong Kong businessman has so far refused to sell.
The Football League has warned that the club must exit administration before the end of the season or face expulsion.
The Trust has raised around £2m through shares, with fans investing £1,000 each, while the club has also raised funds through several 'High Net Worth' investors, such as Iain McInnes, who also support the club.
McInnes himself will become chairman of the club, once the takeover is completed.
"If you believe it you can achieve it," he said.
"I'm proud to be part of a group of people who have collectively pulled together to get us this far. Finally the fans can see the end of what's been a very long and challenging haul.
"We will not be counting any chickens just yet particularly as there's due process to go through.
"However, I believe that if a bid is to be judged on its merits, financially, operationally and motive then there can be only one outcome. So let's get on and get this done."
In February the Trust were granted a £1.45m loan from Portsmouth City Council to help fund a joint purchase of Fratton Park with their property partner Stuart Robinson - who himself recently purchased land surrounding the stadium.