Troy Deeney: Striker commits future to Watford
Last updated on .From the section Football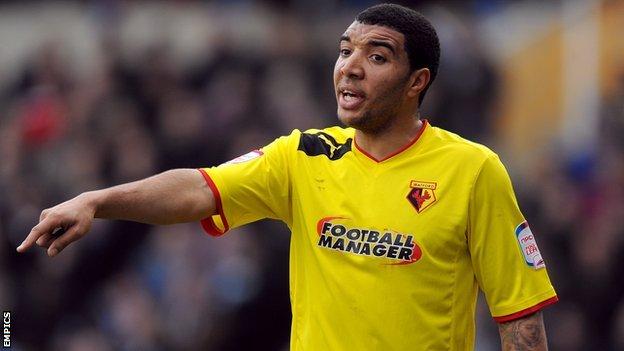 Watford have secured the future of Troy Deeney by handing the striker a new deal to run until 2016.
The 24-year-old, who has scored 14 times this term, was set to be out of contract in the summer.
He missed part of the season while
"Although footballers get a lot of stick, I like to think of myself as an ordinary bloke; a family man who is trying to make good after a mistake," he told the club website.
"When I came out [of jail], I was more nervous of other people than I think they were of me.
"I was in a place full of not-so-nice people. It's changed me. I just want to do things for others now, to pass on my experiences and see if I can help other people avoid what happened to me.
"There's been a few bumpy moments along the way, but I'm happy with the point in my life I'm at now."
Deeney, a £500,000 signing from Walsall in 2010, was released from jail in September after serving four months of a 10-month sentence.
He has gone on to form a potent strike partnership with Matej Vydra, the pair netting a combined total of 34 times this term to put the Hornets in contention for promotion back to the Premier League.
"I've been fortunate, and I use that word out of choice, to have seen some of the darker places that life has to offer and to now know it's not a place I ever want to return to," said Deeney.
"My family - my wife and my son - I wasn't able to speak to them; just to touch them and hold them, like I could before.
"So I'm trying to make every day the best day for not just me, but the people around me who've done so much for me."