Chelsea manager Rafa Benitez confident of European comeback
Last updated on .From the section Football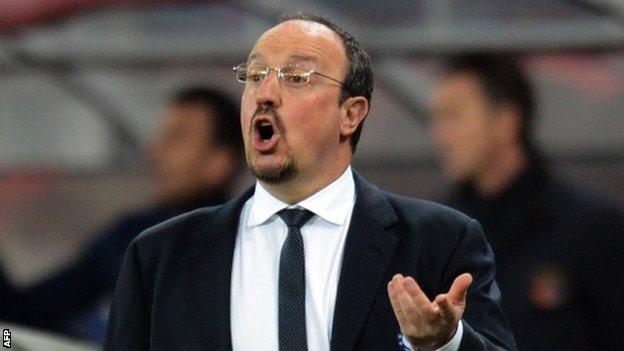 Rafa Benitez believes Chelsea will reach the Europa League quarter-finals despite losing 1-0 to Steaua Bucharest.
Raul Rusescu scored the only goal of the last-16 first-leg clash after he was fouled by left-back Ryan Bertrand.
Interim manager Benitez called the penalty award "soft", but is optimistic ahead of next Thursday's second leg.
"We know that we have to do our job now at home," said Benitez, whose side must first travel to Manchester United for an FA Cup quarter-final on Sunday.
"In these kind of games and this kind of competition, if you don't score away it's always more difficult. Still, you have to believe.
"We are disappointed, but still we have the belief we will win at home."
The decisive moment came when left-back Iasmin Latovlevici crossed with the outside of his right foot towards Rusescu, who was pulled back by Bertrand.
"I think it was very soft," added Benitez. "You cannot change the situation but it is very soft."
Bertrand was booked for the foul, which Benitez argued was further evidence that Russian referee Sergei Karasev made the wrong decision in pointing to the spot.
The Chelsea boss claimed that the position of the foul made it a denial of a clear goalscoring opportunity, and that the referee should have sent off Bertrand if he thought it was a penalty.
"If you give the penalty, why not the (red) card? Strange."
Benitez made five changes to the side which beat West Brom 1-0 in the Premier League last Saturday.
But he insisted that Sunday's FA Cup trip to Old Trafford had not been a distraction.
He said: "It's another competition and atmosphere. It will be totally different. It's another challenge for us."
Goalkeeper Petr Cech also felt Chelsea were unlucky in defeat, but is confident they can recover.
"This is not the result we want to get away from home in the first leg but to be fair we had better chances than them," said Cech.
"I hardly made a save all game. They had a penalty and they scored from there and they won. We're just disappointed we didn't score.
"We made it hard for the return leg but 1-0 is not a result you can't overcome."
Steaua were spurred on by a vociferous 55,000 crowd, which booed every Chelsea touch and loudly roared on their own team.
Their manager Laurentiu Reghecampf said: "Tonight we only wanted to score and to stop Chelsea from scoring. This is just the result.
"Regardless of what will happen in London, they have to be congratulated for winning against a very, very good team.
"This game is played in two games. We have to perform even better than tonight in London in order to qualify for the quarter-finals."