Celtic take stock after thrilling Champions League campaign

By Chris McLaughlin
Senior Football Reporter, BBC Scotland
Last updated on .From the section Football16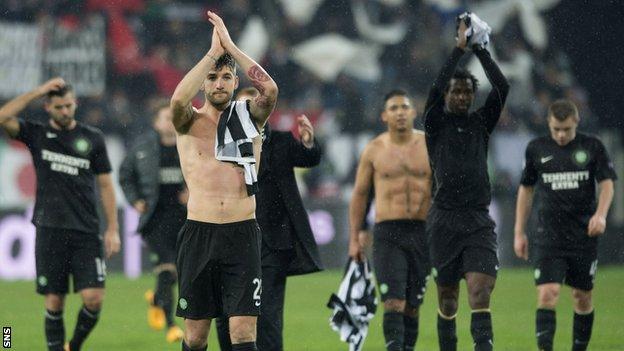 European defeats for Scottish clubs always result in a tricky trip home.
The players take their seats at the front of the plane and the media and sponsors, who share their flight, usually shuffle on afterwards.
But, as tired passengers struggle with oversized, overhead luggage and the aisle gets clogged up, journalists can sometimes feel the overwhelming urge to check nervously on the state of their shoes.
This ritual is played out at the front of the plane to avoid stolen glances from a defeated and now seated squad who, just hours before, answered tricky post-match questions about where it all went wrong.
The players know it and the journalists know it but there's never really any need to acknowledge it: it's just part of life on the road with Scottish football.
This season's Champions League campaign with Celtic has been very different.
Yes, there have been defeats and it would be unfair to say that every flight back to Glasgow has been a party plane.
However, those who have played a part in it, reported on it or even just watched it will tell you that an upbeat air of optimism has followed Celtic on their travels this year.
Just ask the 3,000 Celtic fans who sang and danced relentlessly as their side was ruthlessly put to the sword by Juventus in Turin.
They had travelled to northern Italy hoping for a miracle, but knew deep down that the best they could realistically expect was a goal or two to cheer and remember.
They didn't get what they wanted but in the end it didn't really matter.
Celtic went into the game in Turin like a hungry kid asking for more cake but not really expecting any.
There were no tears because pride had been previously won and stored for later.
The unexpected and unforgettable wins over Spartak Moscow and Barcelona had provided the earlier sugar rush.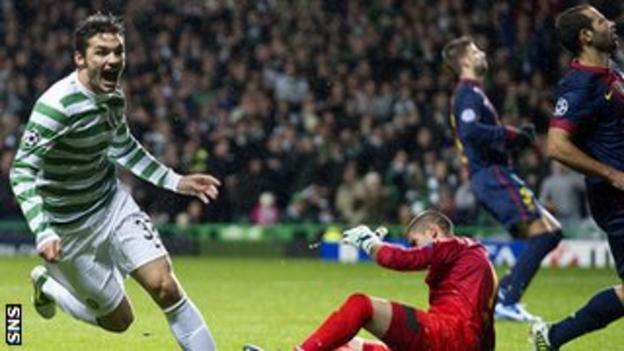 Few will forget Tony Watt blasting the roof off Celtic Park with his winner against the Spaniards and Georgios Samaras's late winner in Moscow will go down as a club classic.
The dogged determination usually associated with Scottish sides in Europe, at times, made way for fine possession football and moments of individual brilliance.
It was far from perfect though, and footballing muscles were flexed to highlight the financial gulf that exists between the top leagues and those looking on with envy.
What made the victories extra-special for the fans though was that no-one had given their side a chance.
When the draw was made, the players found themselves rank outsiders; the expectations were low and they revelled in it.
The pressure valve had been released with progression into the group stages and anything thereafter was to be a bonus.
As they navigated their way into the last 16, the plaudits rightly came their way, as outsiders looked on in wonder at what was happening. The club benefited, but so too did Scottish football.
The bruised and battered game received the boost it so desperately craved following months of bitter in-fighting over liquidation, administration, reconstruction and overall uncertainty.
When the famous Champions League music blared and the big flag fluttered, there was pride that Scotland was, once again, back with the big boys and taking them on.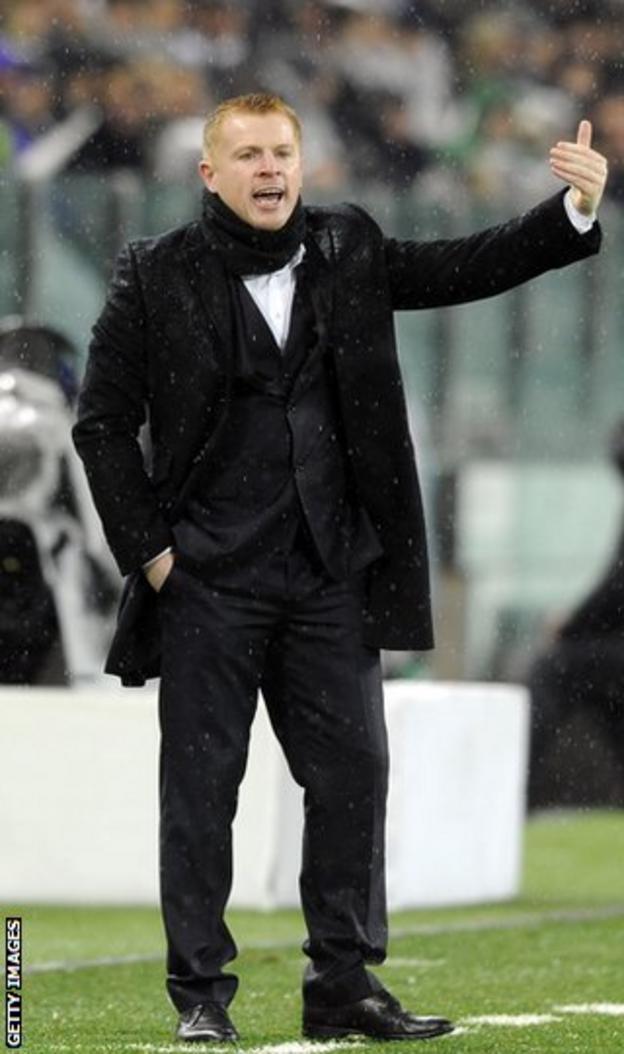 But, now that it's over, thoughts are already turning to the future. Teased with the taste, the club, the fans and the country are greedy for more.
So what chance of a repeat next year? Or was it a one-off? Celtic manager Neil Lennon is already tempering expectations with reminders that he will struggle to hold onto his squad.
Gary Hooper and Victor Wanyama seem destined for the bright lights of the English Premier League and others could follow.
Fans will point to the pot of gold raked in over the past few months as the answer to their departures, but it is unlikely the club will simply throw money at the problem.
The days of spending millions on one player are over. Those with the Celtic Park purse strings are all too aware that, in the current climate, even £10 million won't guarantee you a game-changer in the Champions League.
Buy cheap, develop and sell high: that is Celtic's business model when it comes to transfers. It's a system that has worked well in recent years but is far from an exact science and comes with uncertainty.
Lennon's future is also less than certain. The man that Celtic took a gamble on two years ago, now finds himself a well-respected manager in a position of power.
Will he, too, be tempted by a move south? If the job was right, few would be surprised.
With the title almost wrapped up and at least a further two years of guaranteed domestic dominance, what is left for him to achieve? Only he can answer.
For now he has the thankless task of seeing out the season and building a squad to give the fans their Champions League cheer for next season and the journalists another in-flight break from their shoes.