Wayne Burnett looks to take Dagenham & Redbridge chance
Last updated on .From the section Football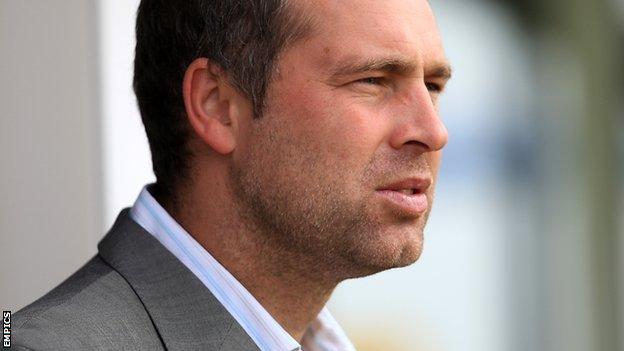 Wayne Burnett hopes to prove himself during his time as interim manager at Dagenham & Redbridge.
"It was the intention that I may take over one day when John either steps up or steps down," Burnett told BBC London 94.9.
"It happened quite suddenly.
"I didn't envisage that he would go so soon but I am absolutely delighted the board have given me the opportunity.
"It was difficult because I have been here four or five years and John had been the leader of the ship as such.
"I have a great opportunity to stamp my authority and hopefully do it my way.
"I will give it a real good go."
Burnett has previously managed in non-league with Fisher Athletic, Dulwich Hamlet and Grays but he admits the step from being Dagenham's first team coach to their manager has posed different challenges.
"You certainly feel there is a lot more responsibility," he said.
"Since taking the job I have probably had half the sleep I usually have.
"You're responsible for not only the players but also the coaches and you represent the football club. I am mindful of that - that it is my role and position.
"I love every minute and seeing players develop and evolve. It is very different.
"As a coach you are focused on your sessions but there are so many facets to the role of manager."
Burnett took a point from his first match in charge, with a 1-1 draw away to League Cup runners-up Bradford, but then suffered defeat in his first home game, a 1-0 reverse against Chesterfield on Saturday.
Dagenham are currently six points above the League Two relegation zone and Burnett is keen to impress his own ideas upon the team after taking over from Still.
"The players have been great and bought into things quite early. We need a certain amount of points to be safe so that is initially the goal," he said.
"But I will do things differently.
"John will be aware of that and we spoke openly about that.
"People wouldn't expect things to be the same but things don't happen overnight. We will try and play a bit differently but we are here to win football matches.
"Anyone who came in and wanted to change things wholesale would be a little foolish.
"There are things I will implement, without a shadow of a doubt, that John has laid the foundations for and I have inherited.
"What he does works but I will do things slightly differently.
"We have got some very good players technically and it is just fine-tuning it tactically to what I want. Only time will tell if that is the right way."
Burnett developed a close relationship with Still after joining the club in June 2009 and he has described the 62-year-old as a "legend" following his departure for Luton.
In what was his second spell as Dagenham boss, Still led the Victoria Road outfit into the Football League in 2007 and then won promotion through the League Two play-offs three years later.
"We were all really disappointed to see him go," Burnett said. "John has left a legacy here.
"What he has done is nothing short of miraculous. He took the club into the Football League and then into League One.
"He produced players for the club that have left and the club has continued to be competitive.
"I have nothing but great words for him. It is a big ask to follow in someone's shoes like him.
"I've known John a long time and I class him as a friend. He is a legend here and I will continue to speak to him.
"He is not the kind of person to be a stranger and he goes out of his way to help you.
"He is a top guy and I can't speak highly enough of him.
"In the last 17 years this club has only had three managers. That tells you a bit about the club and the people around it.
"I am excited by what I can give this club, the vision I see and hopefully taking this club forward."