Arsenal asked for trouble against Gareth Bale, says Robbie Savage
Last updated on .From the section Football

In his regular BBC Sport column on football tactics, Robbie Savage takes a closer look at
The talk before the game was about how to stop Spurs' in-form forward Gareth Bale but, in the end, the Gunners essentially played into his hands.
Like Tottenham, Arsenal tried to keep a defensive line high up the pitch but they did not always put any pressure on the ball when Spurs were in possession.
Add the pace of Bale and Aaron Lennon, who scored near-identical goals in quick succession after running on to passes from deep positions, and that spelt defensive disaster for Arsene Wenger's side.
High defence leaves space for runners
I was surprised that both teams played with such high defensive lines, leaving lots of space behind them.
Tottenham were vulnerable too. I was looking at Theo Walcott's body language in the first half and there were a number of occasions where he was just waiting for the same sort of ball that Bale and Lennon got on the end of to be played in for him.
But Arsenal never found that pass, and instead it was Gylfi Sigurdsson who played the killer ball to Bale for the opening goal.
Sigurdsson almost did the same a few minutes earlier, so Arsenal definitely got a warning of what might happen.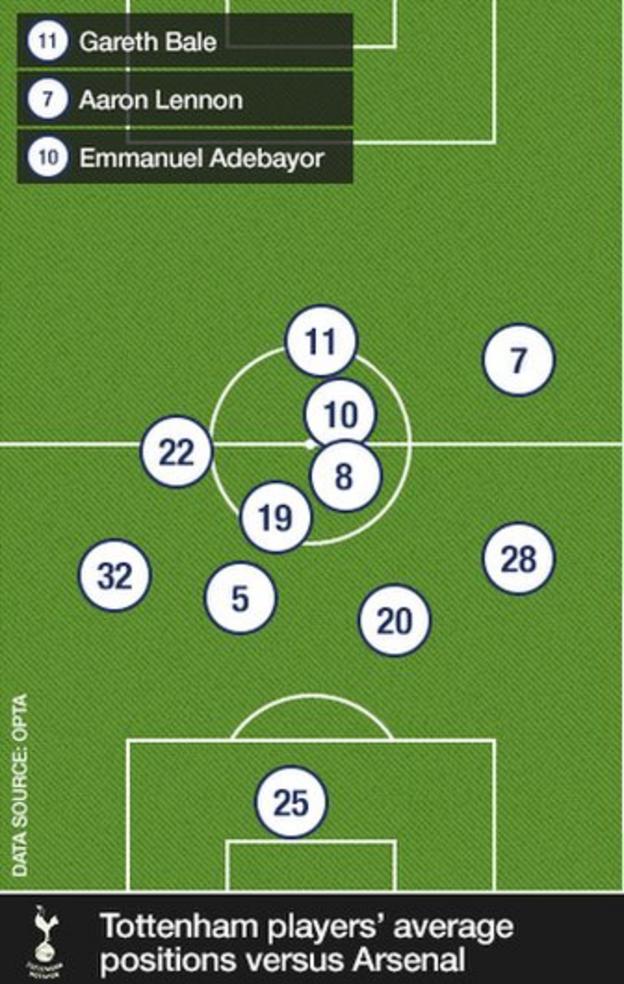 When you defend with such a high defensive line like Arsenal did, then you have to stop the ball at source. If you are not doing that by putting pressure on the ball when the opposition are in possession, then you have to drop off and defend nearer to the edge of your own area - you don't leave space behind for people to run into.
With Bale and Lennon being so quick, that was the worst thing Arsenal could do, especially because their defence did not always seem to be on the same wavelength.
When that happens, it is not the straight runs that hurt you, it is the runs from deep, or across defenders and into somebody else's space. That is how Spurs scored both their goals.
For the second goal, Nacho Monreal should be tracking Lennon. You have to question his decision to step up instead because, from his position, he can see across the Arsenal defensive line.
You can only think he was expecting his centre-backs to drop off and go with the runner too. But Thomas Vermaelen was never aware of Lennon's run at any time.
Although Emmanuel Adebayor was leading the Spurs attack, Bale kept making those runs from deep and going past him. So did Lennon, to a lesser degree.
Because of all those forward runs, Bale's average position over the 90 minutes was as the most advanced Tottenham player and that movement is one of the areas where he is so clever.
You hardly ever see him caught offside in the same way you do so many players with pace in advanced positions.
He times his runs from deep so well and even if he does not always get the ball he makes space for the people arriving behind him.
Why Bale is so hard to stop
You have to give Tottenham boss Andre Villas-Boas a lot of credit for Bale's development. He could easily have just carried on using him as a left-winger in a 4-4-2 formation.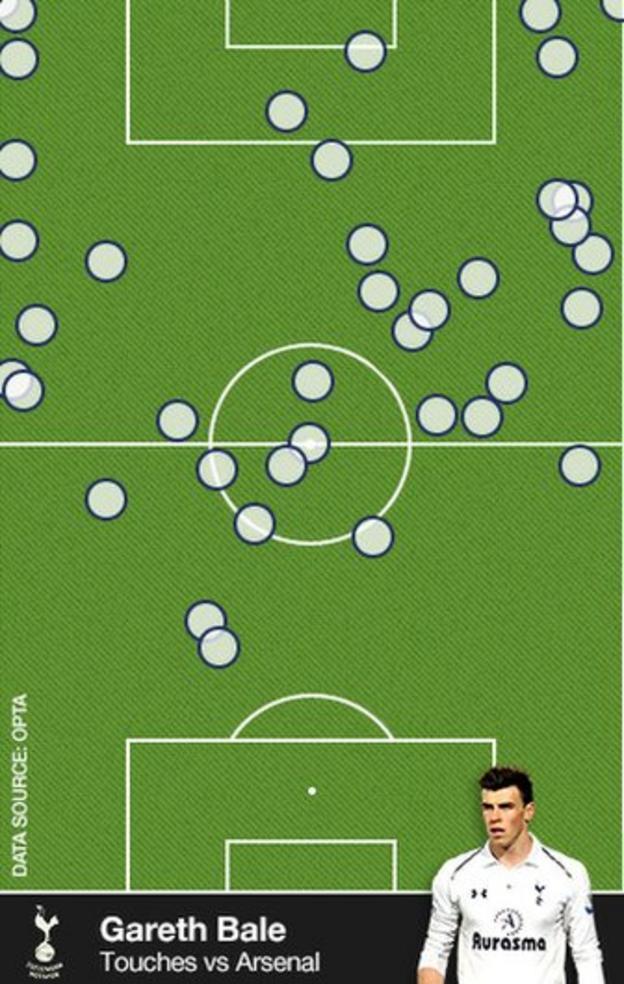 But Villas-Boas has given Bale this free role behind the striker and he is so effective there. He goes where he likes, and we saw again against Arsenal that there is no way he is tied to the left wing anymore.
Bale is effective against any opposition because it does not make a difference whether Spurs are dominating possession or not.
He has scored 10 of his 16 league goals away from home because it suits him and his side more when the onus is on the opposition take the game to them.
If the opposing team sits deep and Spurs get lots of the ball, then Bale is still dangerous with shots from distance and bursts into the box.
But when teams come at Spurs, like Arsenal did on Sunday, then they can counter-attack so quickly and leave him space to run into on the break.
At times against Arsenal, Tottenham played like they were the away side. With the Gunners also keeping that high defensive line, they made things even easier for him.
In theory, using a high line to limit the space he can operate in between your defence and midfield is a good way to stop him.
But the bottom line is that, no matter what you do against players like him, they will find your weakness.
Spurs third and aiming higher
With 10 games of the season to go, Tottenham are now in a very strong position to make the Champions League places.
They are flying form-wise and they have got a player in Bale who is not only world class, but full of confidence and playing at the very top of his game.
With him in the side, Spurs have a huge attacking threat and different ways of hurting teams.
And the way they are playing, they are going for second place - not just a top-four finish.
Robbie Savage was speaking to BBC Sport's Chris Bevan.