Matt Bloomfield column: Gillingham set for League One

By Matt Bloomfield
Wycombe Wanderers midfielder
Last updated on .From the section Football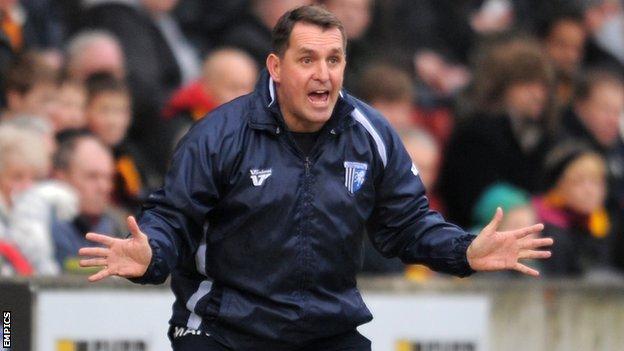 As we enter the final eight weeks of the season the competition for promotion is heating up, while the battle to avoid relegation is as fierce as ever.
Following the midweek games, I don't think that there is a single team in the league that isn't either aiming up the table or tentatively looking over their shoulders.
It's all about putting a run of results together at this stage of the season. Three back-to-back victories can take you from mid-table into play-off contention, or it can ease the growing burden of relegation from the Football League.
I predicted earlier in the season that Gillingham would take one of the automatic promotion spots in League Two and I haven't seen anything to change that opinion.
I'm sure that Martin Allen would like to give the Gillingham supporters more points to celebrate from their home games, but as long as the points are being added to the total it doesn't matter where they are coming from.
To set a new club record for away victories - Saturday's 2-1 win at Chesterfield was their 11th of the season - is a fantastic achievement from their staff and players.
I have gone through similar spells myself as a player. When we got promoted out of this league two years ago our early season form at home was patchy to say the least, but we kept winning on the road so it didn't matter.
Some teams are set up better to play away from home when the onus is on the home team to come out and attack.
It can also come down to something as simple as habit. You get in the routine of winning your away games and confidence comes with that.
Bradford will be hoping that now the distraction of their League Cup run has gone, they can concentrate on their league form and rise up the table.
They have a couple of games in hand and if they make the most of those they can put pressure on the teams occupying the play-off positions.
At the wrong end of the table the fight is really on to retain league status.
With a win and a draw from his first two games, will believe that he can steer Aldershot clear of danger.
since his arrival and although they are only three points outside the relegation zone, their supporters will feel a lot more confident than they were a couple of months ago.
It's tough for Torquay at the moment - and they have gone from a team looking up at the play-offs to a team fighting to survive.
It's never easy when the emphasis of your season changes so dramatically. They have got some experienced players there and they will have to take a lot of responsibility between now and the end of the season.
It's shaping up to be an exciting end to the season for many clubs. There is always a team that comes out of the pack to secure a place in the play-offs or even automatic promotion.
Barnet have secured survival on the last day in the last two seasons and it will be no surprise if it goes down to the wire again this year.