Copa Libertadores: Riquelme key to Boca Juniors' hopes
Last updated on .From the section Football40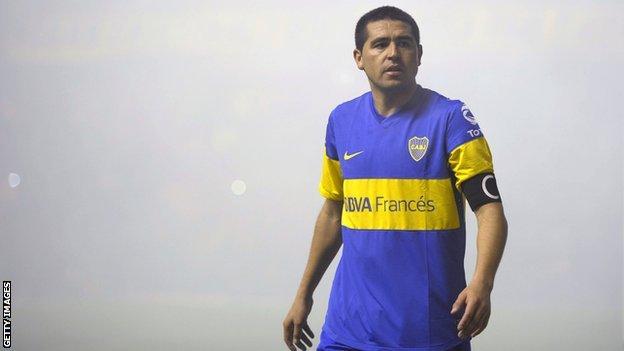 During the 1962 World Cup, Bobby Charlton received a back-channel offer, apparently from Boca Juniors, which sought to tempt him away from Manchester United with the promise of riches.
A key moment in this transformation came in 1982, when Boca sold Diego Maradona to Barcelona. After this, things would never be the same. Until just a few years earlier Argentina only considered home-based players for the national team.
With Maradona abroad, this position became untenable. The floodgates were open, and an Argentina squad almost exclusively chosen from European clubs became the norm before long.
It was not always thus, but since 1982 any competitive meeting between Boca and Barcelona would have begun with the Catalans as favourites - and overwhelmingly so in the last few years.
Indeed, the decline of Argentine club football has now gone so far that on Wednesday, in South America's premier club competition the Copa Libertadores, Boca Juniors kick off as underdogs against Barcelona of Ecuador.
The South American Barcelona are also a big club, with the biggest following in their country and the most league titles, although they have been through a serious economic crisis in recent years. The 2012 title was their first since 1997, and hopes are high that a good run in this year's Libertadores will consolidate the return of the good times.
Barcelona have a front three well capable of troubling the Boca defence. Attacking midfielder Michael Arroyo (who some Premier League clubs might be advised to have a look at) is fearsomely strong, and loves cutting in from the left to let fly his booming right-foot shots.
Damian Diaz is an Argentine playmaker of talent and vision. Last year's top scorer Narciso Mina has moved to Mexico. His replacement, Argentine centre forward Ariel Nahuelpan, lacks the same explosive pace, but brings penalty-area presence and the capacity to set up the play with his back to goal.
The team have made a very poor start to the domestic season. Without a win in five games, only goal difference keeps them off the bottom of the table. But they have much more reason to be pleased with their debut in the Libertadores than Wednesday's opponents.
Away to Nacional of Uruguay, Barcelona played an excellent first half and only lost their 2-0 lead in controversial circumstances. They were 2-1 up in second-half stoppage-time when they were denied a blatant penalty - their subsequent loss of concentration played a part in Nacional's last-gasp equaliser.
Boca Juniors, meanwhile, went down 2-1 at home to Toluca of Mexico on a night when their defence was repeatedly ripped apart.
The result made headlines, but it should probably not have been seen as such a surprise. Boca are feeling their way through a time of transition.
Of the starting line up that lost in the final of last year's Libertadores, eight were over 30. A period of rebuilding was inevitable and, in Boca's case, it has been especially turbulent.
After that defeat by Corinthians of Brazil last July, talismanic playmaker Juan Roman Riquelme announced that, at the age of 34, he could no longer play well enough to represent Boca. Always controversial, Riquelme managed to disturb the peace even in apparent retirement.
The club's fans blamed coach Julio Cesar Falcioni for Riquelme's absence - the coach had never seemed entirely comfortable using a playmaker. Terrace demonstrations ensured that Falcioni's contract was not renewed, and back came Carlos Bianchi, a club legend after two successful spells in charge.
Riquelme had played some of his best football in the first of those spells. Would he now come back to work once more with Larry David-lookalike Bianchi? Enthusiasm was curbed by a high summer soap opera of contract negotiations. When they broke down, Riquelme said there had never been a real possibility of his return.
But then a move to Palmeiras in Brazil fell through, and out of the blue Riquelme reached for the phone and agreed to make a comeback. And so Boca's hopes will be pinned on a 34-year-old who has not played since July, nor taken part in pre-season training.
The danger is that Boca might be out of the Libertadores before Riquelme is fit enough to take the field. He may be ready to play some part in their third match in the competition - next week's home game against Nacional - but he will not feature against Barcelona, where another loss will leave Boca in a very tight spot.
Indeed, an early theme of this year's Libertadores has been the problems faced by Argentine teams. It is the deepening of a recent trend.
In the last few years the country has been dependent on a Riquelme-inspired Boca (winners in 2007, semi finalists the following year and 2012's beaten finalists), on 2009 winners Estudiantes in the years when Juan Sebastian Veron ran their midfield, and on the well-administered Velez Sarsfield, semi finalists in 2011 and quarter finalists last year.
But there has been very little strength in depth. Amazingly, last year was the first time since 2006 that Argentina supplied two of the last eight.
And in the first two weeks of this year's competition, all five Argentine teams have already suffered a defeat. Boca travel to Ecuador anxious to stop the rot, but it will not be easy.
They face dangerous opponents and a huge crowd in an impressive stadium. In the muggy late afternoon heat of Guayaquil, Boca will not start as favourites, which would have been unthinkable some five decades ago when they apparently tried to sign Charlton.
Comments on the piece in the space provided. Questions on South American football to vickerycolumn@hotmail.com, and I'll pick out a couple for next week.
From last week's postbag;
In the last couple of weeks Ecuadorian centre-back Frickson Erazo has been linked to Real Madrid and Manchester United. I was wondering: is he really that good? At 24 he must surely be good enough to strengthen the club's squad if they are interested in him. I also heard that he is an elegant but slow defender. From your opinion what are his strengths and weaknesses on the pitch?
Leocheck Pardish
It's very hard to believe that clubs of this calibre are really interested in Fricson Erazo - of Barcelona, so he will face Boca on Wednesday. He has a fair left foot and has moments of elegance, but he's very vulnerable defensively, with a centre of gravity somewhere near his neck. He's also not good at cutting out crosses played behind the defensive line. Indeed, Boca's best hope on Wednesday is the fact that Jairo Campos, Barcelona's best defender, is out with a long-term injury.
Can you tell us any more on the Brazilian striker Welliton? He recently moved back to Brazil after what seems to be a relatively successful spell in Russia with Spartak Moscow, and he's scored plenty of goals. Does he have any chance of being called up to the Brazil squad?
Abz Ahmed
I was really impressed with him when he was making his name in the middle of the last decade - quick, two-footed and combining well. Perhaps his problem was that he played for Goias, a relatively unfashionable club - and from there he went straight to Spartak. I think Russia were interested in him. Now, though, he's back in Brazil, on loan with Gremio, where he has another problem. Gremio have gone out shopping, and on last week's evidence there is a really good partnership being forged by Argentine centre forward Barcos and Chilean striker Vargas, which for the time being leaves Welliton on the bench. He's 26, with time to dream, but he's climbing Everest the hard way.