Michael Laudrup: Inspirational Dane steers Swansea to success

By Phil McNulty
Chief football writer
Last updated on .From the section Football100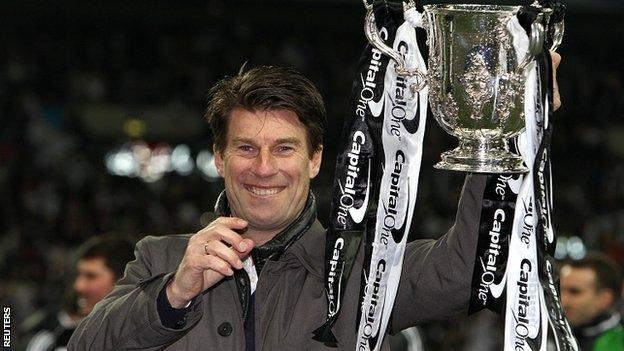 Swansea City can prepare for Europa League football at the Liberty Stadium while Bradford City can prepare for Dagenham & Redbridge at Valley Parade on Wednesday. Reality was restored at Wembley.
And yet this was a Capital One Cup final that left both the winners - and how emphatic and outstanding Swansea City's success proved to be - and the losers with pride and memories to treasure for a lifetime.
This was one fairytale, one big cup game, too far for Bradford City as Swansea never looked for a single moment to be heading the same way as the Bantams' previous Premier League victims Wigan Athletic, Arsenal and Aston Villa.
Bradford's magnificent fans had around 88 minutes to get used to the reality that this would be a game that would end their dreams in the most emphatic manner, Swansea keeping the ball comfortably for the first 90 seconds until the Bantams' first touch conceded a corner.
It was so much more painful than Bradford would have wanted, thrashed 5-0 by a consummate illustration of how to deal with lower league opponents from Michael Laudrup's side, but the scoreline was an accurate reflection of events.
Swansea's house has been built from the bottom up on the foundations laid by chairman Huw Jenkins in the last decade and building has been completed in conjunction with managers Roberto Martinez, Paolo Sousa, Brendan Rodgers and now Laudrup. A major trophy provides a fitting adornment.
There were no miracles at Wembley. The first side from English football's fourth tier to reach this final since 1962 were made brutally aware of the gulf in class from the opening seconds. Two goals each from Nathan Dyer and Jonathan de Guzman and an inevitable strike from Michu completed the formalities.
Bradford goalkeeper Matt Duke, a hero of this cup run, saw his day soured when he was sent off for fouling De Guzman as Swansea scored their fourth from the spot.
Referee Kevin Friend attracted some criticism for giving Duke a red card with the game won but this was not a charity affair and the laws and justice cannot be adjusted in accordance with the scoreline.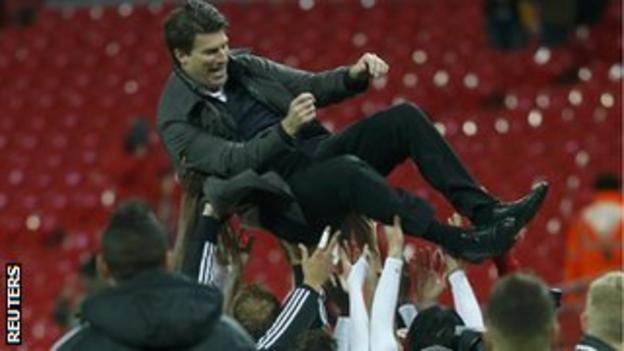 More of the victors later, but Bradford City's heavy beating did not disguise the contribution they made to this occasion, albeit mainly through their supporters, and to the Capital One Cup this season.
It was not just a sporting story but a human one, their clearing of Premier League obstacles brought joy to a club that has lived with the memories of tragedy and 56 deaths in 1985's Valley Parade fire and the shadow of administration to come out into the light and end up at Wembley.
This competition lifted a city and united communities. It was obvious early on that this was to be a chastening day on the pitch so Bradford's supporters soaked it all up, roaring approval for any scrap of hope as well as their first shot on target that came three minutes from the end as Gary Jones's tame shot landed in the arms of Swansea's bystander keeper Gerhard Tremmel.
And the sight of a group of Bradford followers dancing happily as The Levellers' singalong "What A Beautiful Day" - aimed at Swansea's supporters of course - rang around Wembley after the final whistle summed up their mood. Defeated, badly, but only after a campaign they will never forget.
Manager Phil Parkinson and his players may struggle to acclimatise to the league after the heady days of the Capital One Cup but the game should fortify them not detract from their main target. Never mind the naysayers, who may use the fact they were outclassed as ammunition against their presence at Wembley, they were there totally on merit.
As for Swansea, this was a proud day for themselves and further evidence of the growth of Welsh football.
The Swans' won their first major trophy in 101 years, Cardiff are eight points clear in the Championship with a game in hand and even the old pride of north Wales, Wrexham, are heading for their first Wembley appearance in the final of the FA Trophy as well as leading the Blue Square Bet Premier.
This, though, was Swansea's day and reward for a club that have known hard times and plotted a wise, careful route back to success. They were 21st in the old Division Three when Jenkins took charge and 13 years ago - almost to the day - they were beating Chester City in that division while Bradford were in the Premier League.
Jenkins has shown a sure touch in his choice of managers and watching the mixture of pure class and superstar aura that is Laudrup provides further testimony.
Swansea could have been forgiven for faltering when they lost Rodgers to Liverpool last summer but the template was laid before his arrival. It was simply a matter of finding the man who could continue to work with it, then improve it.
Laudrup has proved an inspired pick. He has moved Swansea forward and possesses a reputation that resonates in world football. This triumph will only enhance it.
Michu, at £2m arguably the bargain of this or any other Premier League season, was drawn from Rayo Vallecano to Swansea specifically by Laudrup. And how the world-class attacker in Laudrup must have revelled in the languid manner in which he used Bradford's Carl McHugh as a shield from Duke before placing the ball between the defender's legs and into the corner for Swansea's second.
Former Valencia winger Pablo Hernandez, outstanding at Wembley, felt the same pull as Michu when Laudrup came calling and the manager's faith in Ki Sung-Yeung, a club record signing at £6m from Celtic, is such that he arguably gambled by using the midfield player as a central defender against Bradford.
Laudrup took the £15m acquired from Liverpool and former manager Rodgers for Joe Allen and used it superbly.
Of course the speculation will mount about the futures of Michu and Laudrup himself, but the class of the manager was evident in everything Swansea did at Wembley.
They passed with measured calm and treated their downtrodden opponents with total respect. No showboating with the game won and Laudrup proved this when he sent Michu on with orders for designated taker De Guzman to take that penalty for the fourth goal even though Dyer - desperate for a Wembley hat-trick - appeared happy to fight his colleague for the privilege.
Laudrup has always epitomised style in a career that took him to places such as Juventus, Barcelona and Real Madrid.
This Capital One Cup victory had the stamp of Laudrup's style and the sound management of Jenkins running right through it. Worthy winners of a fine competition.