David Beckham can help PSG win title - Carlo Ancelotti
By Ben Smith
BBC Sport in Paris
Last updated on .From the section Football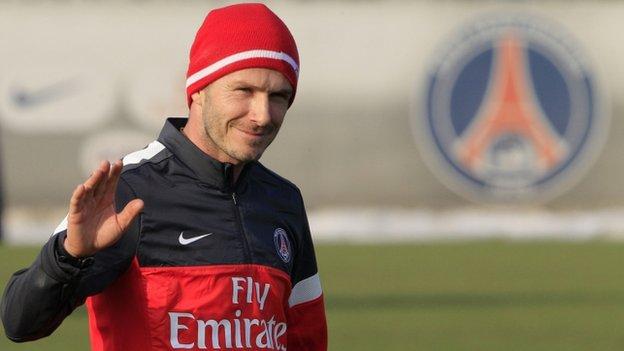 Paris St-Germain boss Carlo Ancelotti says David Beckham has the quality to help the club to a first title since 1994 as the 37-year-old prepares for his debut against Marseille on Sunday.
The Englishman is expected to be among the substitutes as Paris attempt to maintain a three-point lead at the top.
"Everyone is focused on our aim, to win the league here in France and Beckham will help us do that," Ancelotti said.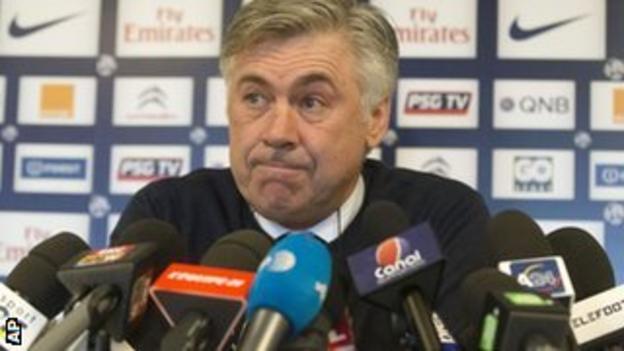 "Beckham is in good condition, very professional and happy to be here."
The former Manchester United midfielder has set his sights on becoming the first Englishman to win league titles in four countries, having already triumphed in England, Spain and the United States.
"This means he has had a fantastic career," Ancelotti added.
"And in my opinion he deserves this because I have always found him a fantastic player, a fantastic professional. I love Beckham not just as a player but as a character."
While some have claimed Beckham's five-month stay in France is just a brand-building exercise, Ancelotti insisted the former England captain still has the talent with the ball.
"He will help us. The quality of his passes is fantastic, he has experience and the behaviour in the training sessions will help the other players. He is the same player that I met when he was in Milan."
One subplot in Sunday's meeting is the prospect of Beckham coming up against Joey Barton, on loan at Marseilles from Queens Park Rangers.
Asked whether the former Newcastle midfielder, who is expected to start on Sunday, might try to wind Beckham up, Ancelotti said: "Beckham does not have a problem with Barton. Barton is a very good player, an English player like Beckham but there is no problem."
Ancelotti also played down reports that Swedish superstar Zlatan Ibrahimovic had struggled to come to terms with Beckham's arrival in Paris. "They have the same objective to win the league, so it doesn't matter whether they have different character," he added.
"They are going to work together very well. They are not stars, they are players. I am lucky to work with them this season."
As to a report in the French media that he had reached an agreement in principle to manage Real Madrid next season, Ancelotti was equally dismissive.
"It is not true, not true at all," he said.