Swansea City's Garry Monk's hopes for League Cup glory
Last updated on .From the section Football
Bradford City will look to cause a League Cup final surprise when they face Swansea City at Wembley, but standing in their way will be a man who is no stranger to football miracles.
Club captain Garry Monk will lift one of English Football's major honours if Swansea win. Heady heights for a man who made his debut for the Welsh club nine years ago, in the fourth flight of English football.
"To go from that point there to where we are today, I'd have laughed at you if you'd predicted it," said Monk.
"I just want to win it for the people here now, I want them to have that trophy in the cabinet."
Few would argue with Monk's candid analysis and few supporters would question his honesty on the field since making his Swans debut at 25, in a League Two home defeat to Northampton Town in 2004.
Monk hit form at Swansea's old home, The Vetch Field, under Kenny Jackett and the short-term loan moves he'd endured for years would be no more.
After promotion in his first season with the Swans and a Football League Trophy winners' medal in his second, Monk succeeded the now Wigan Athletic boss Roberto Martinez as club captain in 2006.
Leading the side in the gritty lower leagues, contrasts recent captain's duty on trips to Newcastle United and Liverpool, but Monk draws belief from those early battles. What is more, he is not the sole survivor.
"Leon Britton and Alan Tate are still here," added Monk, now 33.
"We've been in those bottom leagues and I say to Tatey that we've dug ourselves many a trench in games when we were just getting bombarded and the ball's just coming back at you and you have to dig in, fight and scrap for your lives.
"I've seen all sorts, from taking abuse from away supporters to seeing players fighting in the tunnel.
"We've done all that and the grounding we've had from those leagues in terms of experiences and improvement on top of all the battles has put us in a great place as players."
There is a symmetry to the fact the side Monk and his fellow Football League graduates will face are themselves forging a reputation for defying the odds.
Images of League Two's Bradford City ousting Aston Villa at the semi-final stage are just the tip of the iceberg in a season where the Yorkshire club have revelled as underdogs.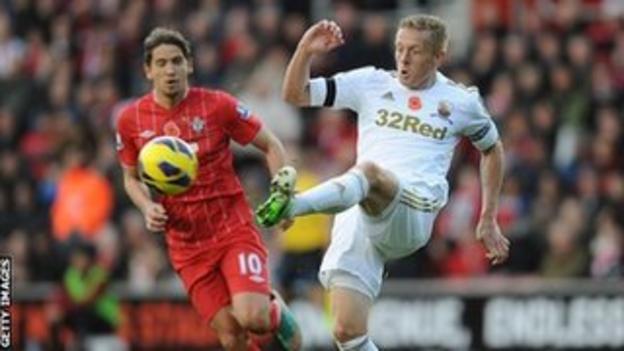 "It's amazing, absolutely amazing," added Monk.
"To have beaten three Premiership sides along the way and in difficult situations. To beat Aston Villa over two legs is phenomenal really. Wigan and Arsenal as well, it's an amazing feat.
"So we're mindful of that. We will never undermine them, we'll pay respect."
If Swansea do secure their biggest honour in their centenary year, Monk and his defensive partner Ashley Williams have agreed to lift the trophy together, regardless of who takes to the field at Wembley.
Williams is a shoe-in for selection, but an ankle injury suffered by summer signing Chico Flores has paved the way for Monk or Kyle Bartley to appear at Wembley.
If selected, Monk will play at Wembley for the second time in two years, having captained the Swans at the home of English Football when they reached the Premier League in a 2011 play-off final victory over Reading.
"The buzz around the city reminds me of when we got to the play-off final," added the former Torquay United trainee.
"When you're out and about in the street or even doing your food shopping people are coming up to you to talk about it and ask your opinions. There are no big-time stars down here, everyone is approachable and that's one of the strengths of our club."
The glamour attached to the appointment of a European manager like Michael Laudrup has not derailed egos at the club according to Monk, who has seen five managers leave during his own stay.
He concedes elite sides may be casting an eye over his Danish manager. But while humble on Swansea's place in football's pecking order, Monk says a cup win will prompt the club to assess its own ambitions.
"We're realistic enough to think we're probably never going to be a club that can compete with the top six or seven in terms of where they're at with budget - it's just a totally different planet to us.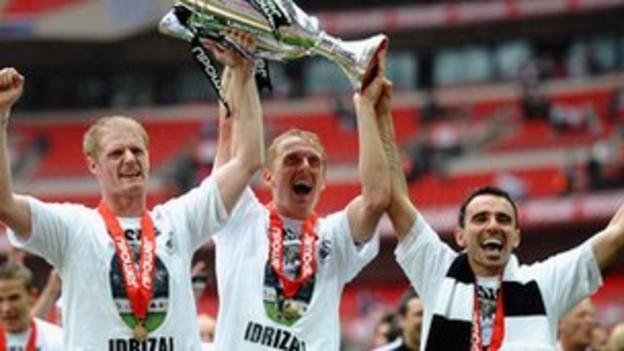 "But if we can finish in the top 10 and win a major cup final, especially in our centenary year, I really don't know how we would top that. It's the pinnacle for this club."
Despite the late stage of his career, Monk's recent contract extension, which keeps him at the club until the summer of 2015, means he will have a hand in shaping the club's near future.
"It's a shame the Premier League came at this stage of my career - as I come towards the end, but I'll never forget where I've come from in terms of playing in those lower leagues," he added.
"It's a great story and one I'm really proud I've been amongst. It's something I'll always cherish."
If Monk and Swansea see off the challenge of a side who seemingly love taking on Goliath, a European campaign would form part of the reward - and another step in Monk's fascinating football journey.