Swansea chairman Huw Jenkins took job because he was 'dull'
By Richard Williams
BBC Wales Sport
Last updated on .From the section Football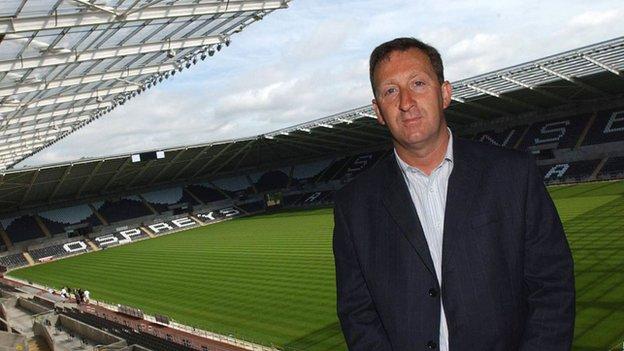 On his 10th anniversary in the job, Huw Jenkins has a straightforward answer to the question why he agreed to become chairman of Swansea City: "I was the only one dull enough to do it."
The word dull in Swansea parlance doesn't necessarily mean uninteresting; rather it signifies gullibility - think of it as interchangeable with the word "daft".
And when you consider the position Swansea City were in when Jenkins took the job as chairman, it's easy to see why he might consider it was not the cleverest decision he had ever made.
Mired in debt and rooted in the bottom half of the bottom tier of the Football League, Swansea City in 2002 was not a place for the faint-hearted or the uncommitted.
Where Swansea are today is a million miles from where Swansea were in the 2002-03 season when they beat Hull City on the last day of the season to avoid relegation from the Football League.
The club posted a record profit of £14.6m at the end of their first season in the Premier League and on Sunday take on Bradford in the final of the Capital One Cup at Wembley - their first major English cup final appearance.
But back in January 2002, Jenkins was part of a consortium which managed to oust then-owner Tony Petty.
"At the time the club was in a right mess," said Jenkins. "There are no other words to describe it.
"We just went in and tried our best to try and work our way through it. We had to look for money week-in, week-out to pay the electric and water bills.
"I was the dullest one and that's why I said 'yes' [to becoming chairman] at the time and looking back, nobody knew how it was going to turn out.
"But we quietly grew from there and luckily enough we are where we are today."
Jenkins has been in the hot seat through it all. He has witnessed three promotions, appointed six managers, and helped oversee the move from the Vetch Field to the Liberty Stadium.
Perhaps his greatest contribution, looking from the outside, has been the continuity Jenkins has maintained, even when managers were departing at a rate which would destabilise most football clubs.
Not only have the Swans remained steady, but a "Swansea" way of playing has become established.
Passing wins out over power, the long ball is frowned upon, and the best way to stop the other team playing is to keep the ball yourself.
That, explains Jenkins, is key to his recruiting policy.
"When I meet potential managers we discuss football for hours. Looking back recently to Brendan [Rodgers] and Michael [Laudrup] they knew a lot about our football club.
"They identified what was needed to help us go forward a little bit and everyone has stamped their own little bit of personality on it, and it's been fantastic.
"But two things are vital. One - they come here and work with our staff so we don't have dramatic changes. I think that is important.
"Then we make sure they are comfortable and take on board our philosophy and stick to it."
Current manager Laudrup took over after the departure of Rodgers to Liverpool in the summer of 2012.
He signed a two-year contract and talks are already under way over an extension.
That, perhaps, remains Jenkins' biggest challenge. Having lured the legendary former Real Madrid and Barcelona player to his far western outpost of Premier League football, can he keep Laudrup past the end of his two-year contract?
"Can he outdo the past managers?" asks Jenkins.
"Roberto [Martinez] did two years with us, Brendan did two years with us, so it will be quite interesting to see if we can actually get a manager to stay three years or more.
"We'll do our best to keep Michael happy, and I think playing the game on Sunday and winning will go a long way to giving him some satisfaction and perhaps motivation for next season and beyond."
Jenkins's commitment is beyond question. Though even after 10 years of gradual and spectacular success, he's not taking anything for granted.
"I'm fully aware that one day things might turn around and perhaps everybody will be quite happy to get me out of my position and move on to something else," he said.
"We all understand that can happen to me in this position."
Until that day, even after that day, Jenkins will remain a fan at heart - as befits a man born and raised in Skewen, a town on outskirts of the city.
"I shout a lot," he said. "If we lose I'm not very happy for the next few days.
"On Sunday it will be a fantastic achievement to go there and win.
"From a personal point of view I probably never could have seen this day coming.
"It's difficult to take it all in, but no-one gets carried away. We're all pretty much feet on the ground and down to earth. That's the sort of people we are."