Football League Friday: John Hughes plots Pools' great escape
By Matt Newsum
BBC North East and Cumbria Sport
Last updated on .From the section Football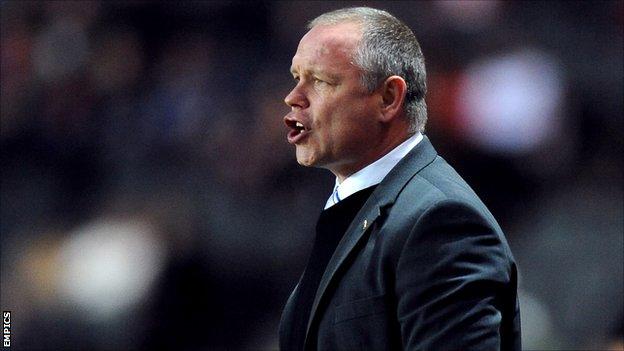 You could never accuse Hartlepool United first-team coach John Hughes of seeking the easy way out.
The son of a Leith docker has built a career on battling adversity, pushing boundaries and punching above his weight.
His latest challenge, salvaging Pools' status in League One, is just the kind he relishes.
"I love it, it's how I've always been in my career," he told BBC North East and Cumbria Sport.
"The upbringing I had and the values I was brought up with and had in life I've had to scrap for, had to battle for, had to prove people wrong all my days.
"Those values make you the person you are and I've always had a smile on my face because I love playing football."
When he arrived at Victoria Park in November, he inherited a seemingly sinking ship, with the club nine points adrift of safety and on the back of a 16-game winless streak.
It took another six games to end that, but since then Hughes has begun to work his magic, and three wins in the last five games are evidence of the Scotsman's impact.
Saturday's 2-1 victory at home to Leyton Orient last weekend lifted Pools off the foot of the table for the first time since October.
"When I came in I said I want improvement, now we're off the bottom of the league and we're giving ourselves a fighting chance," he said.
"You can see what it means to the community."
To understand Hughes' enthusiasm for football, and his attachment to Hartlepool's place in the local community, you just need to look back at his upbringing.
Footballing passions were honed on the terraces of Parkhead and Easter Road, the latter just yards from his childhood home among the tough dockyards of Leith in Edinburgh.
The determination not to be daunted, to keep on fighting, was instilled early on in his life.
"I was the youngest of six and I never knew what any kind of new clothes were, I was a hand-me-down child," he said.
"Anytime my brother was finished with shoes, I got them. Jumpers the same, but I loved it, and I think it makes you the person you are.
"It puts character in you, two older brothers that if I ever tried to sneak off in their gear used to come and find you and give you a hiding, so it taught you to stand up for yourself."
As a player Hughes was tough and uncompromising, a fierce centre-half most comfortable tussling with strikers for Berwick, Swansea, Falkirk, Hibs and Ayr United.
However, it was a move to Celtic, where he added steel to the class of Paul McStay, Jorge Cadete, Paolo Di Canio and Andreas Thom, that fuelled a desire to coach once he hung up his boots.
"I was 31-year-old, I thought I knew football, but going to Celtic was a 'wow' moment," he said.
"Tommy Burns was a maestro in terms of coaching and man-management and was a touch of class for Celtic.
"I was like a sponge. These guys were electric, the way they trained. I couldn't get home quick enough to write the training drills down.
"I thought 'this is for me'. I really loved it and I loved the fact everything was about passing football."
Although a relative unknown in England, the man known informally as 'Yogi' has a record in his native Scotland in coaching that has won him admirers.
In addition to leading boyhood team Hibs into Europe, he led Falkirk from the Scottish First Division into the Scottish Premier League at the second attempt, after they were initially denied promotion because of ground restrictions despite winning the title.
Once in the top flight, he brought European football to the Bairns, a Scottish Cup final appearance and only three managers won more matches in the club's history.
Six years in charge allowed Hughes to put his stamp on the club and implement his philosophies.
"The success I had gave me licence to play football [at Falkirk], I'm interested in total football," he said.
"The whole team has to be able to play, the goalkeeper, pass out from the back, play through zones, between the lines, everyone has to be comfortable on the ball.
"Everyone says 'but you'll never be Barcelona' - but surely that's the benchmark? You'll never have [Andres] Iniesta or Xavi, but we're not playing against Real Madrid every week either.
"It levels itself out, if you're not trying to achieve that, then you're wasting your time, but I believe also that as a coach or manager you've got to see what you've got at your disposal."
That pragmatism has been useful at Hartlepool, where Ken Hodcroft's prudence means the club are solvent, but run on a strict budget.
Likewise, despite the improvement in form, Hughes knows there is still much to do to secure safety but he knows, going back to his own experiences, the significance such a feat would have to the town and its people.
"If we save Hartlepool United from relegation, we'll be heroes around here," Hughes added.
"That's what I told the players, the football part has a big part to play in this community.
"We're a team, me, the players, the staff, the girls in the offices, we're all in it together.
"We just want to put a bit of pride back in the town. I want to stick around at this club, take them in the Championship. It's not going to happen straight away, but I want to be here to push it through."
BBC Sport will be taking a closer look at stories from outside the Premier League before every weekend league programme in our Football League Friday features.