James Beattie: England cliques, near misses & five-hour commutes
By Phil Cartwright
BBC North West Sport
Last updated on .From the section Football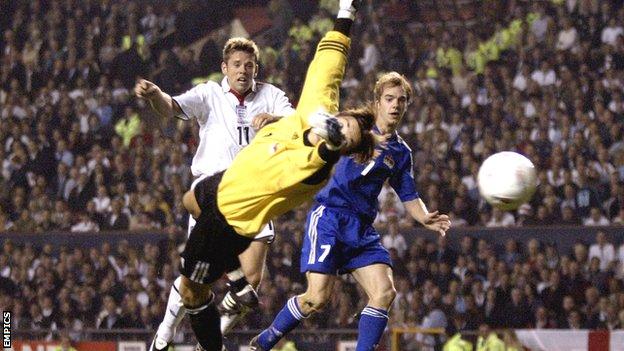 Only Ruud van Nistelrooy and Thierry Henry prevented Southampton's James Beattie from winning the Premier League's Golden Boot in 2003.
On that basis, few could argue against him being handed a first England cap in February of that year.
But within nine months of starting the infamous 3-1 defeat by Australia, when coach Sven-Goran Eriksson replaced his entire starting line-up at half-time, Beattie's England career was over.
The emergence of a teenage Wayne Rooney restricted his chances of partnering the prolific Michael Owen on a more regular basis.
So too, Beattie admits, did his participation in a television documentary following the national team in the months leading up to Euro 2004.
But he also thinks some of his England team-mates could have helped his cause as well.
"I can remember certain situations in matches where I should have been set up for goals and people were a little bit greedy and had shots themselves," Beattie told BBC North West Sport.
"A few other players have touched on it that, at that point, it was quite cliquey in the England setup.
"I also remember doing a documentary called 'Three Lions' and it was when the England players were all thinking about going on strike [after Rio Ferdinand was banned by the Football Association for missing a drugs test].
"I did a little bit in my bedroom and that was aired, and I never played for England after that.
"I didn't say anything controversial or out of order. I think it was just the fact that I'd done it after being in the team meeting, I don't know.
"Personally, I don't think I was really given a fair chance. I was still only a young lad then and I thought that, if given the right opportunity, I could have progressed my career internationally and gone on to bigger and better things."
He said of his first call-up: "It just sort of happened. I can't remember how I was feeling at the time.
"I was obviously delighted, but I was on such a crest of a wave at that point that I thought it was what happened when you were doing well.
"Now, looking back on it, I think 'wow'.
"To make my England debut in front of my parents and my now-wife, even though we lost to Australia, and to make four further appearances was an amazing experience."
A decade on, via Everton, Sheffield United, Stoke, Rangers and Blackpool, the 35-year-old finds himself back in his native Lancashire and in the middle of a relegation battle as player-coach of struggling Accrington Stanley.
After spending much of his 17-year playing career at the top level, you would think turning out in League Two would be far from appealing for Beattie - and you would be wrong.
He said: "This is grassroots football. there must have been 50 Accrington fans that travelled however many hours on a cold Friday night to watch us there. For me, that's what being a football fan is all about.
"It puts a smile on my face getting up every morning, knowing I'm going to be training with the boys. It's just a love of football. I can't see my life without it at the moment."
Released by the Blades at the end of the 2011-12 season and without a goal for almost three years, he found himself struggling to find employment.
Numerous rejections led to him swapping his base in the north west for a return to the south coast, but ensured his playing days were not at an end.
Beattie and Leam Richardson were apprentices together at Blackburn during the mid-1990s and the newly-appointed Accrington manager gave him a route back into the game.
"I still wanted to play desperately and said Beattie, who is the most experienced player in a young Stanley squad. "It was just that nobody was willing to give me that chance.
"It's a bit of a come down I suppose, from everybody wanting you to everybody saying 'you haven't played and we don't know how fit you are'.
"Leam got the manager's position and he asked if I wanted to come in and do a bit of coaching as well.
"To play in a relaxed atmosphere and to be around a friendly face, who I knew was going to look after me - it was an easy decision.
"It's one hell of a commute! It takes about five hours for me to drive up here, but that's the way it is. Leam looks after me with time off so it's a good relationship in that way.
"I do a little bit of coaching. Leam takes the training sessions, with me just being there and contributing vocally. I'll maybe take some of the lads at the end of training for a shooting session, but mainly I'm just trying to work mentally with the guys and try to toughen them up a bit.
"That's the side of coaching I enjoy and I would like to do something on in the future."
BBC Sport will be taking a closer look at stories from outside the Premier League before every weekend league programme in our Football League Friday features.