Arsenal have some big decisions if they are to be a force in football

By Phil McNulty
Chief football writer
Last updated on .From the section Football728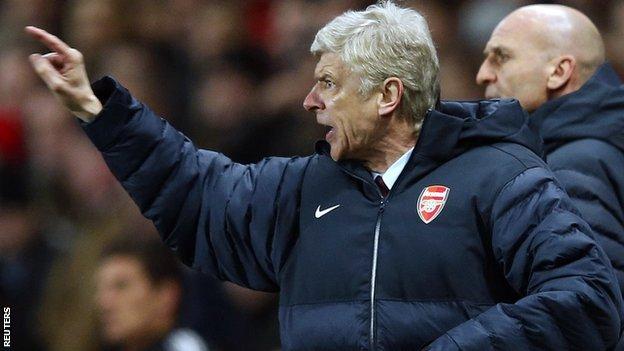 Arsene Wenger urged those who had observed the brutality with which Bayern Munich had taken Arsenal to the cleaners not to hide from the truth.
The wider and more painful truth is even starker for Wenger after the runaway Bundesliga leaders spent 90 minutes plus stoppage time illustrating to The Emirates what Arsenal have become; how far they have fallen in European terms.
And why, as Arsenal and their manager stand on the brink of an eighth season without success, the questions about Wenger's future now carry even greater significance.
The debate about whether Wenger should stay in his job is a live one, whether people like it or not. It would certainly happen if Sir Alex Ferguson went eight seasons without a trophy at Manchester United - and would be in full swing after eight months without a trophy at Chelsea.
Arsenal are now an irrelevance in any serious discussion about Premier League title winners. Barring a miracle in Munich - and even Wenger must struggle to see that happening after this first leg - the same also applies to the Champions League. This reality must cut Wenger deeply given the riches of his early years.
Throw in defeats to League Two Bradford City in the Capital One Cup and more recently Championship Blackburn Rovers in the FA Cup and this is a manager and team as far away as it has ever been from restoring old glories.
It is a sorry state of affairs for a classy, decent and dignified man who has brought so much to the Premier League as well as three titles and four FA Cups to Arsenal. Where he once had "The Invincibles" he now has the fallibles.
Contrary to some fairly widespread opinion, the media is not out to "get" Wenger but you cannot turn muck into honey and a simple analysis of Arsenal's current place makes grim reading. He is held in huge respect, affection too, but past achievements cannot act as a shield against present realities.
And Arsenal certainly knew their place as they were blown away by a fresh and improved Bayern seemingly on a mission to make up for the stigma of losing last season's final to Chelsea in their own stadium.
Bayern are a European football superpower. Arsenal are a waning one. Bayern were powerful, pacy, skilful, ruthless, packed with formidable natural talent allied to irresistible work-rate. Wenger would have recognised it - his Arsenal teams used to be just like that.
The gulf in class in the key areas was vast. Even Wenger's staunchest loyalists will have been tested by the last few days and the experiences of Blackburn and Bayern.
Arsenal's largest and second largest shareholders, Stan Kroenke and Alisher Usmanov, looked on at The Emirates on Tuesday. In the context of Arsenal's present status it was a night that must have felt like the coldest of cold showers.
Jack Wilshere, Arsenal's outstanding performer again, showed commendable loyalty but nothing approaching credibility when he claimed he "didn't think it's anything to with the manager" that they are in such strife.
Nice try but it will not cut any ice in an examination of Arsenal. The realist inside Wenger admitted Arsenal now probably had an easier task trying to qualify for next season's Champions League than staying in this year's tournament.
And even that option is not a given with Arsenal four points behind fourth-placed Tottenham with a visit to White Hart Lane coming up. For the record they are 21 points behind leaders Manchester United.
Wenger's contract runs to 2014 and he has never broken one yet. He has also earned the right, if this is possible, to go on his own terms after what he has given to Arsenal and the unswerving loyalty he has displayed.
If, however, after another trophyless season Arsenal actually fail to qualify for the Champions League, Wenger may feel this could represent a natural point of departure. Would even a man like Wenger, no matter how talented and fired by his love of football, want to face a job of serious renewal from the Europa League after the successes he has had?
Even if Arsenal did qualify for next season's Champions League, the club's supporters - who offered magnificent and unstinting support in the face of a pretty nasty beating from Bayern - would expect Wenger to seriously consider his next step.
Arsenal have been diminished by one of football's oldest laws. No team can replace top-class, in some cases world-class, players with inferior models and get away with it for long. Robin van Persie left in the summer and is in the process of winning the title for Manchester United. Olivier Giroud arrived as replacement and was not entrusted with a start against Bayern.
And plenty were exposed by Bayern. Arsenal can build around Wilshere but goalkeeper Wojciech Szczenzy was again an unconvincing figure amid some desperate defending.
Germany's Per Mertesacker was accommodating to his fellow countrymen throughout while Mikel Arteta and Aaron Ramsey did not look cut out to compete at this elite level. Even the usual invention of Santi Cazorla was blunted.
So if Wenger does stay he must conduct a major, not to mention expensive, refit of Arsenal before he can even think about reclaiming the prizes that once used to arrive on a regular basis.
It will be a long job and time waits for no man. Not even Wenger.
And after watching a graphic demonstration of just how far they are behind clubs like Bayern, Arsenal's fans will become increasingly frustrated if they hear any repeat of the boardroom mantra that states in two years' time they will be able to compete with the biggest clubs in the world.
In two years' time Pep Guardiola will have made his mark on Bayern backed by huge finance. The current incumbent Jupp Heynckes is being eased out despite looking on course for the Bundesliga and being in charge of a team that are serious Champions League contenders.
This summer must be a time of major decision for Wenger and Arsenal's board. Their rivals will not politely put plans on hold to give the Gunners the opportunity to make ground.
After the second leg, barring the unthinkable based on Tuesday's evidence, Arsenal and Wenger's only goal will be to finish in the top four. The big decisions can wait until then - but they are coming.