Bradford City might be underdogs but the city and the fans believe
Last updated on .From the section Football77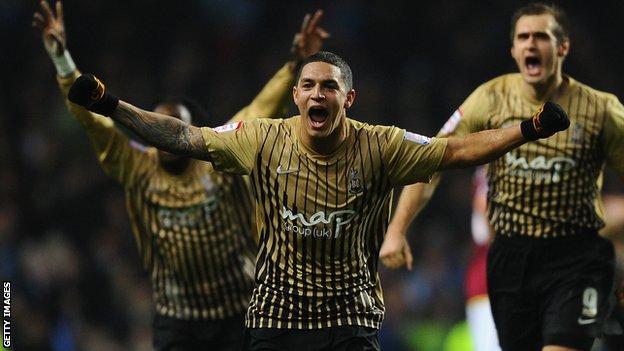 At first glance, it is a day like any other in Bradford.
The distinct aroma of frying onions fills the air around Kirkgate, the piercing sunshine casts shadows across the imposing Victorian buildings and excitable children on half-term battle with a lone accordion player to provide the soundtrack.
Outwardly, there are very few signs that this is a city gearing up for a first major cup final since 1911 - having somehow seen off Wigan Athletic,Arsenal and Aston Villa to become the first fourth-tier team to reach a Wembley showpiece for more than half a century.
Save a handful of mobile stalls selling scarves, T-shirts, flags and banners, there are barely any messages of support in shop windows or flags hanging from landmarks ahead of Sunday's meeting with Swansea.
But this is not a city used to showing off, or a place that is comfortable with extravagant displays of emotion or self-celebration. That is not, however, to doubt the passion that exists in this city and the excitement that is building to fever pitch in the only way it knows how.
Jim Brennan, 71, stops to buy a Bradford City pin badge, to add to the three attached to his coat, ignoring the Phil Parkinson masks and Bradfor-it T-shirts hanging alongside him. "You won't see lots of banners, or flags or people shouting about it - it's not like that here," he says.
"But there is excitement. I spoke to my bus driver this morning and he is driving 50 of his pals down to London in a coach. He tells me there will be 34,000 Bradford fans down there, even if they don't all get in. Now you can't tell me that isn't a city up for it, can you? We're proud. Very proud."
Once you scratch the surface, there are signs everywhere that this is a city that cares. It is on the lips of passers-by as they bump into friends in the street, it is the talk of the queue at the Post Office and children are even learning about their new heroes at school.
Councillor Dale Smith, the Lord Mayor of Bradford and a season-ticket holder at Valley Parade, told BBC Sport: "There is an incredible buzz around the city - people are still scrambling to get their hands on tickets. No-one wants to miss out because it is going to be a magical day, whatever the outcome.
"I have always called it brilliant Bradford and it is sparkling right now."
The local paper, the Telegraph and Argus, is full of stories reflecting that. Some fans are travelling to Wembley on tandems to raise money for charity, while tens of thousands have signed three giant Bradford shirts which have been circulated. A statue of Sir Titus Salt, the founder of Saltaire, has even been adorned in club colours.
Jenny Taylor, 35, is buying her nine-year-old daughter a Wembley T-shirt. "You won't see a lot of fuss in the city but we are all talking about it," she says. "My little girl came home from school last week asking me about Wembley. They have been learning about it all and even looking back at the Valley Parade fire."
This remarkable cup run has recalled the loss of 56 lives in 1985 when a fire swept through the stadium. A Yorkshire brewery is donating money from every pint sold to the burns unit at the Bradford Royal Infirmary in the run up to the final, but that is just one of many stories around this city.
In the shadow of Valley Parade, even the very youngest are learning about the city's new heroes.
Sharon Hogan, head teacher at Midland Road Nursery and Children's Centre, said: "We are very civic-minded and we do a lot of work to show our pride in this fantastic city. Bradford City are part of that but I also have three members of staff going to the game and the parents are all talking about it. That is why we wanted to create a display for the children. We have children of all faiths and backgrounds here and everyone is behind the team."
Not since 14 May 2000 has Bradford been quite as proud of its team. On that day, David Wetherall headed in the goal that beat Liverpool and allowed City to keep breathing in the rarefied air of the top division. But days like that have been few and far between since.
While the 'wrong side of the Pennines' has basked in sunshine in the past few years, football in Yorkshire has retreated to the shadows. The trip to Wembley provides an opportunity to step into the light once again.
Carl Williams, 45, stops with his two boys. "Cup fever?" he asks. "I am not sure we do cup fever in Bradford, but I know so many people who are going down - even though they can't afford to.
"The thing is you just don't know when it will ever happen again. I want my boys to be able to tell their boys and their boys' boys about it. It feels like it is that kind of occasion.
"It is costing me a fortune but we are going to London on Sunday - and I know no-one is giving us much of a chance, but you have to believe, don't you?"
Bradford are still underdogs, of course, just as they were when Wetherall defied the odds almost 13 years ago.
But don't be fooled, Bradford believes.