Arsenal 0-1 Blackburn: Martin Keown calls defeat 'smack in face'
Last updated on .From the section Football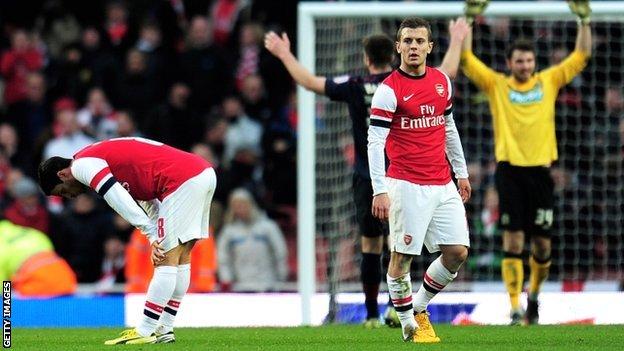 Arsenal's hopes of winning a domestic trophy this season came to a crashing end when they were dumped out of the FA Cup by Championship side Blackburn on Saturday.
Coming after a Capital One defeat by League Two Bradford in December, the Gunners' only chance of ending their eight-year trophy drought now rests on the Champions League, where they face Bayern Munich on Tuesday.
Here, former Arsenal defender Martin Keown assesses the FA Cup loss, having commentated on the game for BBC Radio 5 live.
A smack in the face for Arsenal
"The expectations are incredibly high at Arsenal and Arsene Wenger will know better than anybody else that this is turning into a very disappointing season for Arsenal. At the beginning, things threatened to start turning around but now the questions are coming.
"There will be a serious examination. The manager always looks at himself first. He is fiercely competitive and fiercely demanding and if his players are not able to come up to speed he will make some changes.
"Having won the FA Cup in an Arsenal shirt for Arsenal, I know what it means and what it feels like. I just felt there weren't enough people early enough in this match trying hard enough to win it. Arsenal have taken a real smack in the face."
Paying for a sluggish start
"Arsene Wenger trusts every single member of his squad, but his players did not get into the speed of the game quickly enough - that mentality where you have to switch on and make it happen. The game just drifted past and they thought 'we will get a goal eventually' but they missed chance after chance.
"Gervinho was put through by Tomas Rosicky, a glaring opportunity, but there was a lack of ruthlessness in front of goal.
"You can't afford to let your opponent off the floor. If you have got your foot on him, don't let him go. Blackburn were allowed to wriggle free and in the end they got the luck because Colin Kazim-Richards kicked the ball into the floor when scoring. Arsenal goalkeeper Wojciech Szczesny will be disappointed that he parried the shot by Martin Olsson into his path.
"It was so disappointing not to be able to convert those endless corners and shots and the amount of possession they had. But Blackburn showed what can happen in football if you keep going, you're resolute, and you're well organised.
Blackburn rewarded by dogged defence
"Blackburn just kept believing they could get something out of this game. The amount of pressure Arsenal were putting on them at the end was relentless. Forwards Colin Kazim-Richards and Jordan Rhodes at the top of the formation were willing runners and held onto the ball.
"Lee Williamson and Jason Lowe never stopped running in midfield, while central defenders Grant Hanley and Scott Dann will not have played a better game this season, or maybe in their entire careers. And the goalkeeper Jake Kean was on another planet. Every single one of them, the manager Michael Appleton included were outstanding. Williamson made his debut so it was quite a raw team with one or two individuals that have played in the Premier League.
"It was a scruffy finish by Kazim-Richards, but he kept himself solid and tucked it in. It was a stunning goal because Arsenal were dominating but Szczesny should have done better when he palmed the Martin Olsson shot straight to Kazim-Richards.
"All credit to Mike Appleton and his team, they've somehow managed to win here and go through into the next round. They're enjoying it now with their fans, and this will live long in the memory for both the Arsenal and Blackburn supporters for very different reasons."