Oldham and Everton's long wait to repeat Joe Royle's success
Last updated on .From the section Football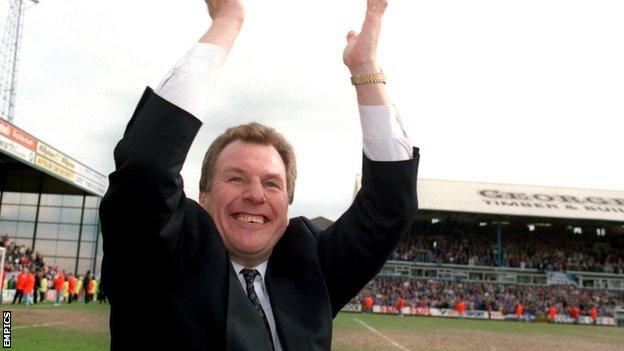 Given his rich FA Cup history with both teams, it seems odd that Joe Royle will not be at Boundary Park this weekend when Oldham face Everton for a place in the quarter-finals.
'Big Joe' twice took the Latics to Wembley at the start of the 1990s during a golden spell when they reached two FA Cup semi-finals plus a League Cup final, and he also guided them into the top flight.
With Everton, he went further. An FA Cup runner-up as a teenage Toffees striker in 1968, Royle remains their last manager to win any silverware after getting his hands on the famous old trophy in 1995. "That is a record I would gladly lose," he told BBC Sport this week.
For that to happen this season, David Moyes' men have to get past Oldham first. Royle is looking forward to watching what promises to be a classic David versus Goliath encounter when the two clubs meet on Saturday night, but will be doing so from a TV studio in London rather than the ground where he was manager from 1982 until 1994, and then briefly again in 2009.
The 63-year-old wishes both teams well and promises to be strictly neutral in his role as a pundit for Al Jazeera. "No matter who scores, I won't know what to do," he said.
He will miss their latest big night but it is only a few days since Royle was last at Boundary Park, however. He went back to see Oldham beat MK Dons in League One last week.
"The anticipation amongst the fans [ahead of the Everton game] was great to see because it has been a hard slog for them in recent years," Royle told BBC Sport.
"It is difficult for them on and off the pitch at the moment. If the right buyer came along who was willing to invest in the club then I am sure the chairman would tell you himself that he would step aside."
The Latics' current struggles mean those heady days on a plastic pitch when Royle's buccaneering Oldham side captured the imagination of the nation seem an awfully long time ago.
They have been in the third tier of English football since 1997 but even that diminished status is not secure at the moment, and they are in the thick of a relegation battle.
Claiming the famous scalp of Everton's Merseyside rivals Liverpool in round four could not keep former manager Paul Dickov in his job, and Oldham will be led by caretaker boss Tony Philliskirk as they look to continue their surprise progress in the competition.
Royle, for whom Dickov scored a crucial goal to fire Manchester City out out of League One on another dramatic day at Wembley in the 1999 play-off final, had sympathy when his old friend lost his job but also understands why chairman Simon Corney, who he briefly worked under in his second spell at the club, made the decision.
"I am a big fan and a friend of Paul's and I would have loved for it to have worked out for him there, but all managers answer to results. And the results weren't good," Royle said.
"Simon is a good guy and he cares about the club. I know he likes Paul too, but he took a tough decision because he felt that maybe a new momentum between now and the end of the season might save their status."
Moving up, rather than down, the divisions is the dream for Latics fans, but financial constraints mean a repeat of Royle's feat in marrying Cup shocks with league progress seems difficult to imagine. The landscape of English football has changed too much.
"I think they could comfortably be a Championship side but it is certainly going to be very hard for them to see the halcyon days of the Premier League again," said Royle.
"When I was Oldham manager, we brought young players in from Manchester City, Leeds and Everton and actually gave them slightly more than they were earning there, as well as first-team football. But that cannot happen now."
Everton are also far from flush as they look to recapture old glories, which in their case would be to end their long wait for a trophy that dates back to Royle's time in charge, when his 'Dogs of War' triumphed against the odds.
If his spell with Oldham was a fairytale, then his first season at Everton had the happy ending. The Toffees were bottom of the Premier League when Royle arrived in November 1994 but he kept them up and capped a remarkable campaign by beating Manchester United at Wembley the following May.
"Staying up was much more important and I maintained the stance that the FA Cup was a hindrance to us all along until we reached the quarter-finals, and even then it just became a welcome hindrance," Royle added.
"Once we beat Tottenham 4-1 in an epic semi-final and got to Wembley, the Cup was really on our minds but we remained really laid back about the whole thing. We probably got serious about the game about half-an-hour before the final kicked off and we were in no way afraid of United."
It is interesting to listen to clips of Royle, plus his players and the club's directors - including current chairman Bill Kenwright - talking to BBC Sport in the immediate aftermath of that Wembley triumph. All thought more success was on the horizon. It is still yet to materialise.
"Realistically, it would have to be a cup again," added Royle when asked what the Toffees' trophy prospects are like in 2013. "They have got a chance too, because David Moyes has done terrifically well over his 10 years there and this is the best team he has had.
"He has got a team for all seasons, not a soft team, but they also have talented players and they can play. Their best 11 is right up there, and can beat the best in the division. If there is a weakness, then it is the total strength of the squad."
That lack of depth means there are doubts whether Everton can combine a Cup run with their bid for a top four finish and the Champions League, but Royle feels having two different targets can be mutually beneficial.
"If Everton win on Saturday, then they are one game from going to Wembley in the semi-finals," he said. "That sort of thing can boost you and get the crowd ignited. Cup runs do not necessarily cost you - quite honestly, they can run hand in hand, as we found out in 1995.
But can Oldham get in the way, as they did in 1990 - after three epic ties when Royle was in charge - and in again in 2008 when Gary McDonald caused a shock at Goodison Park? Maybe, but Royle does not see it happening.
"This is a strong Everton side," Royle said. "Whatever the weather, we are talking about a hardened, talented, organised outfit. I don't think they are prone to mistakes in the way Liverpool were when they came to Boundary Park.
"For Oldham to win, they will have to be at their very best and Everton will have to have a real off-day."