Manchester United ruthlessly cash in on Manchester City's problems

By Phil McNulty
Chief football writer
Last updated on .From the section Football447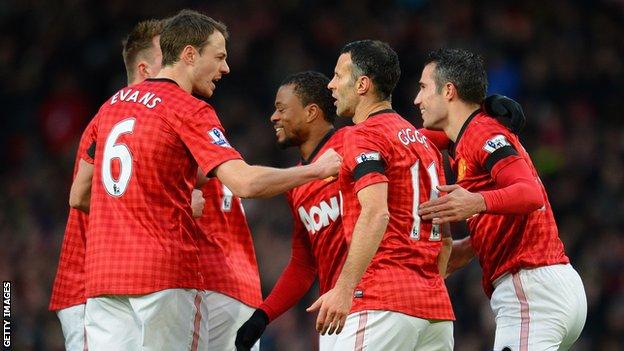 Manchester United's response to the pain of losing the Premier League title last May was to sign Robin van Persie. Manchester City's response to claiming the crown can now be seen as fatal complacency.
As Van Persie rolled his 23rd goal of a magnificent first season into Everton's net at Old Trafford to open up a 12-point advantage over City at the top of the table, so United's record 20th crown was surely won.
"No, no, no," was United manager Sir Alex Ferguson's answer to that - but study all the evidence and it is impossible to uncover one compelling reason to suggest otherwise.
Indeed, Ferguson's own actions once City's accident-prone performance at Southampton ended in a 3-1 defeat revealed exactly how important Sunday's game with Everton suddenly became to his plan to regain the title.
He had, with Wednesday's Champions League game against Real Madrid at the Bernabeu in mind, planned to make seven changes to United's side. The temptation of establishing a psychologically damaging gap of a dozen points was too much to resist and the number of changes was reduced to three.
A routine 2-0 victory completed a highly satisfactory weekend for United and left City and manager Roberto Mancini with all the questions to answer and problems to solve.
Even assuming City, who hardly look to be the strongest either mentally or physically, win all of their remaining 12 games, United would need to lose four times for the blue half of Manchester to be celebrating again. And even if that scenario plays out, United also boast a superior goal difference.
As City stumbled from one catastrophic error to another at St Mary's, they gave every impression of a team ill-at-ease with themselves and what was expected of them this season. It does not look a happy ship.
City looked laboured in scrambling a draw against a superior Liverpool last Sunday. What they produced at Southampton was a horror show from Mancini's worst nightmares, from Joe Hart's schoolboy error in letting a simple shot through his legs to Gareth Barry's inexplicable own goal.
United, in contrast, rumble ruthlessly on. No-one would suggest this has been a vintage campaign but look at the points tally and look at the lead. This has been a season conducted with utmost efficiency laced with an X Factor brought with him this summer from Arsenal by Van Persie.
It is as important to improve from a position of strength as it is when you have lost a title and this is where Mancini may just gain a measure of understanding in the face of a growing number of detractors.
The Italian's position is sure to come under scrutiny at the end of the season if City tail off in the title race, something that would also bring their dismal Champions League campaign into even greater focus.
But this is a manager who brought the FA Cup, Champions League qualification and then the league title to City. He could still win the FA Cup this season. The problems arose when a marquee signing failed to arrive last summer.
Mancini's lament about Van Persie making the difference between City and United may be something of a red herring because the Netherlands striker wanted to move to Old Trafford - but the standard of signings City eventually made were never designed to improve a title-winning squad.
One look across Carrington towards Ferguson would have warned City against resting on their laurels. And yet it increasingly looks like this is what has happened.
No-one can question the financial commitment of City's owners. The title would have been a pipedream without them and their money. This, however, cannot be the final destination.
United made a landmark move in the market to sign Van Persie, while Eden Hazard and Mancini's old favourite Daniele de Rossi chose to stay in Italy.
List the arrivals at The Etihad and not one would have caused Ferguson to raise an eyebrow, at least not in concern. Jack Rodwell, Maicon, Javi Garcia and Scott Sinclair were strictly B-list - indeed Sinclair has almost killed his career stone dead since moving from Swansea City and Rodwell has hardly fared much better.
Matija Nastasic is a fine investment but not a title game-changer. City filled in the bits around the edges of their squad but no A-listers arrived. And how it shows.
Even title-winning players need an injection of fresh impetus. And the failure of the likes of Hart, Vincent Kompany, Yaya Toure and David Silva to reproduce the riches of last season only further underlines the shortcomings of City's summer transfer business.
Of course City may look back and laugh when they have won the league in 12 games' time - but in the real world lightning rarely strikes twice.
It will be redemption for Ferguson for what happened last season. Losing the title on the final day at Sunderland was bad enough - but losing it to City was even worse.
Ferguson remembers one game in particular and the cause of all his angst was in front of him in royal blue at Old Trafford on Sunday in the shape of Everton.
The warning from Ferguson was in black and white - perhaps not just about not repeating the slackness in this fixture last season when the concession of a two-goal lead to Everton in the final eight minutes cost United victory and, to all intents and purposes, the title.
It could have been applied in the wider context, such as losing an eight-point lead with six games left, when he wrote in his programme notes looking back at that 4-4 draw: "What I can say is that it won't happen again - or if it does, then put it this way, they will feel the full effect of the hairdryer!"
Other factors are also at work. United now have the great match-winner Van Persie, City and their key players are operating nowhere near the level they were at this time last year and the late-season Manchester derby, which was so vital to the destiny of the title 12 months ago, is at Old Trafford this time rather than The Etihad.
The hairdryer was left on the shelf as United were barely threatened by a jaded-looking Everton. The 12-point lead was secured and attention could turn to Champions League matters.
Ferguson will never, especially after last season, admit the job is done but this weekend is surely the one that has cleared the path for the title to return to Old Trafford.