Phil Jones nullified Everton's main threat, says Robbie Savage
Last updated on .From the section Football

In his regular BBC Sport column on football tactics, Robbie Savage takes a closer look at Manchester United's win over Everton.
On Sunday, United boss Sir Alex Ferguson told Phil Jones to man-mark the giant Belgian and follow him everywhere.
There is an art to man-marking, and it does not always work. This time, it definitely did. Yet again, Ferguson got his tactics spot on.
Everton's danger-man hardly figured in a game that United won to cement a 12-point lead at the top of the Premier League - and all without getting out of second gear.
MAN MARKER - THE UNSUNG HERO
Phil Jones got given a job to do against Everton, and he did it exceptionally well.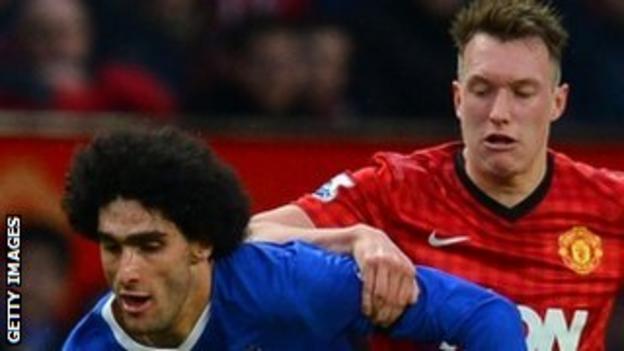 Fellaini never got into the game, ended up getting frustrated and, by the end, he had dropped so deep that he was not in a position to cause United problems when Everton did attack. There was no need to follow him then.
I have man-marked people plenty of times in the past - and I enjoyed it.
The person given that role is always someone the manager can trust, and the important thing is to know you are not there to try anything spectacular. In some ways you are taking a hit for your team but, as Jones showed, it can be a key role.
I remember being asked to man mark Gianfranco Zola when I was playing for Leicester against Chelsea in 2001. We beat them and he was subbed off at half-time, When that happens, you know you have done your job.
It was the same in a game for Derby against QPR in the season that Rangers won promotion to the Premier League in 2011.
I met Adel Taarabt in the referees room beforehand and shook his hand. I could see in his face that he was thinking 'oh no, he's going to be man-marking me'.
Opposing players hate it because they know you are out to ruin their day.
It isn't necessarily skilful players like Zola or Taarabt who can run past three or four men who are man marked - it is about dealing with the opposition player who is going to have the biggest impact on the game.
Fellaini has obviously done a lot of damage to United before which is why they singled him out. He loves to play as a second striker, getting the ball into his chest and holding it up or finding people running past him.
His game is about strength but Jones was the right man to stop him because he is a big strong guy himself who was able to battle him for those sort of balls, nip in in front of him, and keep him under constant pressure.
THE ART OF MAN-MARKING - AND WHAT CAN GO WRONG
It is not just a case of shadowing your opponent everywhere, however. If Jones had not left Fellaini and played his part when United had the ball then, in effect, Everton had an extra man when they were defending.
So, when United were in possession, Jones had to leave Fellaini and play as a normal central midfielder.
But, as soon as United lost the ball, he had to get back on to his man.
The danger when you are asked to tag somebody is that you get carried away if your team is doing well and follow the ball instead. Concentration is key.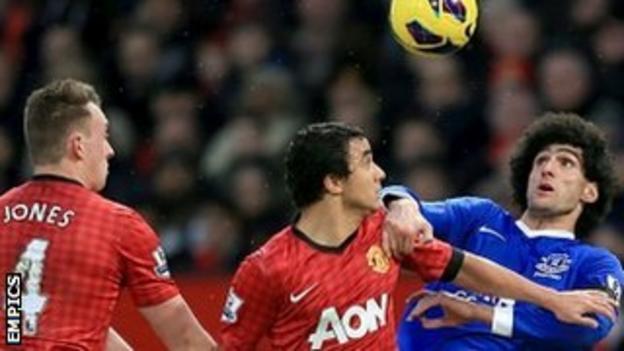 It is like a game of cat and mouse and you have to be very clever to do it effectively because, obviously, the player you are marking will be doing his best to lose you. I remember Zola dropping right back to behind his own centre-halves to try to get on the ball.
Fellaini's positioning was always more rigid than that on Sunday but he was still going out wide to Everton's left wing for example.
Wherever he went, Jones was never far away and you could see Fellaini was getting fed up because he was not given any time on the ball without a challenge coming in.
You might think it is a one-man job but Jones had help too, of course. While you are attacking, you are relying on other people - normally defenders - to pick your man up, depending on where he goes.
If they don't, then the whole system breaks down. But when Fellaini went out to the left-wing, Rafael dealt with him.
Fellaini still spent a lot of time in his normal position as a deep-lying centre forward or number 10 too, so then it was down to the United centre-halves, Nemanja Vidic or Jonny Evans, to pick him up.
But Jones was so disciplined in his positioning that they never really had to do that. Vidic and Evans could concentrate on Victor Anichebe instead.
COULD IT WORK AGAINST CRISTIANO RONALDO TOO?
I thought it was a real shame for Jones that he limped off before the hour mark. United were comfortable by then and he had kept Fellaini very quiet.
But the fact Jones had been playing on United's right so much in order to look after Fellaini gave us a hint of how United might stop Cristiano Ronaldo down the same flank on Wednesday.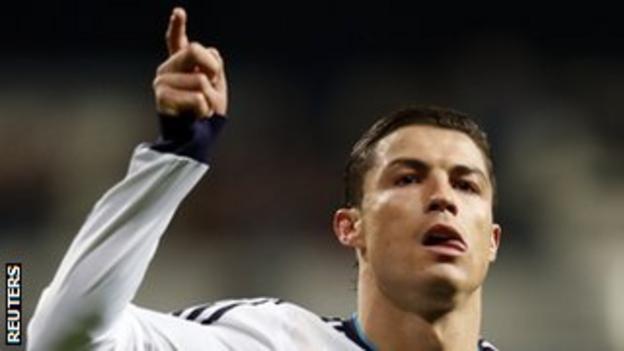 I think man-marking the opposition's best player might be a ploy worth considering again against Real Madrid in the Champions League at the Bernabeu - and, yes, I would try to man-mark Ronaldo.
He is the type of player that can lose his temper and get a bit tetchy if he is getting a lot of attention. You could really irritate him.
The problem is he is good enough to beat the system. Unlike with Fellaini, Ronaldo will go to every area of the pitch to get on the ball and you would have to be so switched on to follow him everywhere.
The best players in the world are able to work out what is happening during a game and find space. I am not sure if man-marking Ronaldo will work but it will be interesting to see how United do try to stop him.