Graham Stack: Goalkeeper aims to settle at Barnet
By Rob Stevens
BBC London & South East Sport
Last updated on .From the section Football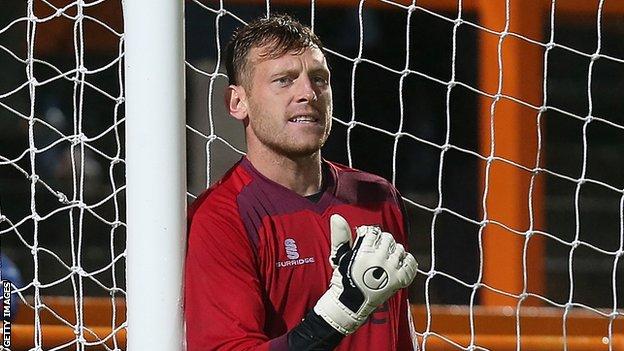 Graham Stack hopes he can help Barnet retain their Football League status after pledging his long-term future to the League Two club.
"I'm delighted with how things have gone since I joined the club," Stack told BBC London 94.9.
"Signing a new deal is pleasing as it's just rewards for hard work you put in on a day-to-day basis.
"The manager has come in and made me captain.
"To be 31 and get offered a long contract is rare.
"I am ambitious and I think there is a lot going on at Barnet. It ticks a lot of boxes and it's something I want to be part of."
Life has largely been a struggle for Barnet since their promotion to the Football League in 2005, with their survival being secured on the last day of the season in each of the last three campaigns.
It has been no different this season following a slow start under Mark Robson which only saw them secure their first victory in their 13th league game of the season.
Robson has since departed north London, with former Netherlands international Davids taking sole charge.
The Bees are deeply embroiled in a relegation battle, with only goal difference currently keeping the club out of the relegation zone.
"I have been involved in title-winning teams and been involved in relegation," Stack said.
"It's almost a stain on your record, being involved in a relegated team.
"We are involved in a relegation battle, let's not get away from that.
"I am confident we will get out of it. It's about getting points in the bank as quickly as possible.
"We are all driven towards the same ambitions at this club. It is a case of trying to consolidate and stay up.
"With another three years here, I want to be successful and be part of something.
"The club will try and improve gradually and I'd like to think this time next year we will be around the play-offs. That is my ideal scenario but only time will tell."
Stack is keen to settle in north London having struggled to find a new club last summer, a task which often proves to be a challenge for a free agent in the lower leagues.
The former Arsenal and Reading keeper was left looking for a deal after leaving Hibernian following a three-year spell with the Scottish Premier League club.
"I went to Preston in pre-season and they had eight goalkeepers on trial," Stack said.
"Eight of us, all trying to become that second keeper because they already had one - [Thorsten] Stuckmann was there.
"It became a bit of a rat race over the summer and it is a massive, massive test of character.
"That for me is something I don't wish anyone to experience.
"Coming out of the other side has made me realise how hungry I am to stay in the game as long as I can and to produce performances that make me stand out."
Stack says the pressure to find a new club built up following his departure from Hibs.
"Over the summer my wife was pregnant with our fourth child, I was up in Scotland and didn't have a club," he added.
"My rent was up on our property and we'd outgrown our house in London which we had left.
"There was so much going on in my life at that time and people outside of the game don't understand what footballers have to experience.
"You are out of contract, you have no income, you have a family to support and provide for.
"You are contacting clubs, agents are calling you and emails are getting sent off. Players nowadays have clips on YouTube or DVDs they are sending off.
"Last year I found it so tough, psychologically, not knowing where the next job is going to be or how long it would be for.
"I was over the park training on my own or at the gym with friends. It's hard to keep your sense of normality.
"I didn't ever lose belief or focus but it hard when you get rejected or don't get considered by some clubs.
"Clubs are cutting their cloth and can't afford to have three keepers anymore.
"They tend to have a senior keeper and a young keeper. If needs be they will go and get one in on loan.
"It was hard for me and increasingly becoming difficult for young lads."
Graham Stack was speaking to BBC London 94.9's Phil Parry.