Sporting spotlight: Gaizka Mendieta
Last updated on .From the section Football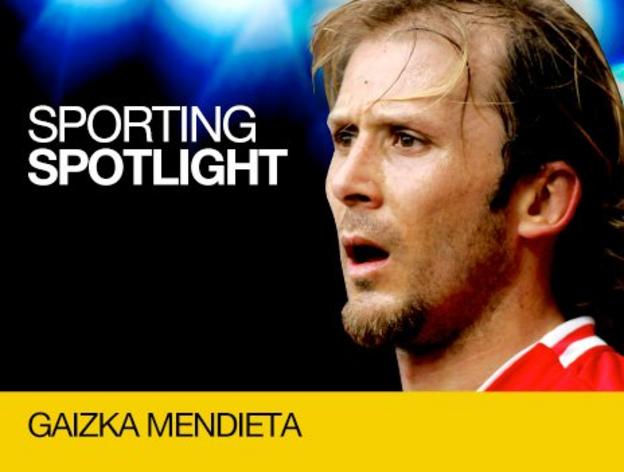 From the despair of successive Champions League final defeats to the joy of lifting Middlesbrough's first major silverware, BBC Sport puts Gaizka Mendieta, 38, under the sporting spotlight.
Capped 40-times by Spain, Mendieta was the main man in a Valencia side that challenged for honours at home and abroad before he made a £29m transfer to Lazio. After his big-money Italian move turned sour, he played with Xavi, Andres Iniesta and Carles Puyol at Barcelona and was then part of a period of unprecedented success on Teesside.
What do you do now that you aren't playing?
I work as a pundit for a few different television channels and am looking to do my coaching badges in the summer. Apart from that, I look after some businesses and I like to DJ sometimes. My other passion in life is music - rock and soul.
You are still based in England, why do you like it here?
I have lived in England for 10 years now, and love the culture and the way people respect former players.
My partner, Helen, is English and I love a lot of things about this country. I like fish and chips at the right moments, Helen cooks pies and cakes and we sometimes have a roast dinner on Sundays.
I have adopted a lot of English traditions. I really enjoy my 'cuppa tea' in the mornings and now when I am in Spain I struggle when they eat so late at night.
Joey Barton and your former Middlesbrough manager Steve McLaren have both famously started to adopt foreign accents, has that happened to you?
You cannot help to pick up the accent wherever you are. I find myself now saying things like "innit, mate".
To talk about your playing career, what did it feel like to lose successive Champions League finals with Valencia in 2000 and 2001?
Back then, it was very painful but now we realise how difficult it is to achieve a Champions League final place and we did that two years in a row. In perspective, we can enjoy that achievement more as when you lose finals you do not appreciate them enough - truly, it was an incredible achievement.
You left Valencia in 2001 for Lazio for what was then the sixth-highest transfer fee ever paid for a player. Now that you are retired, how do you look back on the size of that deal?
Transfer prices went crazy in those times due to television putting in a lot of money. It is crazy how much clubs pay for players, but it is part of the show and part of the service.
It is unfair to talk about just football, other sports such as Formula 1 and tennis attract a lot of money.
Why did it not work out for you in Italy?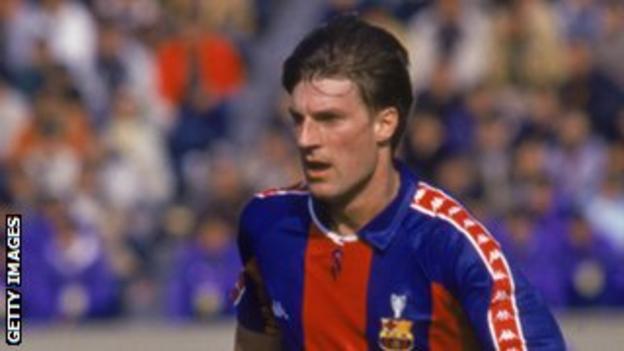 It was my first time abroad, I did not play regularly and I did not get the know the football. It was a very difficult year as the chairman changed, the coach changed twice and I did not get any tranquillity.
You then moved on loan to Barcelona a year later. Were people at the club talking about Lionel Messi even then despite him being so young?
Lionel Messi was a little kid when I was there, but the training facilities were separate between the first team and the academy so I did not see him play. I remember the Argentines talking about the 'new Diego Maradona' like they always did when a new youngster emerged, but that time they were right!
How did your move to Middlesbrough occur in 2003?
[Then manager] Steve McLaren came to Rome and we had a chat about the project at Middlesbrough. I did not think much about it at the time, but after awhile I thought, "why not?"
I had always wanted to play in the Premier League and I really liked the players there, such as Juninho. I took the gamble and it worked perfectly.
We won the League Cup, which was fantastic, and the team made it to the Uefa Cup final.
Who was the biggest character in the Middlesbrough dressing room?
George Boateng was the one who broke the ice, he was certainly not shy, along with Franck Queudrue.
George always liked to tease people and hide their clothes. If you ever wore anything a bit different or colourful he would hide them in the kit room or hang them from the ceilings. You always need those type of characters in a dressing room.
You were part of a Spain side that contained outstanding players such as yourself, Raul and Fernando Hierro. Since then, the national side has become world and European champions, so what do you think has changed?
When you look at the players on paper, there is not much difference in ability between the teams at all.
What is different now is that the main group of players have been playing together in the various national teams since they were 15 or 16, so it has become a routine. The core players play football in the same style for their clubs and the national team and the Spanish Football Federation now run the national team like a club.
You played in midfield for Spain alongside Pep Guardiola. Did you know then he would go on to become an outstanding manager?
Definitely. He was the kind of guy who breathed football 24 hours a day, seven days a week. He knew all the players, the tactics about how the other teams were playing and he would approach the other players on the national team to ask them what kind of sessions they were doing with their clubs.
Who do you think was the best player you played against?
It was either the Brazilian Ronaldo or Swansea manager Michael Laudrup. Laudrup was a different class, I played against him when he was at Real Madrid and Barcelona - it was very hard to get the ball off him!
Lionel Messi or Cristiano Ronaldo?
I would go with Messi. He is a different player, with great skill and I feel more akin to him with his personality.
Do you enjoy using Twitter?
If used wisely and correctly, it is a great way to interact with people. Nowadays anybody can speak with their heroes through their mobile phone, which is something that was unthinkable years ago.
Gaizka Mendieta was speaking to BBC Sport's Matt Monaghan.