Jamie Carragher leaves Liverpool a servant of The Kop

By Phil McNulty
Chief football writer
Last updated on .From the section Football301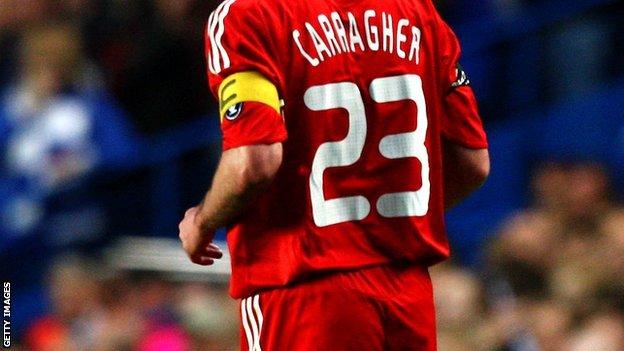 The Kop has turned its dream of "A Team Of Carraghers" into song - but at the end of this season Liverpool must get used to life without their one and only.
Gerrard and Carragher have been the twin Scouse symbols of Liverpool in this more cosmopolitan era, a direct line between the team and the terraces through periods of turbulence and change, as well as glorious success, at Anfield.
Carragher's status as, to use managing director Ian Ayre's words, "a colossal figure for Liverpool Football Club" has a measure of irony as he grew up and arrived at Anfield on YTS forms in 1994 as a fanatical Everton fan.
But this model professional and outstanding defender will be forever Liverpool, a magnificent contributor in a career in which only the Premier League title has eluded him in his collection of club honours.
Carragher's announcement was typical of the selfless way he goes about his business, his future revealed to spare Rodgers constant questioning about his next move. The logic was simple - why speculate when the decision has been made?
And it came after a week in which Carragher restated his enduring value to the modern Liverpool. Drafted back in at Arsenal and Manchester City to restore stability and order after the FA Cup debacle at League One Oldham Athletic, Carragher did what he has done throughout his career.
As Liverpool drew both games, he brought organisation, fierce determination and a street wisdom accumulated along the years in the game and miles around the pitch, to back Rodgers' claims that he could no longer leave him out of his Liverpool team.
It was another example of what this under-rated (not at Anfield it should be stressed) player and personality has brought to Liverpool.
Too often Carragher has been damned with faint praise. The sweating, shouting figure throwing himself into so many last-ditch tackles - notably during his finest Liverpool moment when they came from 3-0 down at half-time to win the Champions League on penalties against AC Milan in Istanbul in 2005 - must never disguise the awareness, impeccable reading of a game, the timing of his tackling and the authority he has carried with him.
And, perhaps most crucially of all, Carragher was naturally gifted with an uncanny knack to sense danger in and around Liverpool's penalty area. It proved a priceless quality.
It was not an easy start at Liverpool for Carragher. Indeed he felt the rough edge of Anfield's tongue for some time, even though he marked his home debut with a rare headed goal in front of The Kop against Aston Villa in March 1997.
He truly flourished under Gerard Houllier, who was the perfect mentor and fed Carragher's thirst for knowledge about the game and encouraged the professionalism that has served him so well throughout his career.
It is a desire for knowledge that still exists today and what will surely lead him to the pundit's chair and a career in a media keen to draw on his vast footballing database. The delivery will be typically direct and will come accompanied by sharp insight and analysis.
Houllier settled Carragher in defence, often at right or left-back before he established his permanent place in the centre and the honours started to come, particular in the treble-winning season of 2001 when Liverpool won the Worthington Cup, FA Cup and Uefa Cup.
When Liverpool had great victories on foreign soil such as against Barcelona in the Nou Camp in February 2007, Inter Milan in the San Siro in March 2008 and Real Madrid in the Bernabeu in February 2009, Carragher was at the heart of the triumph.
Carragher was central to Rafael Benitez's plans and was still cherished by Kenny Dalglish when he returned for a second spell as Liverpool manager last season. And Rodgers, who had hoped to persuade Carragher to extend his playing career by another 12 months, has also found it impossible not to call on him despite an initial preference for Daniel Agger and Martin Skrtel.
There was never any possibility of Carragher seeking football elsewhere. If there is a surprise, it is that he is not joining Liverpool's coaching staff. He has judged that the time is not right but it may well be in the future and it is likely he would be welcomed back to Liverpool's Melwood training headquarters with open arms.
Carragher's England career was played out in the shadow of defenders like John Terry, Rio Ferdinand and Sol Campbell but he still won 38 caps and was so highly regarded by former coach Fabio Capello that he persuaded him out of international retirement to play at the 2010 World Cup in South Africa.
And plenty of judges would suggest there were times when Carragher's sheer reliability, as well as his ability, may just have earned him even more honours ahead of that trio.
The admiration and respect of his peers flowed after the announcement came and 723 appearances for Liverpool, only second behind Ian Callaghan, is testimony to his ability even before you count the silverware.
Those expecting a sentimental farewell tour from Carragher before his final scheduled game at Anfield against QPR on 19 May can think again. Now Carragher has got the announcement of his plans out of the way, focus will be firmly on helping Liverpool's outside chance of a place in the top four and perhaps winning one final trophy, the Europa League.
All good things must come to an end. And Jamie Carragher has been a very good thing for Liverpool Football Club and football itself.