Reading Football Club: Premier League's Royals Family
Last updated on .From the section Football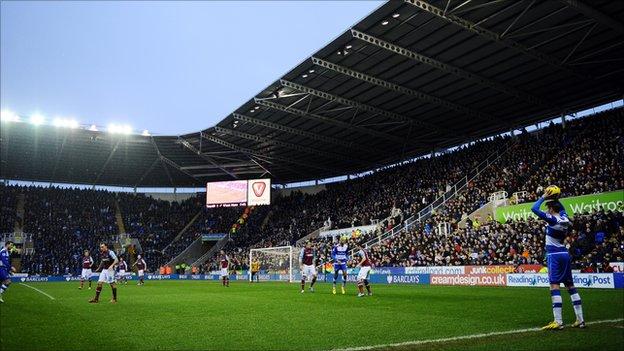 Wigan fans arriving at the Madejski Stadium for Saturday's Premier League clash will be welcomed by a familiar sight - matchday staff in Latics kit.
It is just one of a number of initiatives Reading have introduced to help improve the experience for away fans at their ground.
And at a time when some clubs are charging away fans £62, it shows the other, friendlier side of football.
The Royals are in their first season back in the Premier League.
Backed by Russian tycoon Anton Zingarevich, they have ensured that matchdays at the Madejski Stadium are a truly family affair.
"Throughout the last couple of seasons, Reading has focused on the visiting family experience, and in particular making visiting families feel welcome," customer services and HR manager Jackie Evans told BBC Sport.
"At Reading we try to create a culture of continuous improvement and actively seek input from fans and staff, to help improve the level of service, and lots of the ideas have been generated from this."
And continuously improve they have. In fact the supporter protests from away fans over ticket prices and prices seen at Arsenal's Emirates Stadium are nowhere to be seen.
In fact, away fans are charged exactly the same as home supporters at the Berkshire club. £32 for adults, £16 for under-16s.
But it's not just about the money, the experience is as important.
"We have been showing highlights of the visiting club's previous season on the concourse televisions in the visitors' stand," added Evans.
"Catering staff in the visitors' stand wear shirts relevant to the particular club that are visiting us. On occasions we have used the services of the catering staff from the visiting club to serve their own fans in the visitors' stand.
"For our game against Sheffield United at home in the FA Cup, we had catering staff from Sheffield United on duty."
Perhaps the most important feature of the plans the club make for away fans is the visiting club's stewarding staff to be on duty in the visitors' stand.
The club also have a designated family steward and have created an area within the visiting fans' stand where seats are allocated to family groups only. A food hawker also operates within the family seating area at half-time to make purchasing food items easy for families.
And while on the pitch the club's top-flight status is in doubt as they battle relegation, off it Reading have shown they are truly Premier League.