Football League Friday: Is Sean O'Driscoll Bristol City's saviour?
By Caroline Chapman
BBC West Sport
Last updated on .From the section Football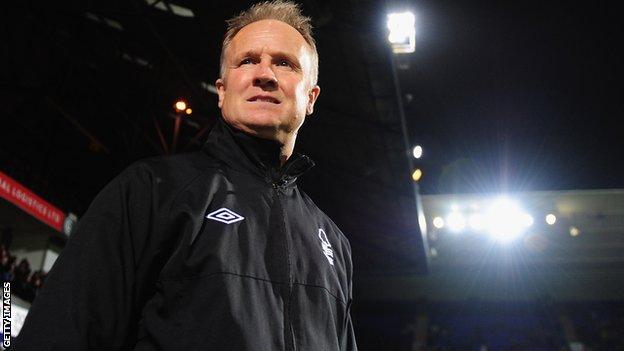 Nottingham Forest's decision to sack Sean O'Driscoll as manager in December was met with disbelief and bewilderment.
O'Driscoll's new-look Forest had climbed to eighth in the Championship and just one point off the play-offs following their 4-2 win over Leeds on Boxing Day.
Hours later he was dismissed, with chairman Fawaz Al Hasawi suggesting a difference in ambition was to blame.
While the off-field drama continued at the City Ground - successor Alex McLeish lasted only 40 days at the helm - O'Driscoll was appointed at struggling Bristol City and appears to be working his magic again, with two wins from four pulling them off the bottom of the table.
As O'Driscoll prepares to welcome his former employers to Ashton Gate, BBC West Sport spoke to his loyal assistant, his newest signing and his former chairman to explain why City can feel optimistic under his rule.
Success on a shoestring
Having recorded a loss of £14.4m last year, Bristol City simply cannot afford to buy their way out of a relegation battle.
Luckily for them, O'Driscoll is used to budget constraints from his six years as manager at cash-strapped Bournemouth, where he also spent the majority of his playing career.
"He was at Bournemouth for about 20 years in total and I don't think we had any money during that whole time," said former Cherries chairman Peter Phillips.
"Sean doesn't spend money on big name players. He likes to find players who have got talent who he can improve."
O'Driscoll had an enviable budget at Nottingham Forest - thanks to their wealthy Kuwaiti owners - and chose to spend wisely on shrewd signings like Billy Sharp, Simon Cox and Simon Gillett.
He was characteristically frugal during the latest January window, with his only City signing being Brendan Moloney on a free transfer from the Reds.
"He was a joy to work with as a chairman at a club with no money," added Phillips.
"He will find gems in non-league and brings through the kids from the youth team. He won't go out and waste your money."
Back to basics
City's erratic results under former boss Derek McInnes caused major concern among the Robins faithful.
They had found a solution to the goal drought of the previous season - scoring 18 goals in their first 10 league games of the current campaign - but in the same period they conceded 19.
The Scotsman tried in vain to rearrange his squad, but frequent changes only highlighted the disarray, and his 15-month tenure came to an end after their 4-0 defeat by Leicester on 12 January.
O'Driscoll stepped in and enforced his own brand of attractive, yet organised football. In four games he has picked up six points and finally secured that all-important clean sheet that eluded them for 31 matches.
"Having played under him before I know the way he likes to work," said new signing Moloney.
"In the Championship you need to be organised and disciplined. When we go out on a Saturday we know our jobs and under the gaffer we know what we have to do."
Time to shine
Bristol City have craved stability in recent years having got through four managers in three years; Steve Coppell lasted just two competitive games, while the hit-and-miss era of Keith Millen was then replicated during McInnes's time.
Nottingham Forest also seem to have little patience when it comes to managers - they have gone one step further and had five in two years, and O'Driscoll's stint lasted only 26 games.
But according to Phillips, time equals success with O'Driscoll - especially in a relegation battle.
"When I joined as Bournemouth chairman we'd just been relegated, so Sean was under pressure. And he was under more pressure the following season as we didn't get off to a very good start," he said.
"One of the key things, which Forest must be regretting, is that you do need to give your manager time.
" I think one of the reasons Sean might do very well at City is that you've got an owner and chairman who are fans and understand you can't deliver miracles in six months.
"He may not be able to keep them up this season but give him time and he will do a very good job."
No more Mr Nice Guy
Bristol City's most successful period in recent years came under Gary Johnson - a jovial cockney who was always considered good value for money on and off the pitch.
The no-nonsense O'Driscoll could not be more different. He shies away from the spotlight thrust on the modern game, and appears full of concentration on the touchline.
In an interview with the BBC last year, former team-mate Steve Fletcher revealed O'Driscoll's nickname at Bournemouth was Mr Happy - a sarcastic nod to the quiet man's reluctance to break his hard-faced demeanour.
Richard O'Kelly, now first-team coach at City, has played and worked alongside O'Driscoll for almost 30 years and recognises his head-strong mentality.
"He's very thoughtful and deep at times," he said. "We both want to achieve the same thing, but sometimes we see different ways of getting there.
"Because of that there can occasionally be a bit of conflict. Sometimes conflict is good because you can have a discussion, or to some extremes an argument, but between us hopefully we'll come to the right conclusion."
BBC Sport will be taking a closer look at stories from outside the Premier League before every weekend league programme in our Football League Friday features.