Nottingham Forest: Alex McLeish's exit leaves Reds in a mess
By Owen Phillips and Matt Newsum
BBC Sport
Last updated on .From the section Football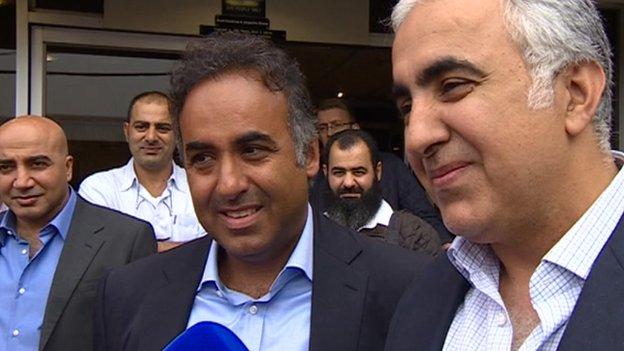 Nottingham Forest's new owners are already seeking their fourth manager. In just under a week, they will have been in charge for seven months.
The evidence stacking up suggests those describing the situation at the City Ground as shambolic are not too far wide of the mark.
Alex McLeish is the latest manager to come and go since the Al Hasawis assumed control in July.
And the widespread euphoria which greeted the wealthy Kuwaitis' arrival seems to have quickly dissipated.
Supporter reaction to McLeish's departure on social media, message boards and in general has been a mixture of fury, disgust, and embarrassment that their much-loved club has become a laughing stock.
BBC Radio 5 live correspondent Pat Murphy is in no doubt Forest are in a mess.
He said: "McLeish took over on 27 December. That's not enough time to get a carriage clock.
"We still don't know how much the Kuwaitis paid for this. They see this as a rich man's plaything. They do not understand the machinations of running a football club in this country. To them, it appears to be a hobby.
"Nobody knows what they are doing at Forest. They sacked the chief executive a few weeks ago. They sacked the head of recruitment by letter. Frank Clark, the ambassador for the club and a highly respected figure, was sacked."
The Al Hasawis announced their arrival on 10 July by relieving Steve Cotterill of his job as manager after two days.
An iconic replacement was promised, with former Chelsea, Tottenham and England boss Glenn Hoddle probably the most famous name among those linked with the club.
McLeish turned the job down, nothing happened for several days - and in the end, Sean O'Driscoll, who had only been in charge at Crawley for a few weeks, was appointed.
He was a hugely respected manager within the game, but hardly a big name.
O'Driscoll signed more than a dozen players and, although there were a few rumblings of discontent from the terraces and some inconsistent results as the team settled, there were genuine signs of progress.
It appeared from the outside as though the new owners had stumbled across the right man for the job.
By the time Leeds United were impressively brushed aside 4-2 on Boxing Day, Forest's new-look side were beginning to gel and were just a solitary point below the play-off places.
The former Republic of Ireland international was sacked later the same day and McLeish appointed 24 hours later.
The Scot said he was excited to take on the challenge of reviving a club of "Forest's magnitude".
As events transpired, he was only given seven games and he won just one of them.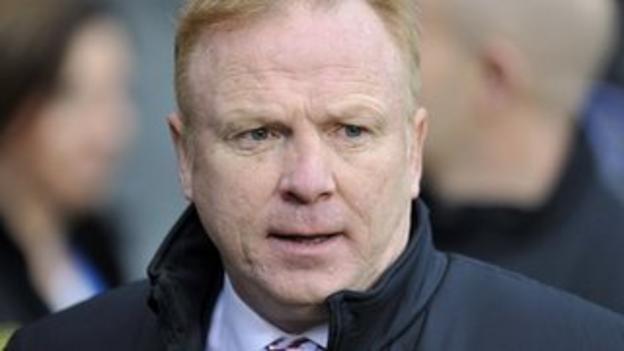 But the main issues were off the pitch and the conflict between manager and board, which had been building since early January, meant the exit of the former Scotland, Motherwell, Hibernian, Rangers, Birmingham and Aston Villa boss was no great surprise.
Five players arrived during the January transfer window, including Millwall's Darius Henderson, Elliott Ward and Gonzalo Jara, while striker Dexter Blackstock and midfielder Radoslaw Majewski agreed new contracts.
But recruited from Derry City, was hardly a stellar signing and neither was Kuwait goalkeeper Khaled Al-Rashidi.
McLeish had talked of his hope of signing an experienced international number one to replace Lee Camp.
Having rookie keeper Al-Rashidi thrust upon him as a back-up to the untried Karl Darlow was far from McLeish's preferred choice.
Heading into transfer deadline day, McLeish had high hopes of adding several more new faces - and had he done so, it may have glossed over the problems behind the scenes.
A deal for Birmingham's Chris Burke, who two days later scored two goals against the Reds in McLeish's last game in charge, collapsed.
But the attempt to sign Peterborough's George Boyd, which fell through because of a failed eye test, was the tipping point.
Murphy added: "We understand that Alex McLeish was promised around £3m to wheel and deal for players, the one that really annoyed him was George Boyd.
"Having passed a medical, the owners said he had an eye problem, so they would not be proceeding.
"McLeish thought that was ridiculous. That was unlike McLeish - a man of dignity who handles himself well and is popular with the media. We were reading the tea leaves."
According to Murphy, the lack of continuity and stability off the pitch means problems on it are almost inevitable.
"The club appears to be a basket case," he said.
"If Brian Clough had started now under the current regime, he would have struggled to keep his job.
"He started in January 1975, he did not get success until May 1977, when he got Forest into the First Division. After that, the rest is history. He would not have had a chance, because of this ridiculous kind of interference.
"Forest have a great structure, a terrific set of fans, terrific history, a grand ground... but at the moment Nottingham Forest are a shambles."