Manchester City's Premier League title bid left on the rocks

By Phil McNulty
Chief football writer
Last updated on .From the section Football286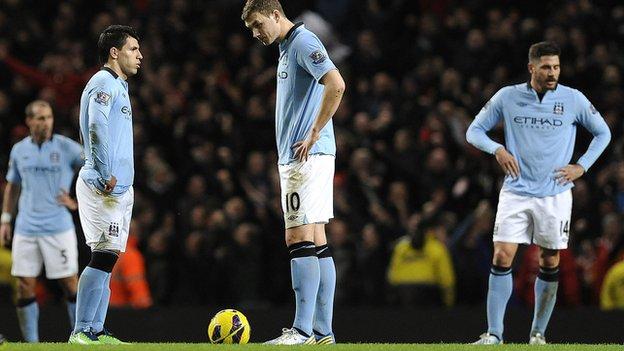 At Etihad Stadium
Sir Alex Ferguson never knowingly squanders a smile on a goal from either Liverpool or Steven Gerrard but he may just have been tempted as he watched Sunday's events at Etihad Stadium.
As an avid horse racing devotee Ferguson will know the Premier League title race has a long way to run - but old adversaries gave Manchester United a helpful nudge towards the finishing line and their 20th crown.
When Gerrard beat City keeper Joe Hart and added another spectacular long-range goal to the list that has decorated his career after 73 minutes, Ferguson could start to relax with the knowledge that he would be protecting at least a nine-point lead over United's neighbours on Monday morning.
Sergio Aguero's tribute to awareness, audacity and a refusal to accept the basic laws of angles - which was all they deserved against an excellent Liverpool - but that nine-point advantage looks a very daunting and ominous obstacle.
Manchester City manager Roberto Mancini more or less said the title was United's last season until the moment Sergio Aguero's goal deep into injury-time on the final day beat QPR and left their neighbours crestfallen at Sunderland as they won their first championship in 44 years.
No such defeatist talk from Mancini this time around as he insisted Nor should there be.
Anyone tempted to call up the credits on this season should remember how City clawed back eight points in the last six games this season. The dynamic, however, seems different this time around.
City were missing injured captain Vincent Kompany and Yaya Toure, who is on his way back from the Africa Cup of Nations, but there is a worryingly laboured look to their play. They showed the resilience of champions to pick up a point but Liverpool looked the livelier, fresher side for most of this enthralling draw.
Set this alongside United now having Robin van Persie, the match-winner par excellence signed precisely for this title-winning job, and it is clear Ferguson's side are in a wonderful position. And Van Persie can also rely on Wayne Rooney to step into the breach on the rare occasions he does not find the net, as proved at Fulham on Saturday.
This is not to say United need to do a Devon Loch to lose the league, but put together City's current missing spark, the combination of Van Persie and Rooney and Ferguson's desire to erase the pain of last season and you see why United will be so confident.
They have been over this course and distance before and it is becoming increasingly difficult to see them slipping up again with the pain of their last failure so fresh in the memory.
United will have to lose three of their last 13 games, while City win all theirs, with Mancini himself admitting they need to win at least 11 of those, and the next derby is at Old Trafford on 6 April.
Ferguson may also feel their remaining fixture list is slightly kinder, although City will equally suggest they are more than capable of putting together the run Mancini requires. On this evidence, though, any optimism must be strictly guarded.
Against Liverpool, City's battery was flat. It needed the inspiration of that marvellous Aguero angled finish to claim second prize of a draw but elsewhere this was a worrying display.
After making such a mammoth, emotion-sapping effort to win the title last year, perhaps it is understandable that these players, without a real marquee summer signing such as Van Persie to help them, are having difficulty summoning up the same inspiration and energies again.
If they are do to so, they will need to do it very quickly. Yaya Toure is desperately needed to reinvigorate a midfield in which Javi Garcia looked pedestrian and the return of Kompany's authority cannot come soon enough.
For Liverpool, there was more encouragement for manager Brendan Rodgers at the conclusion of a week that started calamitously with an FA Cup defeat at League One Oldham Athletic and a public attack on the club's young players that he may now feel might have been better remaining in-house.
Liverpool could have won at Arsenal, where they squandered a two-goal lead. And they could have won at Manchester City only to be denied by Aguero's genuine brilliance.
The problem for Rodgers comes when results are studied. There have been some very good signs since the Oldham fiasco but Liverpool have still not recorded a Premier League win against a team in the top half of the table.
Liverpool have played well in some of these games but a thread has run through them - they do not win any. This is the line Rodgers will eventually have to cross, no matter how often he talks of outstanding performances.
The best player on show was Daniel Sturridge. The striker never gave himself enough time to deliver at Manchester City while he did not produce enough at Chelsea. More or less every performance since his £12m move to Liverpool has come accompanied by the sound of a penny dropping.
At Etihad Stadium, Sturridge's movement was superb, his link with Luis Suarez an exciting work in progress and his finish with little backlift for Liverpool's first goal was a classic example of technique and power.
Liverpool were controlled in possession and attacked with pace. All in all a satisfying day only downgraded by another draw.
One area of concern for Rodgers must be another misjudgement by goalkeeper Pepe Reina, who has been far too prone to error in recent times. Aguero's finish was special but the sight of the yellow-clad keeper suddenly rushing headlong into territory that was never his gave the Argentine an opportunity world-class players have the capacity to take.
No wonder Reina hid his face inside his shirt at the final whistle. And it would be no wonder if Rodgers is contemplating, at the very least, giving the Spaniard some serious competition for his place next season.
It was a match that showed why City may just come up short in the title race and why Liverpool's inability to protect a lead means they will probably come up short of the top four.
Mancini, unlike last season, is conceding nothing but the momentum was with Liverpool on Sunday. And it is with Manchester United at the top of the table.