Arsenal ticket prices frozen for 2013-14 season
Last updated on .From the section Football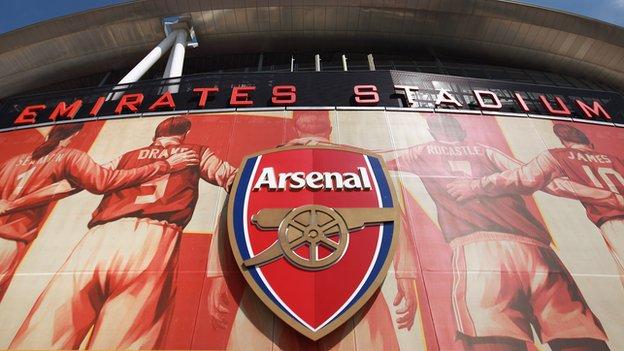 Arsenal have announced they will not be raising ticket prices for the 2013-14 season.
The club's board made the decision based on an assessment of the current economic situation, together with feedback from supporters' groups.
The freeze applies to all match ticket prices, including season tickets and reduced-price Capital One Cup games.
According to the Arsenal website, ticket prices range from £25.50 to £123.50 per game.
The ticket price freeze comes shortly after the publication of a report from the Commons Culture, Media and Sport Committee, which warned that English football must introduce a number of reforms within a year, including a policy on ticket prices, or face government intervention.
A BBC Sport study last year revealed the Londoners had the most expensive ticket prices in the Premier League.
Earlier in January, some Manchester City fans boycotted the game against the Gunners at Emirates Stadium in protest at the £62 ticket price.
Arsenal last increased ticket prices in May 2011, a move which angered fans group Arsenal Independent Supporters' Association (Aisa).