Mario Balotelli: Man City's patience finally runs out with striker
Last updated on .From the section Football147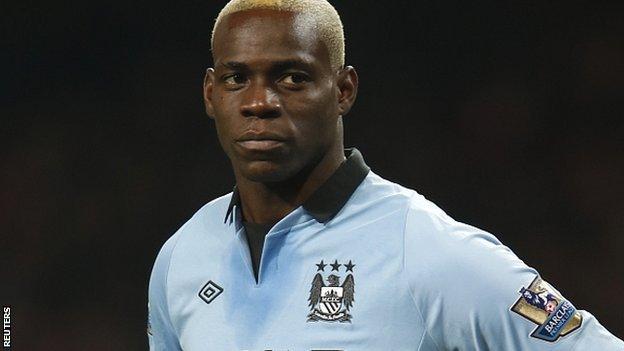 Mario Balotelli has a tattoo on his chest that reads: "I am the punishment of God. If you had not committed great sins, God would not have sent a punishment like me upon you." In case you were wondering, that's Genghis Khan.
Mancunians have committed their fair share of heinous crimes - although I always had a soft spot for Simply Red - but I'm not sure the wider Manchester community deserves to have the spirit of history's most prolific killer visited upon it.
Not that Mario Balotelli is on a par with Genghis Khan. But the fact he identifies with him is revealing. "Why always me?" asked the 22-year-old Italian. "Because, quite frankly, you're an idiot," came the reply. It is difficult to claim you are a victim when you are residing in a hotel because your mates gutted your bathroom by setting off a bucket of fireworks.
And so the news that Balotelli is on his way out of Manchester City and on his way back to Italy is no real surprise. In truth, the man who once claimed he was the second-best player in the world behind Barcelona's Lionel Messi is actually just one of many very good footballers with a lot of growing up to do. Which is why, unlike Messi, Balotelli is expendable.
In a BBC interview with former Oasis star Noel Gallagher last March, Balotelli told City's most famous fan he was a shy and retiring man. A month later Balotelli totalled his £160,000 white Bentley Continental in the middle of his adopted town. He later had his motor vinyl-wrapped in army camouflage. All the better to fit in down Deansgate Locks.
The camouflaged Bentley says much about Balotelli's personality: a man who claims he wants to disappear into the background yet is desperate to be seen to be different; a man who wanted the press to stop following him yet couldn't stop throwing them sardines. Alas for Balotelli, he is no Eric Cantona, on or off the pitch.
Cantona, his attempts at abstract poetry aside, has the authentic stamp of erudition. Balotelli's various misdemeanours suggest he does not. This is a man who was caught throwing darts at a youth team player and who had his 100 grand Maserati impounded the day after he took possession of it. Although some of that might not be true.
While one view was that Balotelli's Football Focus interview with Gallagher was a major coup, for many it was a major letdown. Because they came away from it with the realisation that Balotelli was far less interesting than they originally thought. "I'm being crushed here," said Gallagher, as one by one, the Balotelli myths were deconstructed.
While his mates did indeed set fire to his bathroom, Balotelli did not fill up his own car before paying for everybody else's petrol, he did not give £1000 to a homeless person after a bumper win at a casino, and, most crushing of all, he did not dress up as Father Christmas and drive round Manchester handing out presents. That one got so out of hand there was even a photograph in one of the tabloids of a grateful "recipient" clutching a sandwich toaster.
Mercifully, Balotelli did once return from a shopping trip armed with a quad bike, a Scaletrix set and a trampoline. His mother having sent him out for an ironing board. And he also learned magic tricks from a man he met at the Trafford Centre, having invited him back to his house for private tuition.
One of the principle reasons boxing journalists love their sport is because the absurdity is not an option, it is an integral part of it. And this is not, as some would have it, a modern development.
Take Floyd Patterson, who was so embarrassed after losing his world heavyweight crown to Sonny Liston in 1962 that he donned a fake beard, flew to Madrid and spent the next few days hobbling around the Spanish capital with a stick, eating only soup and doing his best impersonation of an infirm old man.
Then there is Chris Eubank, a man from south London who spent his teenage years in New York's bombed-out South Bronx yet spoke like PG Wodehouse, dressed in jodhpurs and a monocle, called himself the Lord of the Manor of Brighton and drove a giant American truck.
However, while boxing is an individual sport, football is not. So while a boxer's foibles are mostly self-defeating, a footballer's foibles also end up defeating his team-mates, his coach and his fans, all of whom showed admirable patience with Balotelli during his two-and-a-half-year stay at Etihad Stadium.
"It's like a family when a child does stupid things," said his boss Roberto Mancini after Balotelli's sending-off against Arsenal last April, a game City lost to fall eight points behind their cross-town rivals. "The affection of the parents is still there."
Mancini later added: "My patience for him is endless."
Mancini was being disingenuous. When Balotelli was banging them in last season - he scored 20 goals in City's title-winning campaign - his eccentricity could be forgiven. But when you're hanging around on the sidelines, causing trouble in training and the boss has alternative options, it is only a matter of time before the forgiveness runs dry.
And when a child turns into a man and continues to do stupid things, he cannot claim to be surprised when he finds himself out on the street. Especially when the owners of the house you have been ejected from have been doling you out 100 grand a week.
And there's the rub. When footballers of yesteryear got up to all kinds of stunts the tabloids were more likely to turn a blind eye and the fans more likely to let them get on with it because, well, they weren't that much different to us. But with great remuneration comes great responsibility and it could be argued that modern sport is all the poorer for it. "We're paying 50 quid a week to watch you play," goes the refrain, "we can't have you mucking about."
The tragedy of Balotelli is that he thinks he is far better than he is. But while he clearly believes he is some kind of eccentric genius, he is actually just a bit eccentric.
"If you look at me from the outside, you'd think I was an idiot," said Balotelli, in a rare moment of introspection. Yet he put smiles on faces and bums on seats - and isn't that what sport is supposed to be about? Now that he moves back to Italy with AC Milan and - whatever he gets up to while he's there - you can be certain City fans will remember him.