Mario Balotelli: Manchester City striker will be missed if he leaves

By Steve Wilson
BBC Match of the Day commentator
Last updated on .From the section Football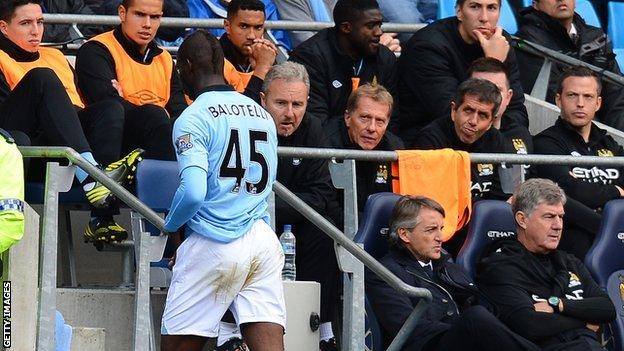 So, Mario Balotelli could be on his way back to Italy by the end of the week.
But if Manchester City boss Roberto Mancini has finally given up on the striker, then Manchester and the Premier League will be a far less interesting place.
The eccentric Italian has spent two and a half headline-making years at the Etihad.
He is adored by many Manchester City fans, but his relationship with Mancini has been often sparky, sometimes loving and occasionally incendiary.
I remember at Loftus Road last season chatting to Mancini at the end of the players' tunnel an hour and a half before the match when Balotelli emerged in his tracksuit.
The boys in the front row of the stand erupted, straining forward with their pens and autograph books.
Balotelli pretended he couldn't hear the clamour for his signature until his manager gently put his arm around the striker's shoulder and murmured in a fatherly manner, "Mario..."
Balotelli the "unmanageable" superstar laughed, playfully pushed Mancini away and the kids got their autographs.
The fact Balotelli never spoke to journalists may only have added to his myth.
The BBC's Football Focus pulled off a masterstroke by enticing the Italian into a chat with Noel Gallagher, who on reflection was just about the perfect man to get inside Balotelli's head. It made for compulsive viewing.
If Balotelli almost never spoke about himself, Mancini hardly ever stopped talking about him.
I have lost count of how many post-match interviews I have done with Mancini and I wouldn't be surprised if every one of them had included a Balotelli question somewhere, much to the City's press officer's exasperation.
Mancini always gave an answer, and only occasionally used the old technique of pretending he didn't understand the question in order to dodge it.
After City had beaten Sunderland this season the press officer "had a word" after my Mancini interview for Match of the Day. "Why did you have to bring Mario into it?" he said. "You didn't see the look on his face when he was substituted," I replied.
Mancini had met the stare from his player and returned it with interest - the cameras had captured a private, silent spat.
For much of the past 18 months Balotelli has done little on the pitch to warrant his employers' continuing patience.
His best in that time came for Italy in Euro 2012, particularly in that thrilling display against Germany in the semi-final in Warsaw.
That night it seemed he might finally have come of age. Here was a striker snarling with intent, a player who looked ready to fulfil his promise and become a true world star.
The famous German defence couldn't cope and crumbled. But the brilliance did not last and in the final against Spain Balotelli's influence was negligible, the swagger replaced by the old sulk.
For City this season Balotelli has scored three goals, playing 90 minutes only twice - and this in a season in which the club's other strikers have found goals harder to come by.
The opportunity to make himself indispensable to his manager has been there; Balotelli has failed to take it. The talent has always been there; Balotelli has failed to use it.
Still he is part of City folklore, part of Premier League folklore - the red cards, the fireworks in his bathroom, the fights on the training ground and those legendary stories of crazy shopping trips and of handing cash to passers-by.
We have lapped it all up like a guilty pleasure.
Balotelli lifting his shirt to display the message "Why Always Me?" will prove to be one of the enduring images of English football.
I'm sure Mario Balotelli will always be remembered fondly at the Etihad, even when his goals become just foggy memories.
Still, if later this week Roberto Mancini starts to settle into life after Mario, he may reflect on two things. Firstly, that it's less interesting, and secondly that being close to Balotelli was the closest thing to crazy he has ever been.