Manager Peter Houston bemused by Dundee United home form
Last updated on .From the section Football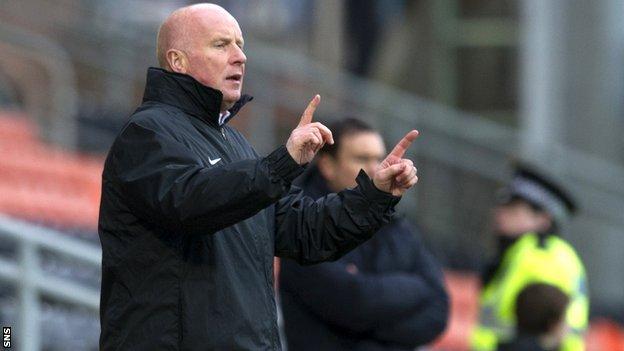 Dundee United manager Peter Houston was left baffled as his side failed to win at home for the 11th time in a row.
And Houston was left confused as to how his side had failed to take all three points.
"We dominated the majority of the match, the players worked ever so hard and it's disappointing not to get the three points," he told BBC Scotland.
"That's two matches in a row we've dominated and taken four points out of six, and it should be six out of six.
"We faced a side who came here looking to hit on the counter attack, and never done it much until we scored.
"I think it was practically their only shot of the game that they got back into it, but we should finish it off."
Houston insisted he did not think his relationship with the United fans would sour, despite announcing his intention to leave at the end of the season.
"It'll always be warm on my part," he said.
"At the end of the day, I'm trying my very best to get Dundee United into a top-six finish again, we've a Scottish Cup quarter-final next week again, so as far as I'm concerned there's lots to look forward to.
"Hopefully I can leave here on good terms, because I've worked very, very hard for six years to try and make a success of Dundee United.
"Dundee United's had good times with Peter Houston here."
And Houston also maintained that he was not finding the club's search for a successor unsettling.
"Not on my part," he said.
"I think it's something the Dundee United board of directors have to do.
"What they've got is the opportunity to take the five months to pick who they think is the best candidate for the job."