Craig Easton: Dundee to Torquay via a journalism degree
By Kenny Crawford
BBC Sport Scotland
Last updated on .From the section Football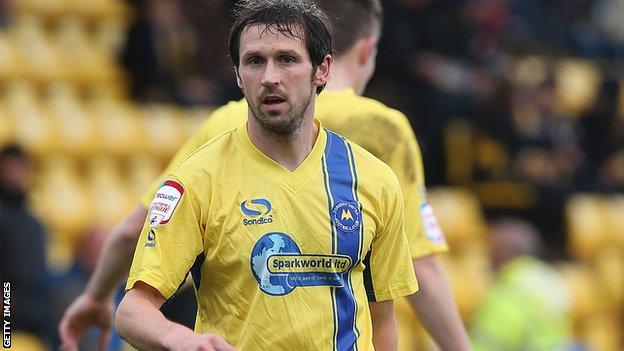 It seems a travesty that Bellshill doesn't have a professional football team.
Manchester United legend Sir Matt Busby is just one example of the quality born in the North Lanarkshire town.
Torquay United's Craig Easton won't lay claim to the footballing folklore bestowed on Sir Matt, but Bellshill was where he, too, entered this world.
For Easton, however, 'entered' is definitely the operative word.
"My wife used to think there was some amount of footballers from Bellshill, as if it was this town that was churning them out!" he mused.
"But it's just it was the nearest maternity hospital!
"You used to always see in programmes and when you're reading stuff: 'born in Bellshill'.
"I remember reading Ally McCoist's birthplace was Bellshill and he was an East Kilbride boy, but obviously it was the closest maternity to him as well."
"I'm from Airdrie, and you can take the boy out of Airdrie, but you can't take Airdrie out of the boy."
If Easton does still emanate a certain 'Airdrie-ness' it must be strong stuff, as the town has rarely been 'home' for the midfielder in recent times.
He initially left there in the mid-nineties to spend his formative football years at Dundee United.
Easton played eight seasons at Tannadice, his fondest memory without doubt his first goal for the club in a 1997 League Cup semi-final win over Aberdeen.
Therefore he has more than a passing interest on United appointing Jackie McNamara as their new manager.
"Jackie's a young manager who's very highly regarded after his work with Partick Thistle," Easton told BBC Scotland.
"I'm sure he's looking forward to proving himself managing at the next level.
"There were a few ex-Dundee United players in the running, a lot of young managers as well - people who are ambitious and forward-thinking.
"I spoke to Steven Pressley [who was also considered], last year for my dissertation and I like his whole philosophy and what he's done at Falkirk."
Yes, you read correctly, Easton did say 'dissertation'.
What's all that about?
Well, when he left Dundee United in 2004, one season at Livingston was followed by a lengthy spell in England's lower leagues.
Leyton Orient, Swindon Town and Southend United were all successful stops as Easton became a main-stay in each of those sides.
And it was at Southend when he made what was an unorthodox decision for a professional footballer; to go to university.
"I did the Professional Sports Writing and Broadcasting degree at Staffordshire University," explained Easton.
"It's set up so that 15 or so footballers can do the course, more on a distance-learning basis.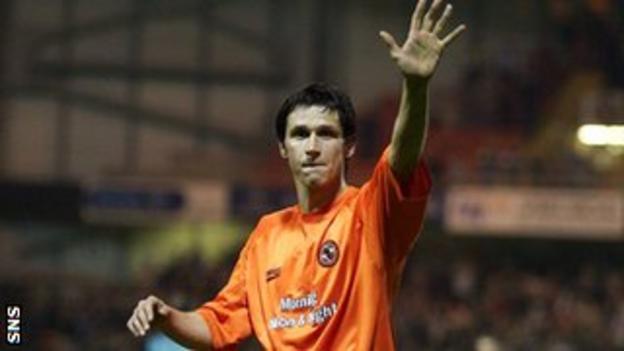 "I had started off writing for the Airdrie & Coatbridge Advertiser.
"The chief sportswriter there asked if I could do a diary of a pro thing.
"Basically, on a weekly basis, writing about life down in League One, at the time with Swindon.
"He said we could just do it as an interview and he would write it, but I asked if I could have a shot at writing it.
"I enjoyed doing that and since then I've kept it going.
"I wrote a wee bit for the local paper in Swindon and then I did bits and pieces at Southend.
"In 2010, I managed to get on the course and really enjoyed it. I finished it off last summer.
"I got a lot of experience doing lots of different parts of journalism, broadcast journalism and a wee bit video editing."
The second year of the university course coincided with Easton's return to Scotland with Dunfermline in the Scottish Premier League.
Although it allowed him to be back in familiar Airdrie territory for a year, on the football side he was blighted by injury.
And last summer, Martin Ling, whom Easton had worked under at Leyton Orient, offered him a deal on the south coast of England with League Two's Torquay United.
"I love it down here and it's hard to describe how good it is being involved and playing again," said 33-year-old Easton, who's also sure Ryan Fraser will thrive on the south coast with Bournemouth.
"I hope I'll still be at Torquay next season as I think I've got a few years left in me playing.
"Doing the coaching badges is something I'm looking at for when I retire, but I'll always write.
"If I can do both alongside each other that would be perfect for me."
Whether Easton's long-term future sees him return his roots remains to be seen.
One sad thing is certain though - Bellshill Maternity will never again produce a footballer.
The hospital was shut down in 2001 and the building demolished soon after.
So the North Lanarkshire pressure is now well and truly on Wishaw General.