Dimitar Berbatov: Old Trafford outcast to Fulham's fulcrum
Last updated on .From the section Football214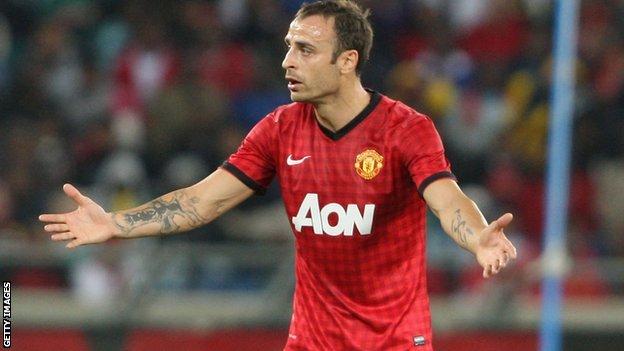 As far as Dimitar Berbatov is concerned it is about four years too late but, when his Fulham side step out at Old Trafford in the FA Cup on Saturday, he will finally get to play there for a team devoted to getting the best out of his mercurial talents.
It will not be lost on Manchester United manager Sir Alex Ferguson that a side set up especially to exploit the sometimes brilliant Bulgarian arrives struggling badly for form but, for Berbatov, his first return to his former club is a chance to show his old boss he was wrong to discard him.
Berbatov joined the Cottagers for a cut-price £5m on deadline day last August, having scored a lorry-load of goals during his four years at Manchester United, where he lifted two league titles and also shared a golden boot.
But his time there is also remembered for what he didn't win - his manager's trust - which was the very thing that allowed Martin Jol to bring him to Fulham.
Ferguson's lack of faith in the man who remains, at £30.75m, his record signing is best illustrated by the fact he gave him only five Premier League starts last season, but the writing was on the wall in the 2010-11 campaign.
Berbatov's outstanding treble against Liverpool was one of three hat-tricks that helped him finish as the Premier League's joint-top scorer on 20 goals, but he was left out of the squad for the 2011 Champions League final, with the lesser-spotted Michael Owen picked to warm the bench at his expense.
"United's system in the Champions League and against the better Premier League teams did not suit Berbatov," said BBC football pundit Mark Lawrenson.
"Generally, in those games Ferguson likes to play three across the middle. Therefore he plays three up front with two wide players, and he was never going to pick Berbatov ahead of Rooney in the middle.
"Berbatov will drop off people but he is not a frontman on his own because he does not run in behind anyone."
When he was used, Berbatov was usually lethal. The laidback and often languid striker scored 49 Premier League goals in 82 starts and 24 substitute appearances for United, similar figures to those of Carlos Tevez at Manchester City [55 in 86/14], and better than the majority of his peers.
"I don't see his time at United as being a disappointment," said Match of the Day's Alan Shearer. "He had a very good ratio, especially for a man who was not bought to be a 30-goal a season guy.
"He was never going to do what Robin van Persie has done in a United shirt and his style of play means he is never going to be everyone's cup of tea, but he brings different attributes."
His skills are not in question but for some, Berbatov will always be 'BerbaFlop' - the man who failed to live up to his manager's expectation that he would have precisely that Van Persie-style impact.
The pair were team-mates for two weeks in August but could share the same pitch for the first time this season in this weekend's FA Cup fourth round tie. And while he left as a bit-part player, Berbatov returns as Fulham's main man.
"Being the biggest name at Fulham will give him a huge lift because that was never the case at Old Trafford, and he seems to enjoy that responsibility," added Shearer.
"There was interest in him from abroad but Jol will have played a big part in them being able to sign him. He understands him and respects him, which is important to Dimitar."
There appears no danger that Jol, the man who brought Berbatov to English football in the first place when he signed him for Tottenham in the summer of 2006, will under-employ him in the way Ferguson did, or blame him for slowing down his side's attacks.
In fact, the question is whether Jol indulges him too much.
"My squad realise he is a key player," Jol said after Berbatov had helped inspire a 2-1 win over Newcastle in December. "He is the one that keeps us together."
His manager's perception of him is not the only thing that has changed for Berbatov. His role has too. While United often played around him, even when he was scoring goals, Fulham play through him.
| Dimitar Berbatov in the Premier League (stats supplied by Opta) | 2010-11 | 2012-13 |
| --- | --- | --- |
| Team | Man Utd | Fulham |
| Games | 32 | 19 (so far) |
| Mins on pitch | 2,210 | 1,664 |
| Goals | 20 | 7 |
| Shots on target | 42 | 20 |
| Off target | 37 | 20 |
| Goal assists | 4 | 3 |
| Chances created | 36 | 35 |
| Mins per chance | 61 | 48 |
| Total passes | 868 | 909 |
In 19 league games for the Cottagers, he has already played more passes than he did in 32 matches for United in his last fully active season, 2010-11, and created almost as many chances - 35 so far, compared to 36.
The second figure shows Berbatov is expected to create chances as well as finish them, while the first can be explained by the fact he is now given licence to roam where he likes to get the ball, rather than waiting upfield for it to be delivered to him.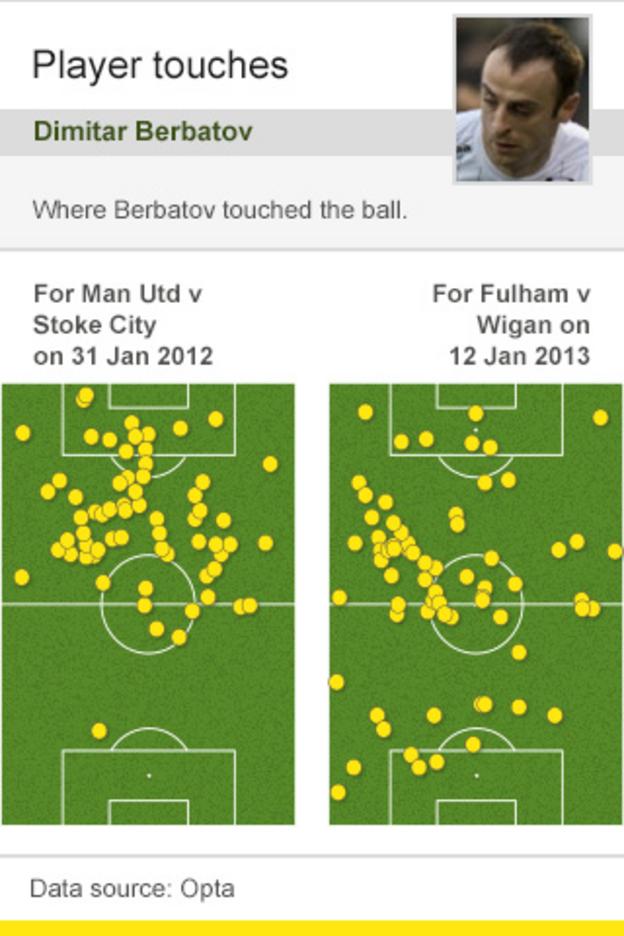 In his last league start for United, at home to Stoke on 31 January 2012, only eight of his 62 touches came in his own half, compared with 28 of 66 in Fulham's last league match at Craven Cottage, against Wigan on 12 January.
He is covering more ground than ever before, but is that really benefiting his team-mates?
Getting your best player on the ball as much as possible sounds a good idea in principle but it has not always translated into results for Fulham, who have won only two of their last 15 league games and are slipping towards a relegation fight.
"The problem for me with Dimitar is that I need him in midfield and I need him up front," Jol said this week.
"When he plays up front, he doesn't always see a lot of the ball. And then we would like him in midfield because he is a great number 10. But, every time he is in midfield, we lack a front player so we have to find the right balance. We have not found the right combination yet."
Given his well-documented self-belief, you could probably guess Berbatov's solution, but you don't have to - he revealed it on a t-shirt that read "keep calm and pass me the ball" after scoring against Southampton on Boxing Day.
That approach works, sometimes. Some of his displays this season have been immense - against Arsenal for example when he scored two goals and made a third to help his side earn a point.
But others have been anonymous. Aside from some silky touches on the halfway line, his biggest contribution in Saturday's defeat by Manchester City was to berate Bryan Ruiz for not pulling the ball back to the edge of City's area where he was waiting for a return pass that never came.
To confound and astound in equal measure seems to be Berbatov's mantra so perhaps it is appropriate that Fulham will arrive at Old Trafford still trying to work out how to get the best out of their talisman. After all, Ferguson never found the answer.