Man Utd defended resolutely at Tottenham, says Robbie Savage
Last updated on .From the section Football

In his regular BBC Sport column on football tactics, Robbie Savage takes a closer look at Manchester United's 1-1 draw with Tottenham.
Because United conceded such a late equaliser, their draw is being seen as a negative result but you have to recognise we saw a different side to the Premier League leaders at White Hart Lane - they have leaked a lot of goals this season but this time they were resolute at the back.
That is important because you don't win the league by blowing teams away every single week.
Yes, we know United are capable of sparkling performances but the reason they are so successful is that they can grind out results better than everyone else, and this was a great example.
HOW UNITED TIGHTENED UP
United were torn apart in the first half when Spurs won 3-2 at Old Trafford in September, with Andre Villas-Boas's side running straight through the middle of their team.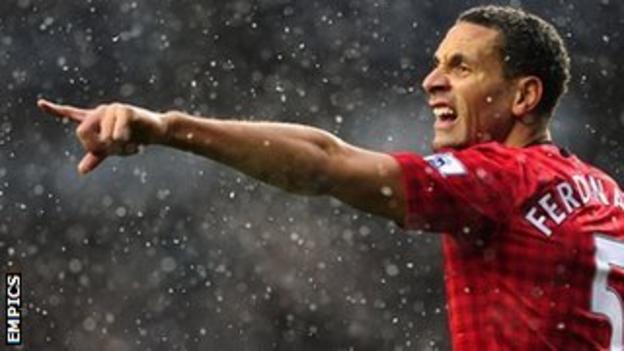 Sir Alex Ferguson brought in Phil Jones to make sure that did not happen again on Sunday, and having him alongside Michael Carrick in the heart of United's midfield played a big part in their improvement defensively.
But the fact they kept Tottenham out for so long was down to a disciplined defensive performance from the whole team, and they also demonstrated the sort of commitment United's players have all got but that you don't often get to see.
David de Gea had to make some key saves but, in front of him, United's players were all willing to put their bodies on the line to get vital blocks in. Rio Ferdinand was immense but from front to back they defended well all game to deny Spurs the space they wanted.
United had to do that because, after taking the lead through Robin van Persie's goal, they did not really do much going forward.
Ferguson's side were looking to threaten on the break and trying to counter-attack quickly but they did not have many chances in the second half.
KEEPING BALE QUIET
United definitely identified Gareth Bale as Tottenham's main threat from the start and concentrated on keeping him quiet.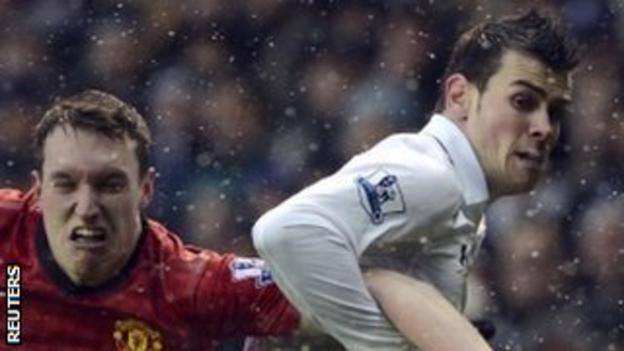 It worked, too. Spurs always looked to find a way to get United's right-back Rafael isolated in a one-on-one with Bale down the left but that did not happen once in the first half.
Jones, Danny Welbeck and Tom Cleverley were all coming across to double up on him - Jones could follow Bale because United also had Carrick in central midfield.
Bale did come into the game in the second half, when Spurs began to get more and more balls into the United box but, until then, he had not had much of an impact.
Aaron Lennon was having a lot more joy on the other flank, though, and that is the problem with trying to stop Spurs - if you nullify one of their wingers, you have got the other guy to deal with.
LATE SPURS REWARD
With Emmanuel Adebayor at the Africa Cup of Nations with Togo, Jermain Defoe was Tottenham's only striker.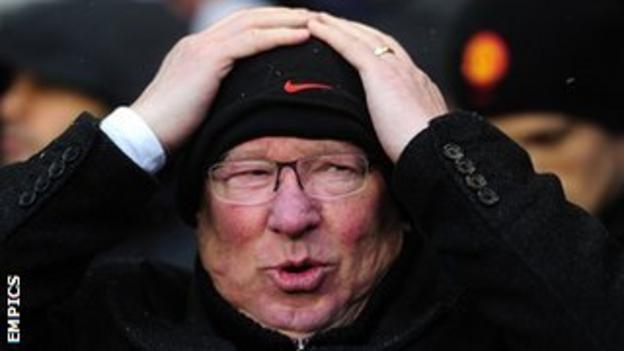 Defoe is 5ft 5½in so it might not have seemed a good idea for them to keep putting balls into the box with him up against Nemanja Vidic in the air.
But that was how Spurs created most of their chances, and how they scored their goal too.
And you have to give Tottenham massive credit for the way they finished the game. They just kept coming forward and got their reward with Clint Dempsey's 93rd-minute equaliser.
Spurs had become more of a threat as the game went on but, because of the way United were defending, I still did not see an equaliser coming.
A draw is still a very good result for United though. They picked up a point away from home against a top-four side, and it is performances and points won like this on the road that win you titles.