What is striker Gary Hooper worth to Celtic?

By Alasdair Lamont
BBC Scotland
Last updated on .From the section Football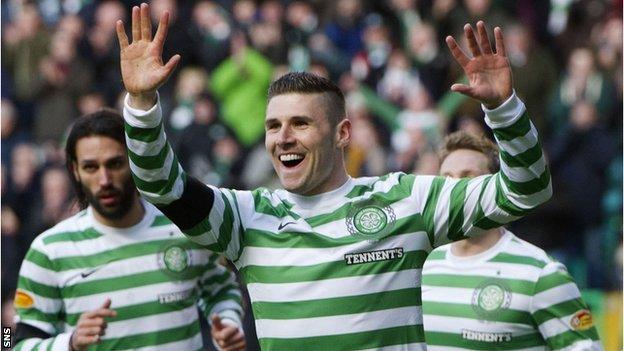 It says much about how Scottish football has changed over the past few years that virtually all of the speculation during transfer windows centres on who might be leaving rather than signing.
There was a time, not so long ago, when followers of Celtic and Rangers in particular, but also several other Scottish Premier League clubs, could genuinely contemplate bringing in a "big name" to hopefully bolster their club's chances of success.
Of course, such carefree spending has hurt many of these clubs badly and currently only Celtic fans can look forward to a transfer window with any real anticipation of some money being spent on players.
But even the SPL champions, as financially stable as they are, will be experiencing a sense of trepidation in the final days of January.
Having turned down one offer from Norwich City for their striker Gary Hooper, they have made it clear they do not have to sell.
But as Neil Lennon has pointed out, every player has his price, and there remains the possibility that Norwich or another English Premier League club will table an offer for the 24-year-old in the coming week or so that tempts Celtic to accept.
Lennon is understandably reluctant to put a price tag on Hooper, but it seems safe to assume any bid would have to be in excess of £8m for Celtic to consider his immediate departure worthwhile business.
What Lennon and the Celtic board have to weigh up is to what extent they need Hooper's services for the remainder of the season.
Celtic are a stick-on to retain their league title and could do so without Hooper, with an embarrassment of potential replacements already at the club in the shape of Lassad, Miku, Tony Watt, Anthony Stokes and Mo Bangura.
They are also heavy favourites to win the domestic cup competitions and while Hooper is their most reliable source of goals, they should have sufficient quality not to be totally reliant on him.
So perhaps the most pertinent question is: "Would holding on to Gary Hooper help Celtic beat Juventus to reach the last eight of the Champions League?"
The answer, indubitably, is yes. Hooper has been an integral part of the successful European campaign, with crucial goals against Spartak Moscow but also evidence of the all-round attributes that have come to characterise his game and make him much more than simply a penalty-box poacher.
But, even with Hooper in their ranks, Celtic will go into the Juventus tie as underdogs.
Losing Hooper would perhaps increase that status, but is the likelihood of him making the difference over the two legs sufficiently high to justify turning down another multi-million pound bid? That is what Lennon and his chief executive Peter Lawwell must decide.
The ideal solution for all parties - well, maybe not Norwich City - would seem to be the one put forward by Lennon after Saturday's victory over Hearts.
That is, for Hooper to sign the new deal on offer to him at Celtic and reassess his situation in the summer.
That would ensure Celtic still got a hefty fee for him in the close season (as, if he stays for now but doesn't sign a new deal, his value will depreciate with just a year left on his contract), give the player a healthy bump in salary for the next few months and allow Celtic and Hooper a crack at Juventus.
What Hooper himself would have to consider, were Celtic to accept an offer now, would be the opportunity to move to a better league, but missing out on more medals this season as well as the chance to play in the closing stages of Europe's elite competition.
He won't get that at Norwich - this season or any season - but an impressive showing against Juve might help persuade a bigger club to come calling.