Defender Zaine Francis-Angol signs new Motherwell deal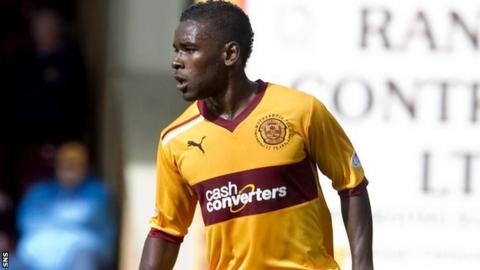 Defender Zaine Francis-Angol has signed a new two-and-a-half year contract with Stuart McCall's Motherwell.
The 19-year-old Antigua and Barbuda international, a Tottenham graduate, made his full debut for 'Well against Panathinaikos in Athens last August.
"I'm delighted and can't wait to carry on with the rest of the season," he told Motherwell's website.
"Motherwell is a great foundation and hopefully I can play on from here and see where I end up."
The player believes the dearth of cash in the game in Scotland can give young footballers a chance to establish themselves.
He said: "The financial side of Scottish football isn't the same as down south, so obviously clubs have to give their youth an opportunity and hopefully I can be a part of that.
"I love it here. It's a lot slower paced than in London and I think I prefer that.
"Everybody wants to play; that includes me and hopefully I can be a regular."
With four caps, London-born Angol has made 17 appearances to date for McCall's side.
The lack of money in Scottish football might have given Francis-Angol a chance to shine, but for McCall, he will wait to see what happens in the remainder of the transfer window before deciding whether to stay at Fir Park when his contract ends in the summer.
The former Scotland midfielder noted with interest Peter Houston claiming that he would be leaving Dundee United at the end of the season due to budget cuts making it difficult to maintain standards.
McCall, who has already lost Jamie Murphy to Sheffield United, said: "I can understand Peter's thoughts and where he is coming from.
"He has brought them success and it looks like they are going to get the budget cut again, which I'm sure we will as well.
"You always want to improve and the day that stops you should pack it in.
"I have no great ambitions to manage at a high level or manage elsewhere, but what I do want to do is keep working with good players.
"Scottish football is suffering financially, a lot of quality is going out the game and we want to do our best to bring quality in and keep the quality we have got.
"If I am honest, I just want to get to the window closing and see where we are.
"The board have always been up front with me but I don't want to put myself out there and then two players leave on deadline day because we have had great offers.
"So at this moment in time we are focusing on doing our best, and I'm sure in February we will talk again."
Meanwhile, Motherwell's home match against Dundee United has been brought forward 24 hours to Tuesday 29 January. The match at Fir Park will kick off at 19:45 GMT.