Nigel Adkins: Southampton show no sentiment in sacking boss
Last updated on .From the section Football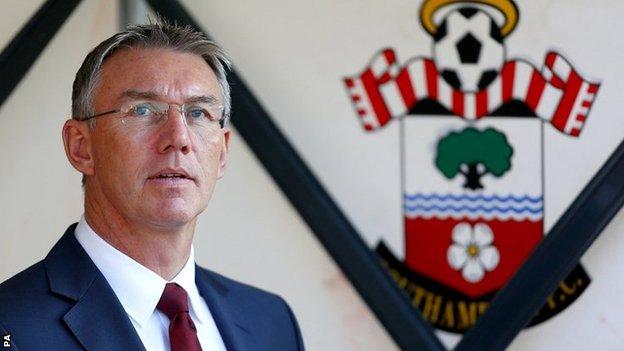 In the world of Nicola Cortese there is no room for sentiment.
The Southampton chairman's decision to dispense with Nigel Adkins as manager was as swift as it was ruthless - the statement to confirm the news said it all: "New first team manager appointed."
The news that Adkins had been "relieved of his duties" was saved for the bottom of the first paragraph.
Even Adkins was caught cold. As the news began to leak out of St Mary's on Friday morning, it became clear the man who led the club from the lower reaches of League One to the Premier League in less than two years had not been told.
There was an air of resignation as friends and journalists called to ask him whether it was really true. Nothing would come as a surprise to Adkins.
Only the board at St Mary's knew what was coming. At 07:00 GMT on Friday, calls were made to key Southampton officials, "get to work" - a storm was brewing. A few hours later, at 11:54,
There was widespread disbelief among supporters and former players on social media. Saints legend Matthew Le Tissier summed up the mood on Twitter: "The saddest part of Nigel's sacking is that I wasn't even surprised #laughingstock."
Bookmakers immediately cut Southampton's odds to be relegated.
But the question on everyone's lips was, why now?
In November, the vultures had circled after eight defeats in Southampton's first 10 Premier League matches. Meetings were held, Adkins's future was considered - but Cortese chose to support his manager rather than unsettle him. Results picked up. Southampton eased away from the relegation places, losing only twice in 12 league matches.
Behind the scenes, however, talks continued. Mauricio Pochettino, the 40-year-old Argentine who left Spanish side Espanyol in November, was identified and it was decided that, were a change to be made, it would be seamless.
Adkins has always known that life under Cortese is demanding. The Italian is fiercely ambitious and expects as much of his staff and he does of himself. He has even told friends that Southampton can be a top-four club in the foreseeable future.
But he is far more than a caricature of a ruthless godfather figure.
His background is in finance. The 44-year-old ran the sports business desk for Credit Suisse in Geneva, a job that brought him into contact with many of the game's big players, including Silvio Berlusconi. He had switched to Banque Heritage, where he managed the finances of billionaires, when he spotted the potential of Southampton.
In 2009, with Southampton sliding towards administration, the Italian negotiated a deal to buy the club for Markus Liebherr, a Swiss billionaire. Liebherr died two years ago but Cortese is determined to realise his friend's dream.
On arriving on the south coast, Cortese set out a clear vision for Southampton, then in the third tier of English football. Within five years he expected the club to be in the Premier League, playing attractive football with a group of young footballers, the majority of them home-grown.
In 2010 Adkins took over with the club 22nd in League One. They won promotion to the Championship and then joined the top flight at the first attempt - and all with a fluent, young team.
Cortese has engendered a sense of purpose at St Mary's in that time, inspiring the staff and players to belief anything is possible. He had believed Adkins, the man who made the unlikely leap from physiotherapist to manager, had the potential to grow in stature and succeed in the top-flight where others with reputations forged at a lower level had failed.
But history shows Cortese is not afraid of making tough decisions - Alan Pardew was sacked two years ago after winning the Football League Trophy, prompting angry criticism and protest. And yet, Southampton went on to better things.
Now there is another outcry and no doubt it will rumble on. But this was not a snap decision, nor one based on short-termism.
Those close to Cortese say Pochettino shares his new chairman's ambition and his vision. The Argentine is a young, dynamic manager committed to playing attractive football and building a club that does not want merely to survive in the Premier League but to thrive in it.
Emotion would say it is wrong but sentiment was not a factor; this was a cold-eyed, business decision.
Only time will tell whether Cortese has got it right again.