Manchester United v Liverpool: Which Luis Suarez will we see?
Last updated on .From the section Football752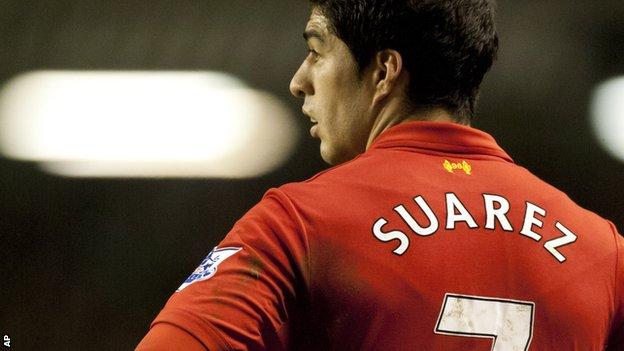 When Luis Suarez steps off the Liverpool team coach at Old Trafford on Sunday he will do so to a soundtrack of derision.
The Uruguayan striker has become used to it, of course. Those close to him say he does not listen to what others think. But this is a man living his life not in a goldfish bowl, but a Marmite one - love him or hate him, everyone has their own opinion.
Suarez does not seek the limelight, slipping into the shadows as soon as his time on the field is over, but whether he likes it or not, he is once again the main talking point as Manchester United and Liverpool prepare to renew hostilities.
He once said of himself: "There are two of me, two different people", and that was never more evident than on Friday, when Sir Alex Ferguson and Brendan Rodgers, the respective managers, gave their views on the 25-year-old.
During his press conference at United's Carrington training ground on Friday morning, Ferguson was pressed repeatedly for his thoughts on the Liverpool striker, with reference to his role in Sunday's controversial FA Cup win over Mansfield.
The Scot had not seen the game in question, but what he did say was that Suarez was "a lad laden with controversy".
It was a soundbite to launch a thousand headlines but the United manager's answer was not delivered as a gibe.
Ferguson, like everyone else, was expressing an honest opinion just as the Mansfield chairman and chief executive had when they accused the Liverpool striker of being a "cheat" and "stealing" the FA Cup tie away from their club at Field Mill.
It is an assessment Suarez's wife, Sofia, might have agreed with. She has often said people who make up their minds about her husband based solely on his behaviour on the field must think she is mad for ever having married him.
Ferguson may be seen as stoking the fires, or playing mind games but that certainly wasn't the impression he gave on a dank morning in west Manchester. The United manager, like the rest of us, can only go by what he sees on the field.
There is the undoubted brilliance, but since his move from Ajax in January 2011, controversy has never been far away.
And yet those who know Suarez away from the field describe a very private, polite, professional young man. Generous with his time and popular in the dressing room, it is an image at odds with the controversial picture so many expect.
Beyond the windows was the cold, damp murk of West Derby, but inside a well-lit room at Liverpool's Melwood training ground, Rodgers was profligate with his warmth towards Suarez.
"He carried the club for the first six months on his own. He is a player that, every single day of his life, gives everything. Some people have off days but this is a guy who is up for every game, his motivation is a high level every day in training."
"We are blessed to have someone like Luis," he added.
"You can't ask any more [from] him. I am very blessed and privileged to work with such a top player."
It was the most ringing of endorsements, as you would expect, from a manager who has consistently stood up for his player when others have not. It was the same with Kenny Dalglish, during his ill-fated second spell at Anfield.
This season, Suarez's talent has spoken for itself more often that not. "Thankfully now people are looking more at his good side," Rodgers added. "But you have to be careful because praise sometimes is the tool used to kill you later on."
Ferguson will know how Rodgers feels about Suarez. He has guided one or two lads "laden with controversy" in his time.
Eric Cantona was one such talent. Ferguson ensured his career was remembered for the brilliance and not the issues that at one stage seemed as though they would overwhelm his talent. Rodgers must now do the same with Suarez.
Away from the issue of Suarez, there were gentle reminders from both managers, hidden messages. Ferguson opened up with: "It is difficult to measure any Liverpool side at the moment with the Liverpool sides of the past."
That was followed up with: "I think it is terrific if the Liverpool fans are prepared to be patient because it is going to require patience. It is a long road back to what they used to be."
Rodgers responded with: "It is a very proud club, Liverpool. This is a group of very proud players. You are defending more than just the football in a game like this. This is a city which is very passionate. We go into the game in a real good moment. What I am starting to see now is the courage to play and that is important when you go to one of your rivals."
He added: "United will probably be disappointed with the number of goals they have conceded at home this season and obviously with us creating a lot of opportunities in games, we are hopeful we can go and take those opportunities."
The phoney war, the mind games, the talk will grind to a halt on Sunday afternoon to allow a football match to break out. Suarez will, no doubt, figure in the post-match discussion.
The question now is which Suarez will we be talking about?