Brighton & Hove Albion: Paul Barber issues financial warning
Last updated on .From the section Football
Brighton & Hove Albion chief executive Paul Barber says the club will have to work hard to comply with new Financial Fair Play rulings which are being introduced to Championship clubs.
The Seagulls have confirmed that last year they operated at a loss of around £8 million and expect to announce a similar figure this year.
"Like a lot of Championship club, we are losing millions of pounds every year," Barber told BBC Sussex.
"In the past, clubs which have lost money have been able to run their businesses like that and get away with it. Going forward, that won't be the case."
Next season, sides in the second tier making a loss of more than £8 million will be subject to sanctions, which will take effect in 2014-15.
The figure of acceptable loss will decrease to £5 million from the 2015-16 season.
And Barber, who was appointed Albion's chief executive last summer, has warned that the club will be fined if they fail to adhere to the rules.
"The key thing with Financial Fair Play is that clubs are required to break even within a certain time period," Barber said.
"There will be sanctions imposed if people don't make the break-even point within the time specified by the League.
"The sanctions are really severe. They could be transfer embargoes and perhaps more emotively clubs could be fined and the fine distributed among your competitors.
"Can you imagine a situation where we don't comply with the rules and we fund Crystal Palace's promotion push?
"We are taking this seriously and want to make fans aware of the implications if we don't comply with the rules."
Brighton fans have seen the club transformed since moving to the Amex Stadium in summer 2011, following 14 years without a permanent home.
The Seagulls currently have the highest average attendance in the Championship, at 25,579, and will soon increase the capacity to 30,000.
And Barber says the side's fans will need to continue supporting the team financially while he continues his aim of increasing the club's commercial revenues.
"We have to stand on our own two feet and manage the club more efficiently," he said.
"In other words reduce our costs where we can and build our revenues.
"That means obviously working hard to get our fans to support us as much as possible; with ticket buying, merchandise buying, food and drink purchasing at the stadium and bringing other events to the stadium.
"We need to find new fans to build the club for the future because that is critical given where this club has come from, what it has been through and how hard people have worked, particularly the fans, to get us to where we are.
"We don't want to slip backwards again. We can't allow that to happen.
"The supporters are the lifeblood of any football club and we need their help.
"We need to build and build and build, and keep producing a great experience at the Amex.
"Although it is pretty full every week, it is not sold out every week.
"We have got a fantastic foundation here and all of the ingredients for a good football club. We've still got a lot of work to do."
Alongside the move to the Amex came an increase in ticket prices - adult fans are charged between £28 and £39 for home matches, compared to between £24 and £27.50 for the final season at Withdean Stadium, when the club were in League One.
However the Amex is a different world compared to Withdean, which was always supposed to be a temporary home, with their new ground having a roof and padded seats.
Tickets do include the cost of travel to and from the stadium and fans can choose to pay for season tickets on a monthly basis via direct debit.
Brighton fan Stefan Swift, the co-editor of fanzine The Seagull Love Review, says that such increases are understandable given the club's recent disclosure of a financial loss.
"Before the £8 million loss was announced we were a bit in the dark as to the financial situation of the club," Swift told BBC Sport.
"There are still many questions.
"We don't know whether that accounts for certain elements, such as the improvements to the stadium which are being undertaken already.
"The stark reality of being a football club chasing a place in the top flight is that prices will inevitably have to go up.
"I think the general consensus is that as the stadium is so good and the fans have never had it this good, the unintended consequence is that we have to pay a bit more."
But Paul Samrah, an Albion fan who was involved heavily in the club's fight for a new home, says the club must be wary of walking a financial tightrope with their supporters.
"The ordinary fan spends money on season tickets, a programme, a pie and a pint and a bit of merchandise," Samrah told BBC Sussex.
"That is where they cap themselves.
"If prices go up significantly then attendances will dip, regardless of the quality of the football.
"It's a catch-22 situation for all clubs.
"We've got a significant number of season-ticket holders and clearly sponsorship is going to be a major contributor to finance.
"Even without the Financial Fair Play rules, I don't think Tony Bloom as chairman and benefactor, will want to continually support losses. We always knew it would be a financial balancing act.
"The tricky bit is not disappointing the thousands of loyal supporters by trying to increase season ticket prices, merchandise and programmes to an unrealistic figure.
"Don't take them for granted."
Meanwhile Barber says that Albion chairman Tony Bloom, who largely bankrolled Albion's move to the Amex Stadium and has backed Seagulls boss Gus Poyet in the transfer market, will only be able to back the club to a certain extent.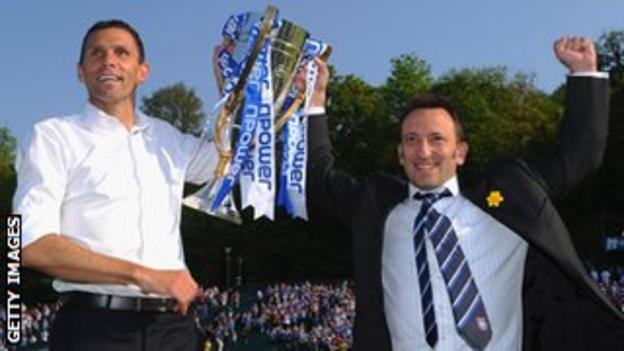 "Under the current system the chairman effectively is allowed to cover those losses from his own pocket," Barber continued.
"That won't be allowed under Financial Fair Play.
"Tony has been incredibly generous and has done a fantastic job in moving the club on to another level.
"Going forward, even if he wanted to support the club in terms of losses, he won't be allowed to.
"It's even more reason for us to make sure we run our business as effectively as we can."
Despite the challenges which Financial Fair Play poses, Barber feels the move to impose the scheme is for the good of the game.
"There is no doubt football clubs being asked to operate like normal businesses is not a bad thing," Barber said.
"It will certainly take a lot more discipline and time for those rules to bed in to make sure there are no loopholes.
"The Football League have worked very hard to put in place a set of rules which are fair to everyone.
"It has to be a good thing if football clubs end up being healthier and run better."