Terry Butcher: Inverness CT boss staying to make history
Last updated on .From the section Football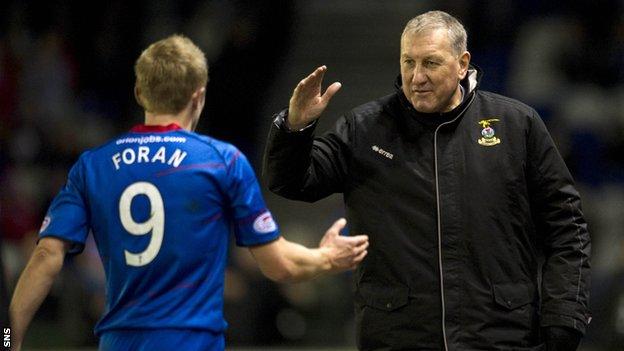 Terry Butcher says he decided to stay at Inverness as he feels the club can make history.
And the former England captain said that he felt he had unfinished business at the club.
"I think we have something special here, that could be something marvellous at the end of the season," he told BBC Scotland
"We're creating history here all the time.
"You don't get that chance very often as a player or a manager to be part of a really successful team; and I feel that we have that here."
Butcher, who took up the managerial reins in 2009, has led the Highlanders to the semi-finals of the Scottish Communities League Cup and Inverness are currently second in the Scottish Premier League.
"It's the best spell of my managerial career, and I think for a lot of the players as well, it's the best spell of their careers," he said.
"And for our supporters, hopefully it's the best football they've seen.
"If we continue to do what we're doing, and the players are with us - which they are - then it's best to be here."
And the former Brentford boss said he was happy to be bucking a trend by not leaving Scotland for the more lucrative English game.
"Normality's not the norm for me," he joked.
"I do everything differently, so I'm not that bothered about other people, I'm just concerned about making this club the best it can be."
However, Butcher also revealed that the offer made by Barnsley had been tempting financially.
"Barnsley were really fantastic to me and treated me really well - they would have made me their highest-paid manager, so it was a great deal," he explained.
"It was a cracking deal, and from a financial point of view, it would have been worth taking on.
"But, for me, you have to have a gut feeling about things and I felt that I wanted to remain here and finish off what we've started."
And according to former Inverness midfielder Barry Wilson, Butcher can become a club "legend" after rejecting the Barnsley job.
"He's got the chance to make himself a legend at the club," said Wilson.
"There's the thought of European football next season and maybe a cup final."
Wilson, now manager at Highland League outfit Wick Academy, said Butcher may attract bigger clubs should he continue to shine at the Caledonian Stadium.
"If they finish the season where they are at the moment, second or third," he said. "To take a provincial club like Inverness to that position in the league and with a cup final then his stock will only get higher and there might be a better quality of club knocking on the door next time.
"A top-half English Championship team or something like that, that can see he's done well on a smallish budget and produce from scratch."